Camping is super fun that is why we have rounded a list of the top tents for couples!
Going for a trip requires the need to have a plan such as packing essential gear and clothes and choosing a quality camping tent that is large enough to accommodate you and your loved ones
There are plenty of things that come into play when choosing tents for couples. Although it is no doubt there are various options in the market, many of them aren't worth the investment.
We have done plenty of research and handpicked the top 10 top Tents for couples, and made it easy for you to choose for yourself.
Here is a list of the top tents for couples
The Tentsile Tree Tent might not be the ultimate tent or convenient enough to replace your current camping tent but it's definitely worth a try!
The unique features of the tent give many reasons to be a viable choice for avid adventurers and make it one of the most suitable tents for couples. 
On the flip side, it has a single ratchet which makes it super light and only weighs around 18lbs. Moreover, the bedding of the tent is highly comfortable with comparatively less headroom than any other couple accommodating tent you would find in the market.
The rainfly is also very sturdy and remains tight and can withstand a harsh thunderstorm with gusty winds up to 30mph while making sure the interior remains dry. The Tentsile flite plus tree has one major flaw that it comes with no pockets or stash spots to keep your gear. 
Although Tentsile flite struggles to be a harsh condition weather tent, it can be perfectly used in car camping or short hike adventure.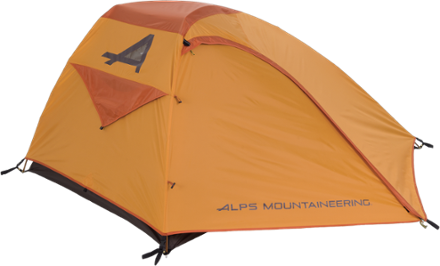 Source: Pinterest
One of the top tents for couples is the ALPS Mountaineering  Zephyra, a 2 person tent. The tent is true to its specifications and withstands pretty well for a 3 season camping tent providing protection against unforgiving wind gusts up to 40mph. 
The ALPS Zephyr is easy to set up and placed anywhere on any spot without any hassle. However, the durability is sometimes questionable but that is what you get for such a reasonable price tag. It has two extra-large zipper doors which provide a two-way exit and entrance making it highly convenient.
Moreover, the support provided by aluminium poles is very sturdy and lightweight weighing. Having extra gear storage and weather protection, this tent has a lot to offer. The Zephyr comes with a storage pocket covered in mesh with a gear loft and 7000 aluminium stakes.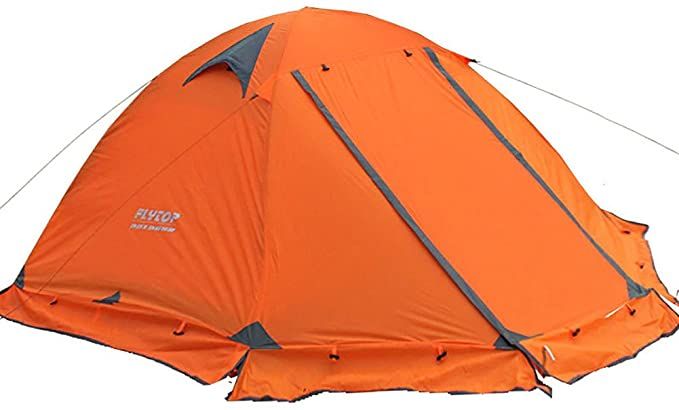 The FlYTOP is amazing with a rating of 4 season protection which stands true to its word. It can withstand any extreme weather and provides maximum protection to you and your loved ones.
What makes it a good choice of tents for couples is the no-see-um mesh of the tent has really good thermal performance and you can insulate it really easy to accumulate natural bodily heat in cold weather. The feel and touch of this tent is astonishing high quality, which makes its worth for the investment. One great attribute about this tent is that it has plenty of housing space and headroom and is highly portable and lightweight. It is an ideal pick for hikers, so you can strap it on your bag and trek through terrain without feeling burdened by its weight.
It has dome-like roofs which prevent the accumulation of snow and rain, which is very useful in humid and snowy regions. The tent has double stitched seams which offer unparalleled waterproofing technology making sure you stay dry even in heavy rainfall without causing any condensation at all due to its triangular ventilation system.
Overall, we consider this 3-4 season tent as one of the top-notch tents for couples to make it in the list and is totally worth the buy if you don't mind the price tag.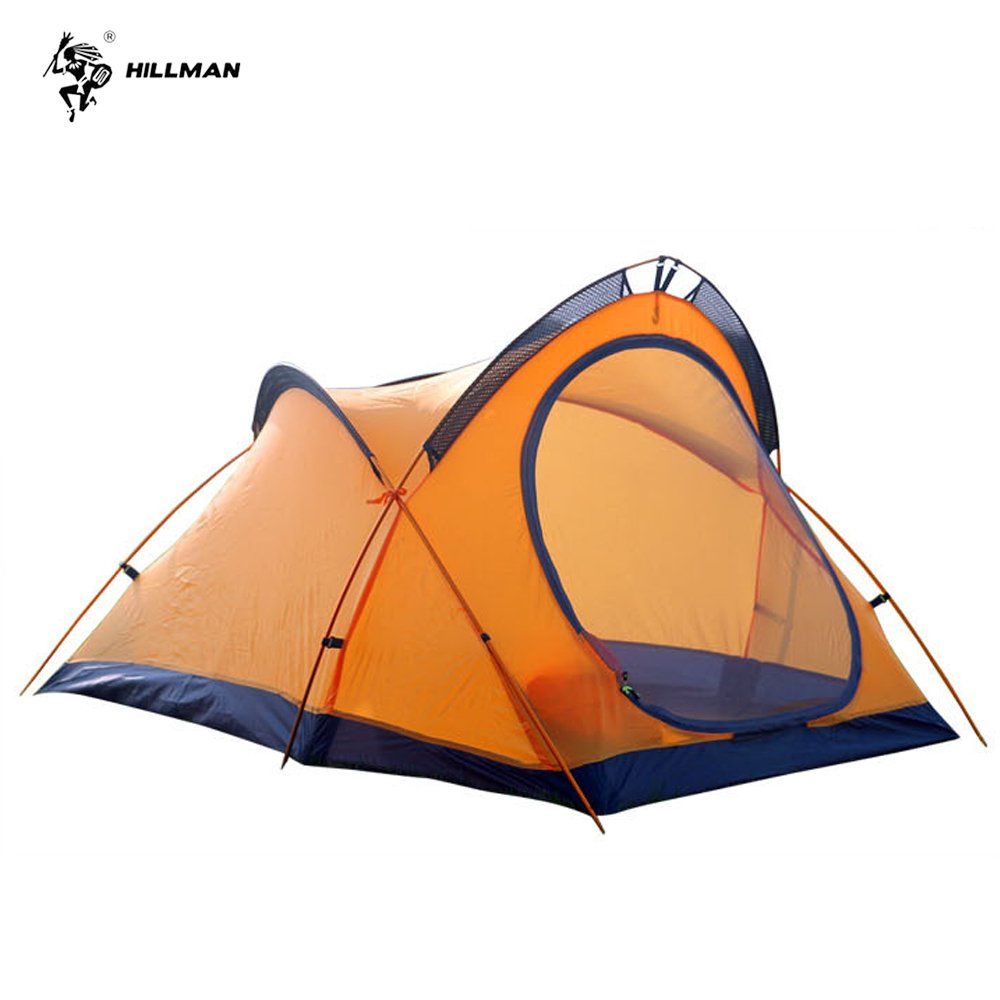 Hillman two-person housing tent is a tent every enthusiast adventurer would love to have in their inventory.  Designed to deal with the harsh and extreme nature of the weather conditions in higher altitude, this tent makes camping in below zero temperatures easy and one of the top tents for couples
This 4 season rugged and durable tent has built-in superb waterproofing technology made of nylon grid fabric at 10,000mm. 
The nylon silicon fabric is highly durable with ultimate anti-wear and tear technology, that allows the tent to have a better and bigger life span.
The deployment of the tent is super convenient too, and you can place it anywhere in less than 10 minutes. The camping tent weighs roughly 2.3 kilograms and its dimension specifications are 7x7x19.3 inches from walls, length, and width.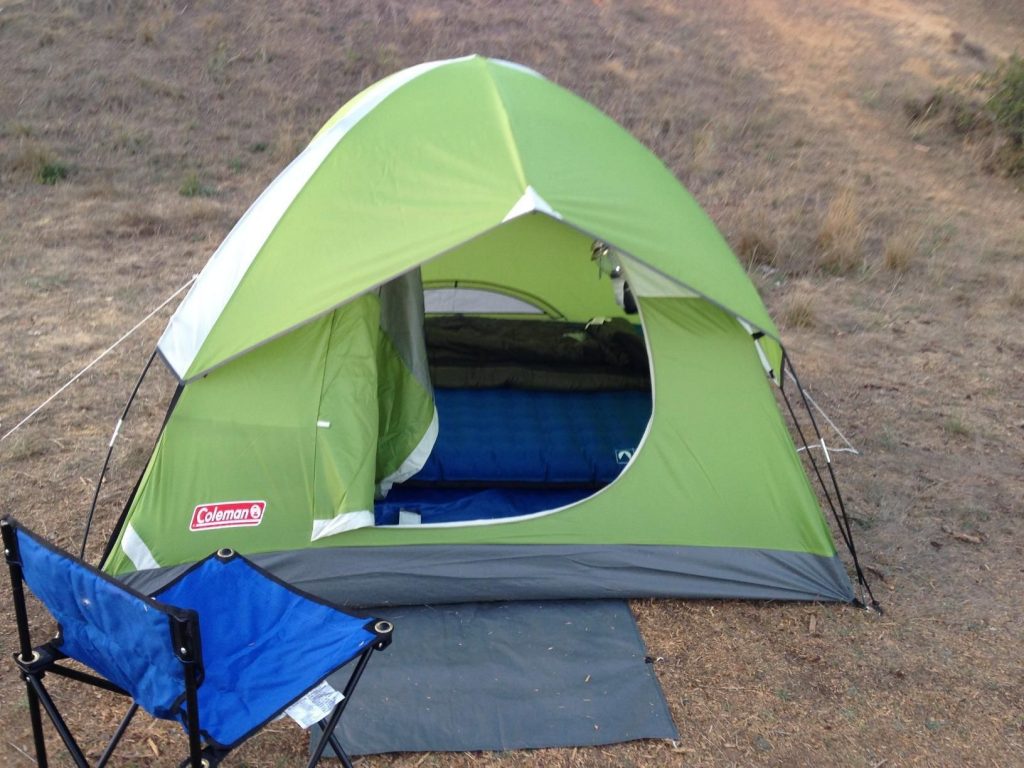 The Coleman Sundome tent for two has a very unique and distinguished design which makes it highly stylish. The free-standing build of the tent gives the structure an x-shaped pole construction figure which makes it highly convenient to be pitched to any ground or surface.
The mesh is thick and is positioned high with the windows, which is good since you wouldn't have to worry about snow accumulating and blocking the ventilation of the tent or illumination from outside. Moreover, it offers privacy and has a taffeta body which is an attribute some users and hikers would love. The Rainfly only covers the partial section of the tent.
Although it has two very nice pockets to keep your gear safe and secured and additionally you get two zippered ports in either corner for electrical connection for charging your phones or using a light bulb for illumination.
A significant flaw is that it is very small to house two people in it, and you might want to leave your things outside while you sleep in it which might not be an option for some hikers.
Overall, the price is good and the dome design is satisfactory and stable in the harsh gusty wind. If you are a beginner in hiking category that doesn't mind small floor space, then Coleman Sundome is suitable for you.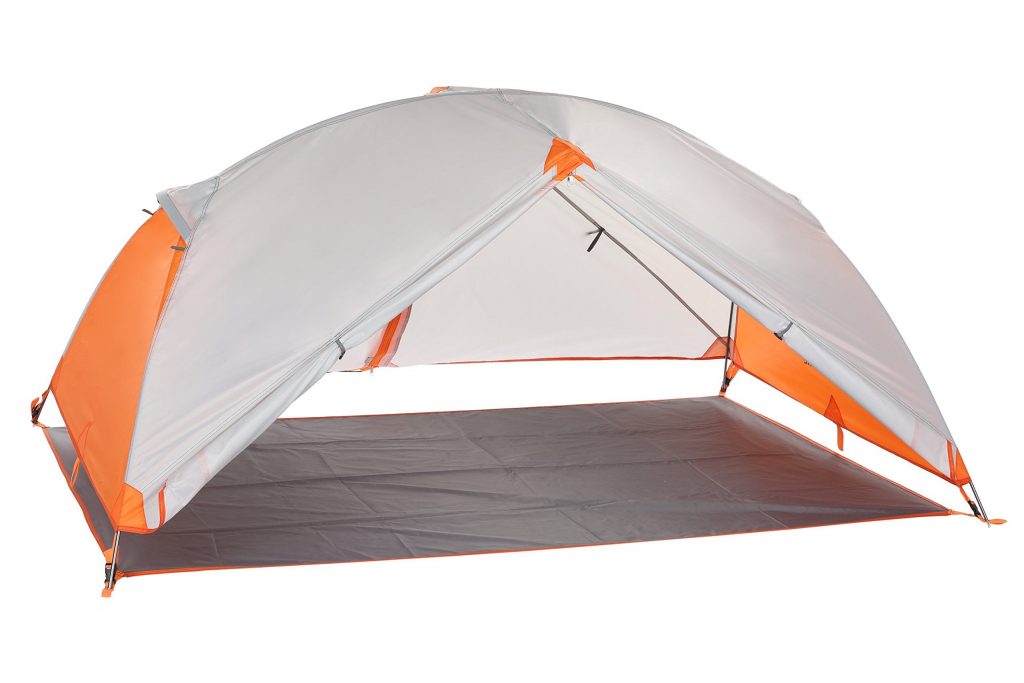 The Featherstone outdoor UL granite for two-person is a fun camping tent that provides protection against any kind of rainstorm no matter how harsh it is
It has a massive room for two individuals and can accommodate even a third person too. It is an ideal choice for couples. Having dual entrance and vestibules give extraordinary attributes to storing your gear. It has dual entry doors and if you are a fan of a massive opening door with plenty of floor room and head space then this tent is very suitable for you.
It is heavily waterproof, and the wax repels any spillage without any condensation. And in case of ground flooding, it also has a bath floor that raises and insulates your tent shut to prevent the water entering your tent.sometimes you would notice a little bit of dew accumulate on top of the rainfly which is not an issue. Additionally, it offers great privacy protection too. You can even check out some amazing waterproof sprays to keep your tent dry. Furthermore, the Solo aluminium shaft gives the tent simple yet sturdy support which you can easily detach, offering high portability to the tent. 
This budget-friendly backpacking tent is a must-have for everyone as it is very versatile with sturdier body material, you wouldn't have to worry about wear tear during traveling. Although it lacks storage pouches which some people might find inconvenient but quality-wise the price is a worthy investment and we highly suggest you go for Featherstone outdoor UL Granite tent.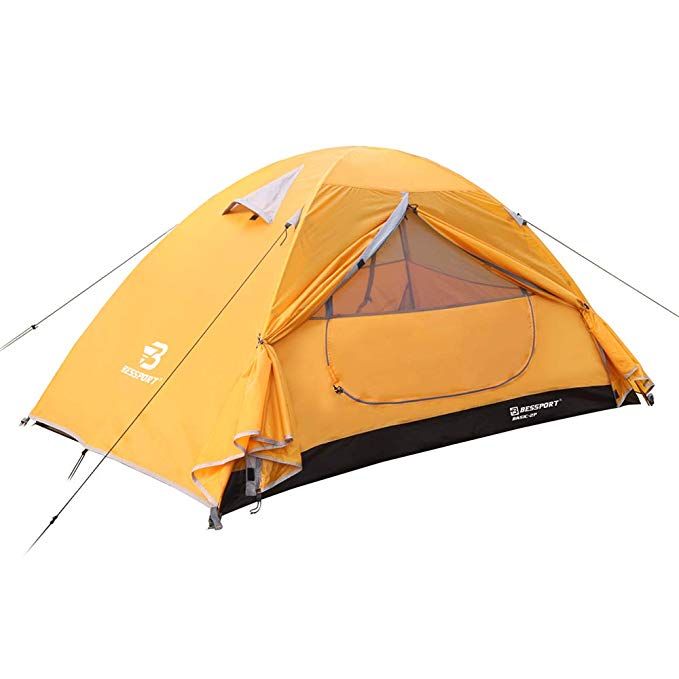 The Mesh Domed design camping tent by Bessport is one of a kind tent that offers 3 season protection with a spatial room and serves as one of the good tents for couples. The tent is made of great fabric and has dual D-shaped entry and exit doors which is ideal for a couple.
It is very roomy and can be carried by two-person while camping weighing just around 5.2 pounds at maximum. The D-shaped doors have weather-resistant zippers that further provides protection while you camp. 
Additionally, the weather protection is satisfactory and the seam-taped design prevents any spillage of rain inside the tent. This also the massive rainfly prevents any water droplet leakage, no matter how harsh the rain is.
It has a unique mesh that prevents any bugs or insect entering the tent. Although the mesh is tight, it still offers great ventilation and airflow. Furthermore, the tent is easily set up without any struggle or hassle and is ultralightweight.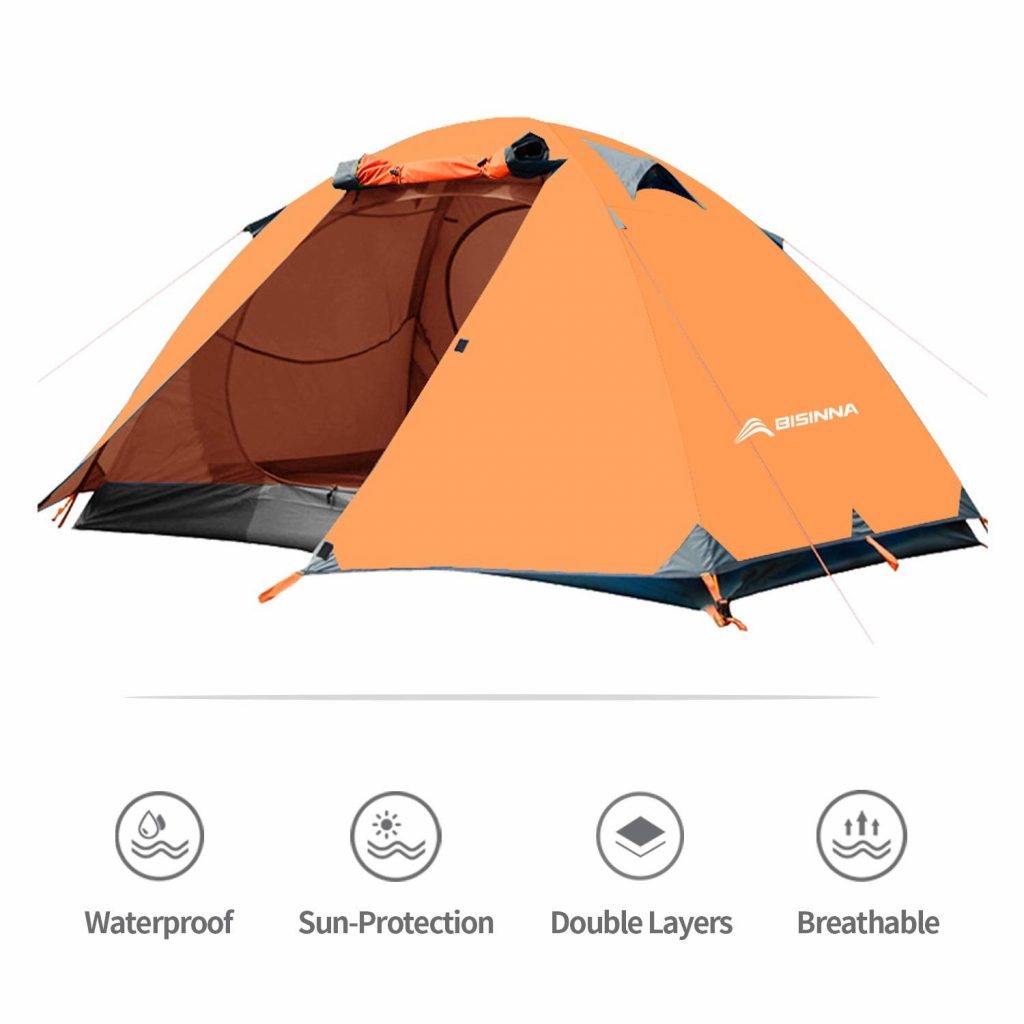 The BISNNA Camping tent is a dual-person ultralight camping tent that offers plenty of comfort at a very reasonable price.
A 3 season tent with complete protection from almost any moderate weather condition you would face during your camping. You will have plenty of predictions against heavy rains and the body can withstand easily without struggling due to its aircraft-grade aluminum pole. 
The mesh is just astounding and it is the finest mesh we have ever seen in a two-person camping tent. The manufacturer has spent plenty of time perfecting it and the ventilation it provides is splendid. It has plenty of floor space and you wouldn't feel claustrophobic with your loved ones.
Additionally, the Tent has dual window ropes that can survive a stormy night very well. The manufacturer offers really amazing customer services and if the customer is not satisfied they guarantee a full refund.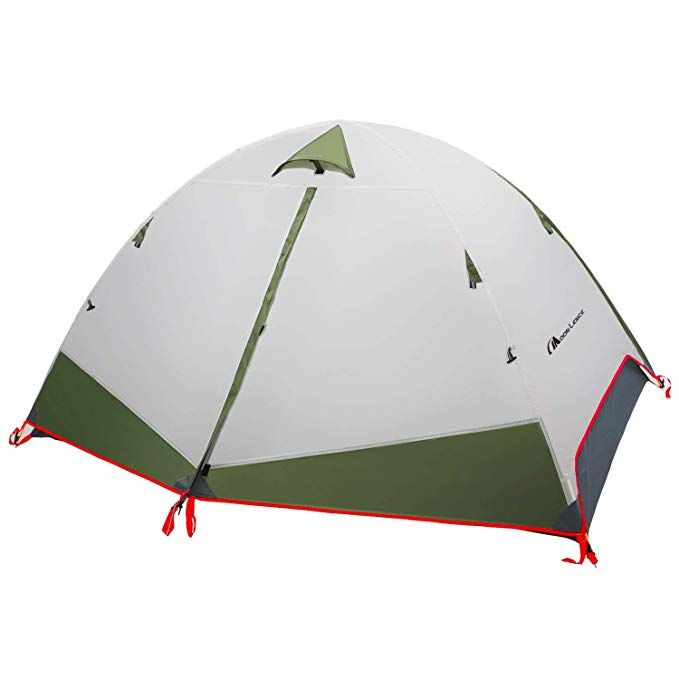 This tent is a 2 Person Dome-shaped tent that has a superb ventilation system and budget-friendly. One of the finest choice of tents for couples
This tent is a must-have for any avid adventurer. This tent has lots of room for two adult individuals while being super light. It has a dual-layer design with a decent rainfly which offers protection no matter what the weather is. The large mesh offers decent ventilation which does not allow any condensation to occur even in extremely cold weather
The dual D-shaped entry and exit doors have a  zipper panel and two ventilation windows to prevent any insects. It is available in various colors and for the price tag it is listed, it is basically a steal. This tent is an all-rounder and has balanced attributes in all aspects. 
Conclusion
A good trip with your loved ones is not complete without a proper camping tent. With this article, we hope we have guided you to choose with confidence that is the top high-quality tents for couples.
FAQ
Is a two-person tent suitable for a couple?
Unless you're petite or don't like being in close quarters, most 2-person tents will seem cramped for two people. Getting a 3-person tent would be much better.
What is the best sleeping bag size for a couple?
Double sleeping bags are fantastic for couples because they make it much simpler to cuddle up on chilly camping nights.
What are a few fun things to do when camping?
-Some fun and intimate activities you may do with your partner while camping includes riding a bike, kayaking, stargazing, having a picnic, reading to one another, and so on.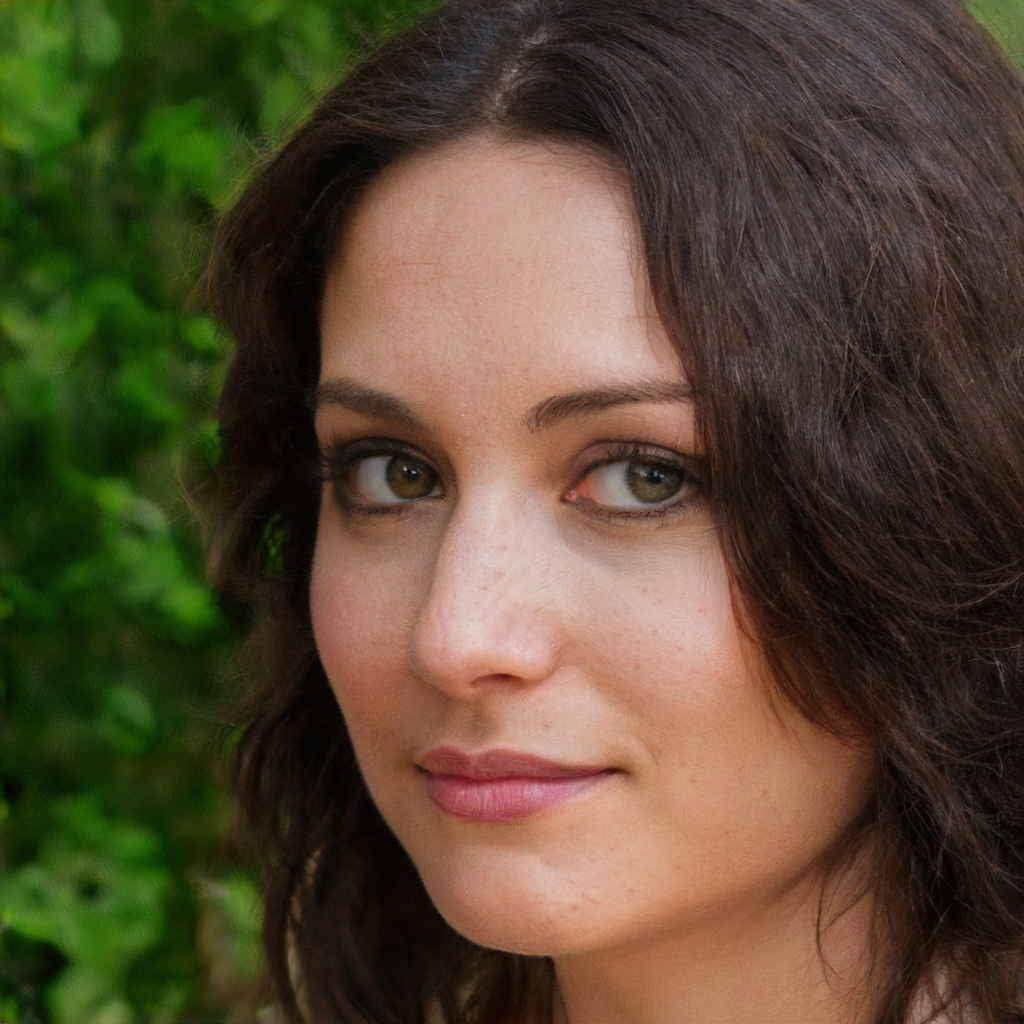 Meet Sarah, a passionate traveler and camping enthusiast who loves to explore the great outdoors. With years of exploring, she has become an expert in testing and reviewing the best tents on the market which got her to start mytravelingtents.com. Her insightful reviews provide valuable information to fellow adventurers looking for the perfect tent for their next camping trip.