Tents for Camping with Dogs
One of the most fun activities you can do with your dogs is to explore the outside world. Those activities can become even more fun when it includes setting up a tent and spending some quality time out into the rough terrain for a night or a few. Choosing the high-quality tents for camping with your dogs can be quite challenging since there are so many options to choose from.

Let us help you figure out which factors you need to focus on while choosing a tent. Below you can find a guide that would take you through the important aspects one should consider when buying tents for camping with dogs. Focus on the mentioned considerations and your personal preference to make the ultimate decision. We also have our own list of the finest tents afterward. Don't forget to check that one out as well!
Buying Guide

What Size Tent Would be the Best to Camp with a Dog?
Although a vestibule can add some extra space for your dog, choosing a significantly larger tent than you generally would is almost always a smart choice. The screened part can be the perfect spot for your dog to chill or sleep in.
So, if you usually consider the perfect size for you to be a 3 or even a 4 person tent, you might want to aim for a 4 or 5 person model instead. It might be difficult for backpackers to travel with the extra weight, but having that extra space is definitely worth it.
How Durable Should the Tent be?
The durability of the tent depends on the strength and actions of your dog. That's why you should focus on the material before purchasing one. If your dog is very curious and has very sensitive hearing, even the tiniest noise may startle them in the night. Your dog might try scratching the tent walls to go outside while you sleep.

So, you should probably get a tent that is made from heavy-duty materials that can withstand the scratches of your dog's claws. But if you have a smaller dog, you can make do with a slightly less robust tent.
How Much Ventilation is Needed?
When choosing the most suitable tents for camping with dogs, Ventilation, in a tent is essential for both you and your dog. With enough ventilation, air can easily enter the tent and help it stay cool. You can avoid the potential wet dog scent from your tent and help your dog to stay comfortable in dire conditions.
Some tents have windows that can be opened or a second door that has holes for some extra ventilation. You don't require much ventilation if you decide to camp in more cozy environments. Smaller dogs would not need much ventilation as well, but bigger dogs can pant more and need more airflow. Choose what's suit your dog and pick the tent depending on the place you want to explore.
What is the ideal best tents for camping with dogs for you?
You can always go for a robust tent made of sturdy, waterproof materials with a heavy-duty base. Easy assembly is another factor to consider since no one would like to spend hours setting up a tent when they go out camping. That would save you plenty of time and energy.
You also need a tent with ventilation so it won't get stuffy. Extra ventilation can always come in handy when you have a big dog on board. A connected vestibule would be fabulous since you and your dog can use that extra space to chill on your camping.
Whichever one you choose, make sure they fit into your budget and have enough features to promise a fun camping trip with your dog.
To Buy:
10 Top Tents for Camping With Dogs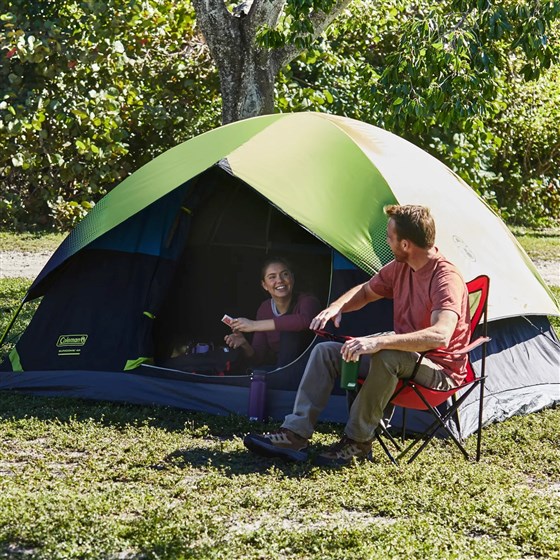 Product Description: The Coleman Tent is made of 75D polyester taffeta, ensuring that it can hold up pretty well on your impromptu camping trips on the weekends.
The Evanston Tent uses WeatherTec technology from the company, which has welded floor borders and inverted seams to help avoid leakage. The tent is also easy to pitch. You can set it up in only 15 minutes. This one-door tent comes with screened windows that help with the airflow inside the tent.
The tent has an inner mesh made out of 68-denier polyester mesh. The Coleman Dome tent can fit 6 people easily. It has 11-millimeter fiber 3D poles. The welded base and inverted seams keep the tent stable.
This special tent has an illuminated wall with different modes. There are a low mode, a high mode, and a night-light mode that you can set up with a runtime of 65 hours, 26 hours, and 81 hours respectively.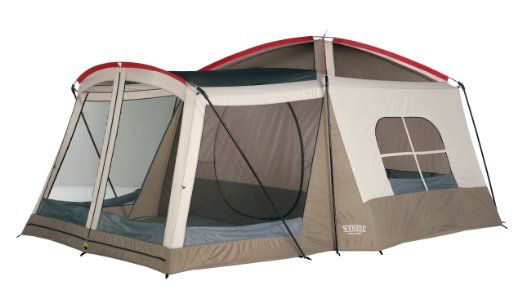 Product Description: The Wenzel Klondike Tent is comfortable and big enough to accommodate your furry friend. This huge tent can easily fit eight people. So, if you have a playful dog that loves to jump around, then this tent would be perfect. You can easily set up different big beds for your dog and yourself.
It has an interior area of 98 sq. ft. where five people can comfortably sleep. There is also an extra space of 60 sq. ft. that can accommodate three people. There is a zip-up wall on the smaller portion that you could set up as the perfect playroom for your dog to spend the day in. You also get a mesh roof and windows which would help your dog to stay cool in warm weather.
The screened-in front porch can be an ideal place for shielding your pup from harsh weather. You can keep your gear off the ground with the pockets for storage. The tent is made of polyester fabric with incredibly robust rain armor that has polyurethane water covering that gives overall protection.
3. Coleman Elite WeatherMaster 6 Screened Tent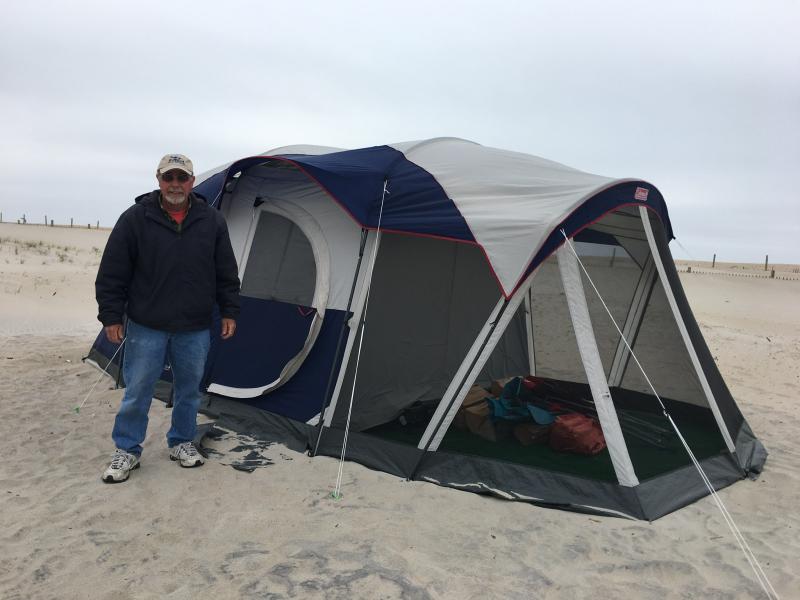 Product Description: This Elite tent from Coleman can be set up in a short 10 minutes. The tent can easily house three people together so it's a great option if you want to take a trip with your family or your significant other. This cheap Coleman tent, with enough space for one or two people and their dog, is sure to keep you dry and cozy.
While no vestibule, because of its lightweight and low price, you should definitely consider this one. Like several other Coleman tents, the Coleman Elite WeatherMaster 6 is constructed from 75D polyester taffeta. This material is approved by so many because of its strong balance of weight and toughness. The tent comes with a dual-room design. There is the main interior compartment along with a screened compartment connected to it.
Features
This is a single-door tent, so you cannot enter or leave through the screened compartment.
The seams are all safeguarded enough to protect against harsh weather. They can also keep water out effectively with waterproof flaps on the zippers. This tent has a built-in LED light. This means that you would be able to see clearly inside the tent even in the dark without having a lamp nearby.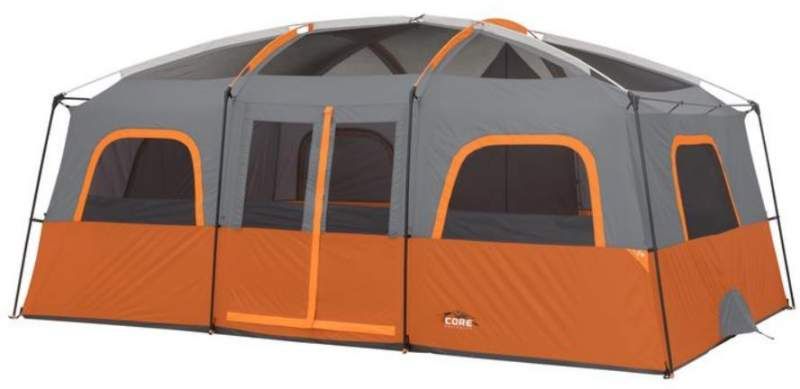 Product Description: The CORE cabin tent sleeps tightly for 10 people, but it's more comfortable for accommodating eight people. Cabin tents are normally very large and are directed at families who go camping in groups, including their pets like dogs. So, in order to fit a whole lot of people, they are very well built and spacious.
The height of the middle is a whopping seven foot two inches. Height is something that you would definitely want in a tent, as it will give you more headroom and also make it easier for you and the other members to easily get inside the tent. The weather system named H2O block is a waterproofing device variant that works excellently.
They also have fans to assist fight the heat while the rainfly has to be on. The tent also comes with a divider that you can use to split the tent on either side. This tent also contains essential accessories such as lantern hooks, e-port, equipment loft, and carry pack.
It's not just the scale and dimensions that make it simple and comfortable to use a tent. The Core wall cabin tent has a fine structure and is enormously stable. This freestanding tent has six poles for you to fix it on. The poles are very robust and are made of stainless steel. Furthermore, fiberglass is used to make the six roof panels. Moreover, to keep all in order, there are several pocket organizers.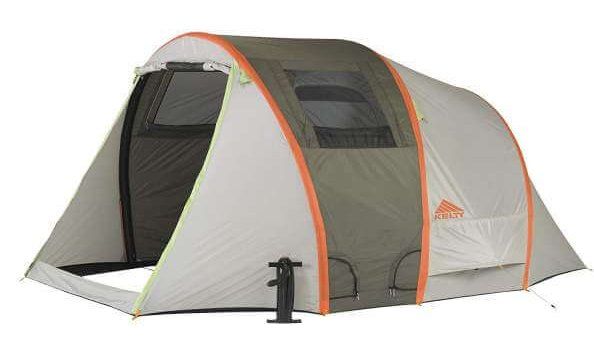 Product Description: The Gazelle T4 pop-up portable tent can comfortably hold eight persons with ease. This tent can be a great choice for your temporary residence whether you decide to go hunting with some mates or just want to set up camp with your dog. It has a sturdy, rugged nature that can tolerate any kind of extreme weather outside. Owing to its low weight, it's very easy to bring around for trips.
This tent is completely assembled and easy to pop up, thanks to its inventive structure. The structure consists of strong poles of fiberglass and all-metal hubs to create a strong solid base. It also has sturdy zippers from YKK that effortlessly zip and prevents you from worrying about having the zippers break.
The tent is about seven feet tall with an area of 110 sq. ft. where eight people can easily stay. The Gazelle comes with ensnared seams of waterproof rainfly that attach easily to the receptor poles of the corner roof. The roof portion can be pushed off in the warm and cool seasons so you can get a clear view of the starry sky.
Weighing about 47lbs, the Gazelle T4 can be comfortably packed into a 63-inch bag. The tent comes with a cover made of polyester that promises resilience against windy situations. Moreover, the tent has two doors that allow adequate air to flow inside.
Product Description: The screen room is a great way to keep the bugs away while enjoying the great outdoors! The best part about this tent is that if it rains, you are guaranteed to keep dry! You can comfortably fit 6 people inside this tent, if you need more than 6 people then there are other tents for that which will solve the problem. Inside the tent, there's enough room to stretch out on two queen-sized airbeds, and storage pockets help to keep small items organized. It has a roomy interior with Roomy interior: 10 x 9 feet with 5 feet 8-inch center height.
Product description: We tested it out and MoutainSmith, without a doubt, is worth the bucks. It has plenty of space that can comfortably fit andh as ample space for a 2 person tent . There is plenty of space for plenty of room for an extra tall person or for your pack, dog, or whatever you bring along With a headspace of 43 inches, there's enough room to maneuver about without cramping your style, back or being in an uncomfortable position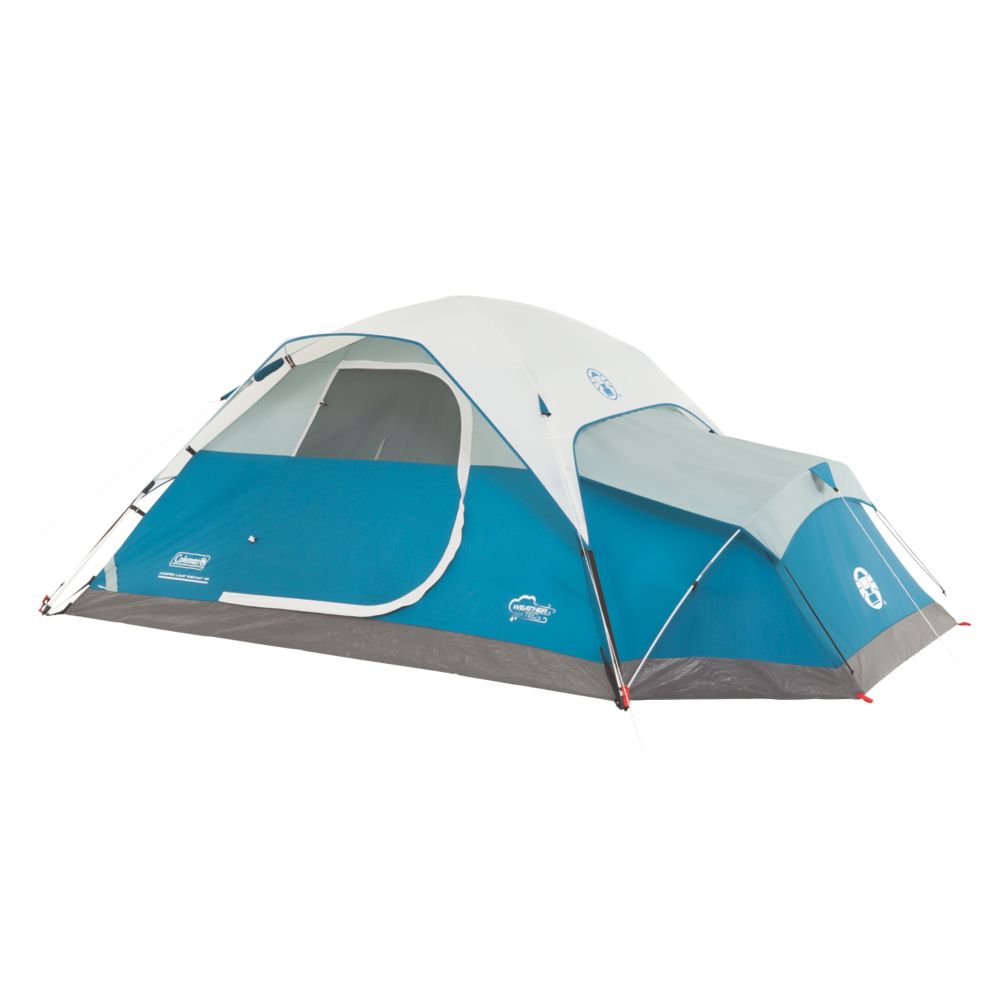 Product description: A great option for waterproofed 4-person tent uses WeatherTec system to the insides of the tent dry from all elements. Made from durable polyguard fabric and complete with an invaluable side annex, the Coleman Juniper Lake Instant Dome Tent sets up in about 60 seconds with the help of pre-attached poles. 
Product Description: One of the most versatile dome tents in the market as we speak. It has the perfect big screened porch for your furry buddy to play around. The best part about its quick set up which takes less than 7 minutes.
Product description: Such a roomy tent, spacious enough to hold 8 campers along with your dog! It comes with room dividers which is amazing for privacy and room. The shock-corded poles enable an easy hassle-free setup process. Set up time ranges anywhere between 10-20 minutes.
Conclusion – Top tents for camping with dogs
After much consideration, we have decided on the Wenzel 8-Person Klondike Tent to be the most preferable option among our list above. The Wenzel offers everything you can imagine from a tent to camp out with your beloved furry friend. The tent is big enough for a small group and a dog. The build quality is robust enough that it can withstand whatever your dog might throw (or scratch) at it. It's also one of the affordable ones you can find in the market.
The Wenzel stays dry during the rain and provides enough airflow to keep the interior dry in warmer environments. So, according to us, you should go to the Wenzel Klondike tent.
Make sure you have a sturdy and cozy tent the next time you plan a camping trip and decide to bring your dog along.
FAQ
When can a dog be old enough to go camping?
You may take your puppy camping when it is 8-9 weeks old. But to keep your puppy safe, you'll need to be more observant, tolerant, and prepared as they age.
Is it possible for dogs to stay in screened porch tents?
Yes, the majority of dogs enjoy it. The screened area may be an excellent place for your dog to relax or sleep.
How can I keep my dog from getting out of my tent?
Dog doors, walk-in type doors with a pelmet that can be fully enclosed, are commonly seen on stitched groundsheet-style tents and are pretty helpful in preventing the dog from escaping.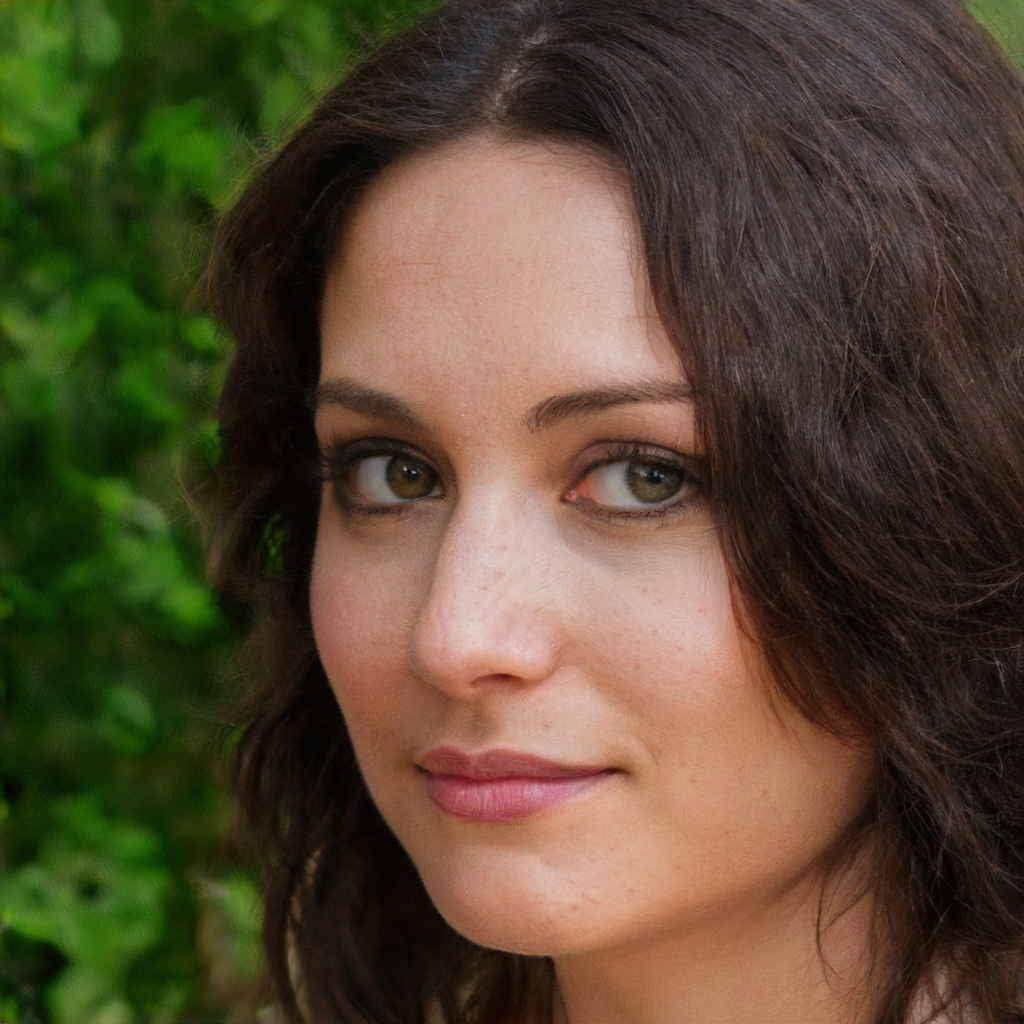 Meet Sarah, a passionate traveler and camping enthusiast who loves to explore the great outdoors. With years of exploring, she has become an expert in testing and reviewing the best tents on the market which got her to start mytravelingtents.com. Her insightful reviews provide valuable information to fellow adventurers looking for the perfect tent for their next camping trip.