Tesla Model 3 Tent Camping: A Different Take on Tent Camping and Everything You Need to Know About It
Tent campings are fun. You can go with a group, or you can go alone. Either way, spending the night under the open sky is pretty fantastic. Typical tent camping includes a scary part called packing for the trip. It is also an essential part of a trip, considering a small mistake here can ruin your entire experience. And yet this kind of tent camping doesn't guarantee fun.
So what do you do if you want to make tent camping more convenient and fun? You go for a different kind of camping. Trunk tent camping is a good idea, especially if you're trying to keep the whole thing more personal. If you own a Tesla Model 3, you can consider taking the  Tesla Model 3 tent camping. And it is pretty easy now too, with all the accessories and everything available.
But is that fun? What would you even need to make the camping trip more well-rounded? If that's what you're thinking, don't worry. We've got you. Here is everything you need to know about Tesla Model 3 tent camping.
Tent Camping with Tesla Model 3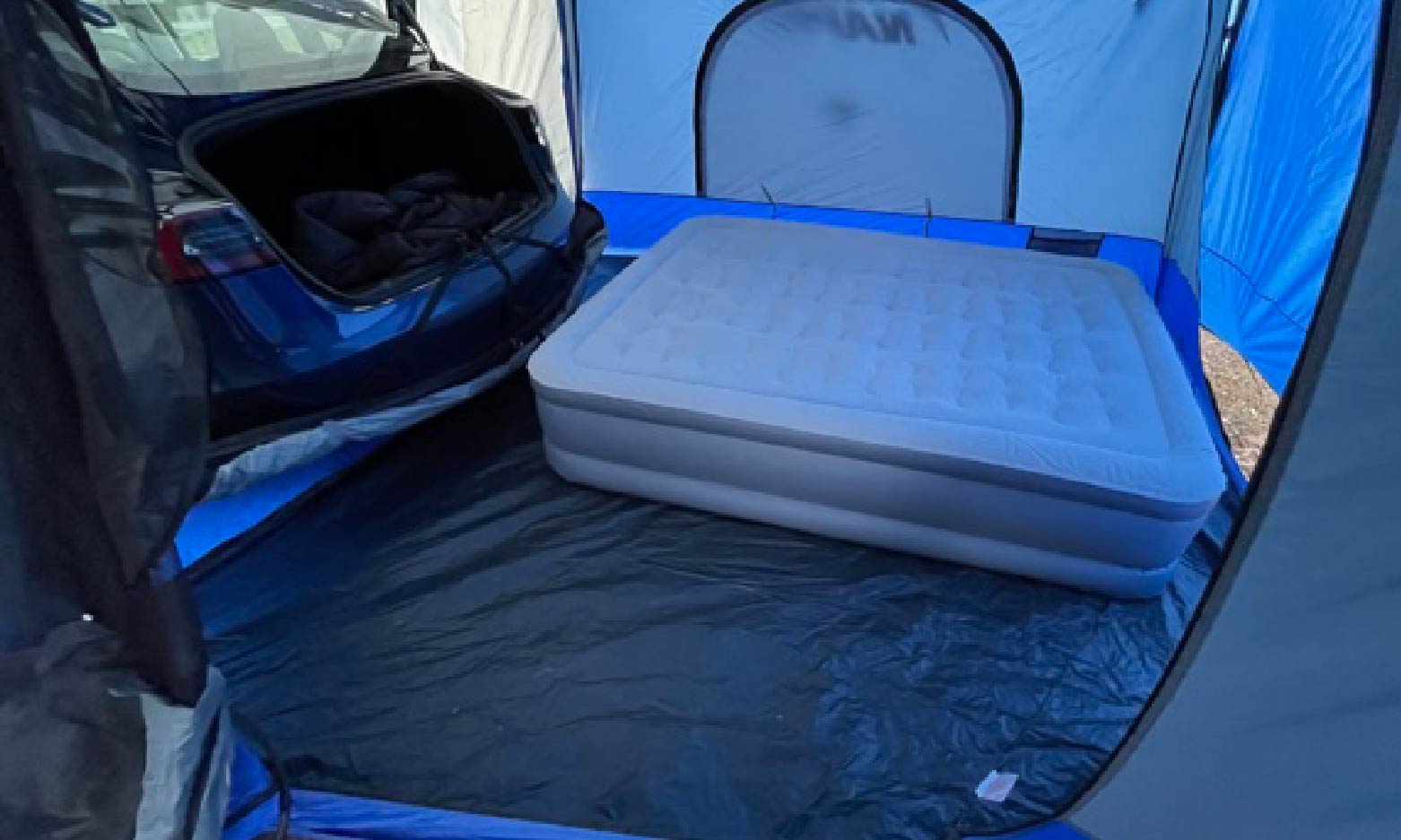 Car trunk tent camping has been pretty popular for some time now. It is trendy around the UK. But what is car trunk camping?
When you hear "tent camping," you can imagine what it will be like. You know there will be tents on a campsite, and you'll use that as your base. Car trunk tent camping is the same except for the tents. For car trunk tent camping, you'll have to use special tents that can be attached to your car's trunk. These tents can be attached to your car and function like a standard tent.
It is convenient for many people, which explains its popularity. So what about your Tesla Model 3? Can you go tent camping with it?
Tesla cars are relatively new and are pretty different. They aren't just one of the first EVs; their build and design are also different from most cars. So it is normal if you're wondering whether you can take it camping. The answer to that would be yes.
You can use multiple tents with your model 3, so you don't have to worry. Tesla has also added a lot of accessories, and you can find some from different companies too. You can pack everything, hook them up and go on your trip like any typical car.
You'll just have to be extra careful when choosing the trunk tent. There aren't exactly a lot of options, but double-checking never hurts. So, double-check to see if your accessories fit your car and you're all set.
Tesla Model 3 Tent Camping: What Is It Like?
Tesla Model 3 might be a little small for people with bigger stature, but other than that, camping in it is a breeze. The car has a camping mode for maintenance, and it works wonderfully. Of course, there is room for improvement, but if you know how to tweak things according to your need, you'll be more than fine.
There are multiple tailgate tents for Tesla cars. Tesla's own Tesloid tent can fit your model 3 car if you play around with it a little (even though it is made for model Y). But if you aren't into DIY, you can get pre-made tents for your Tesla from third-party brands. You'll have to look harder for that.
The tents for Tesla Model 3 usually come in two variations, one room, and two rooms. Both variations cover the hatch of your car, and the two rooms version usually has a door-like partition to separate the rooms. One of the excellent tent options is this one here.
Tesla has a camp mode for this exact reason. You can turn the camp mode on, and it will turn your car into a fantastic cabin on wheels. This mode ensures airflow and temperature balance in your tent. The camp mode disables auto lock and sentry mode to conserve power.
The one small problem is that the tent-to-car connection usually leaves a lot of gaps. If you're in an area where mosquitoes have their own kingdom, things can get unpleasant. You'll have to add a small fan in your tent to keep the heat flow even, which can take up a lot of extra space. And as we said earlier, the tesla mattress can be small for taller people.
Overall, if you're an average height and know how to choose your tent well, your Tesla Model 3 tent camping will be smooth and comfortable. Make sure to utilize the camp mode of your car, and you won't even feel a thing.
Accessories You'll Need for Tesla Model 3 Tent Camping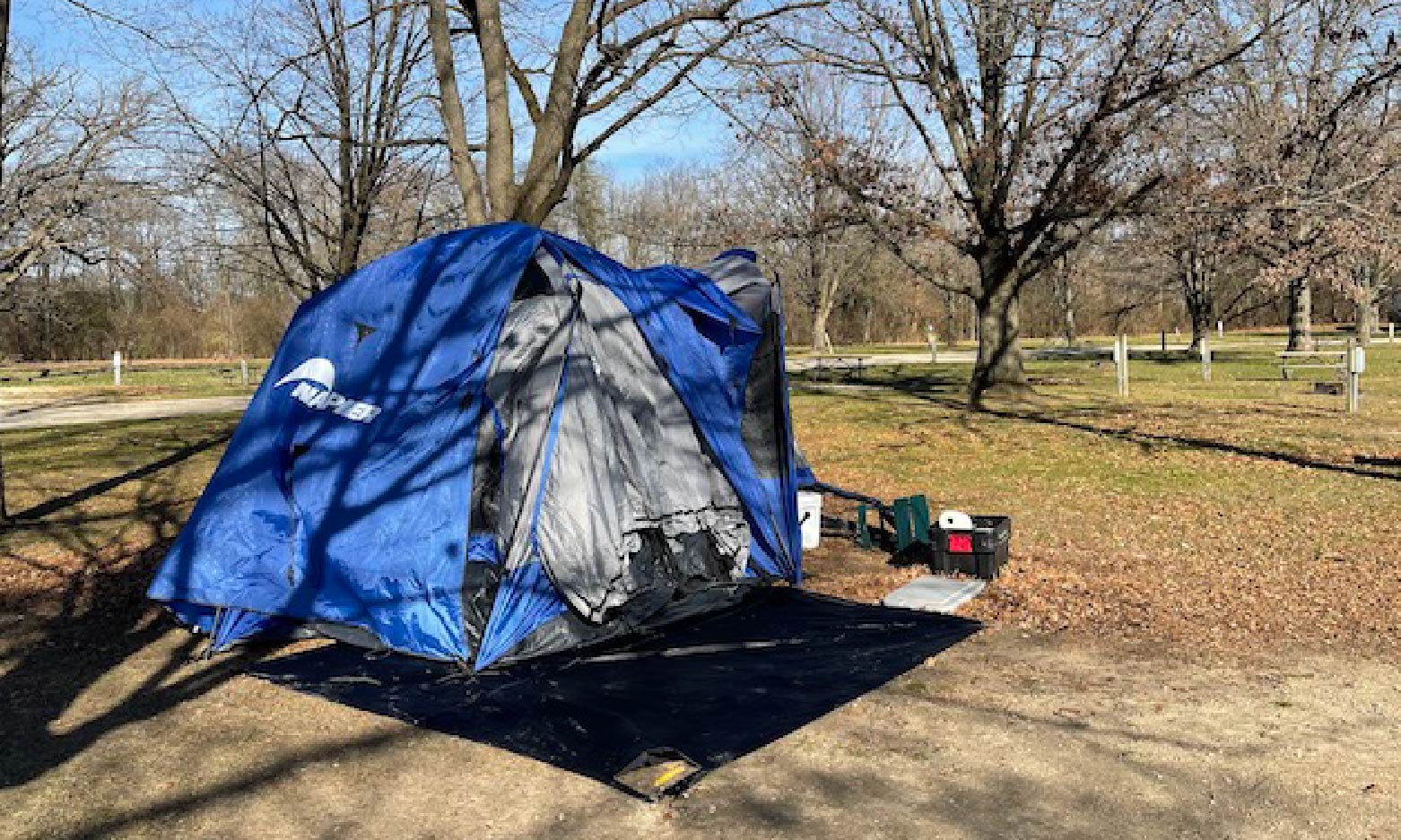 You can consider this a small investment if you're a camping person. Most car trunk tent camping trips involve buying accessories that make camping easy and take the load on packing away. Here are some accessories you'll need if you're taking your Tesla Model 3 tent camping.
1. Tailgate Tent
Very obvious, we know. You can't go on car trunk tent camping if you don't have a tailgate tent (or a car trunk tent, if you will) in the first place. Since most tailgate tents are model-specific, check their compatibility with your car before you get one.
2. Tesla Mattress
No one wants to go on a camping trip and wake up with a sore back. Well, that's what you'll wake up with unless you invest in a good mattress. The good news is that Tesla has their own mattresses for camping trips. They come in regular and memory foam variants. Pick the one that fits your car, and you're all good.
3. Tesla Trunk Organizer
No more scrambling around for that one thing you need right now. Tesla trunk organizers help you organize your items so you can easily find everything when you need them. The sizing is also very convenient, so that is another plus.
Conclusion
Tesla Model 3 tent camping is fun if you know the things you need. Be extra careful when you're buying the tent and make sure to get some accessories with it. They will make your camping trip easier. Utilize the camp mode, and make sure to pack a small fan with your things.
FAQs
1. Can you go camping in a Tesla Model 3?
Very much, yes. Just pack your things and go to the camping site; Tesla's camping mode will take care of the rest.
2. Can you sleep in a Tesla camping?
Yes, the camp mode was designed keeping this in mind. You can turn it on, and it will maintain the airflow and temperature in your tent. You can sleep all you want with that turned on.
3. How long can Tesla Model 3 last in camp mode?
Tesla Model 3 can last almost two days in camp mode when keeping the interior at 65 degrees. It will lose a 2.2 percent charge per hour unless you change your temperature setting.
You can also check: The Best Camping Tents for 6 Persons