Sierra Designs Convert 3 Tent Review
Today I will be talking about the Sierra Designs Convert 3 Tent review; this tent is one of the most comfortable, lightweight, and easy-to-carry tents that can be used in any weather. It's more flexible than ever because it has a larger vestibule and a tent that can be taken out of the layout completely. It can be modified for use in milder climates, and its ability to withstand the rigors of four seasons is a significant advantage.
Others I've seen advertised as 4-season tents are too bulky or poorly maintained to use in any season, but this one is lightweight tent enough for anybody to carry and set up in any weather. Also, you have the option to set up the tent in a variety of ways to get the most out of it. Keep reading the Sierra Designs Convert 3 review to find out how Sierra has made even camping a delight.
Specifications at a glance!
The Sierra Designs Convert 3 is a 3-person backpacking tent that offers versatile functionality for a range of outdoor adventures. Here are some of its specifications:
Dimensions: The tent floor measures 7 feet 6 inches by 4 feet 8 inches, and the peak height is 4 feet 4 inches. The tent offers 44.5 square feet of interior space.

Weight: The minimum weight of the tent (which includes just the tent body, rainfly, and poles) is 6 pounds 10 ounces. The packaged weight (which includes all components) is 7 pounds 6 ounces.

Materials: The tent body is made of breathable mesh and polyester taffeta, while the rainfly is made of 68D polyester ripstop. The tent poles are made of DAC Pressfit aluminum.

Design: The Convert 3 has a freestanding design that uses two hubbed poles and one ridge pole to create a sturdy frame. The tent can be set up in either a traditional A-frame configuration or a more spacious and airy awning configuration.

Weather resistance: The rainfly is rated for 1500mm of waterproofness, and the tent body has a bathtub-style floor that helps keep water out. The Convert 3 also features integrated vestibules for additional storage space and protection from the elements.

Ventilation: The tent has several mesh panels and a large door to provide ample ventilation and breathability. The rainfly can be rolled back to expose even more mesh and improve airflow.
Features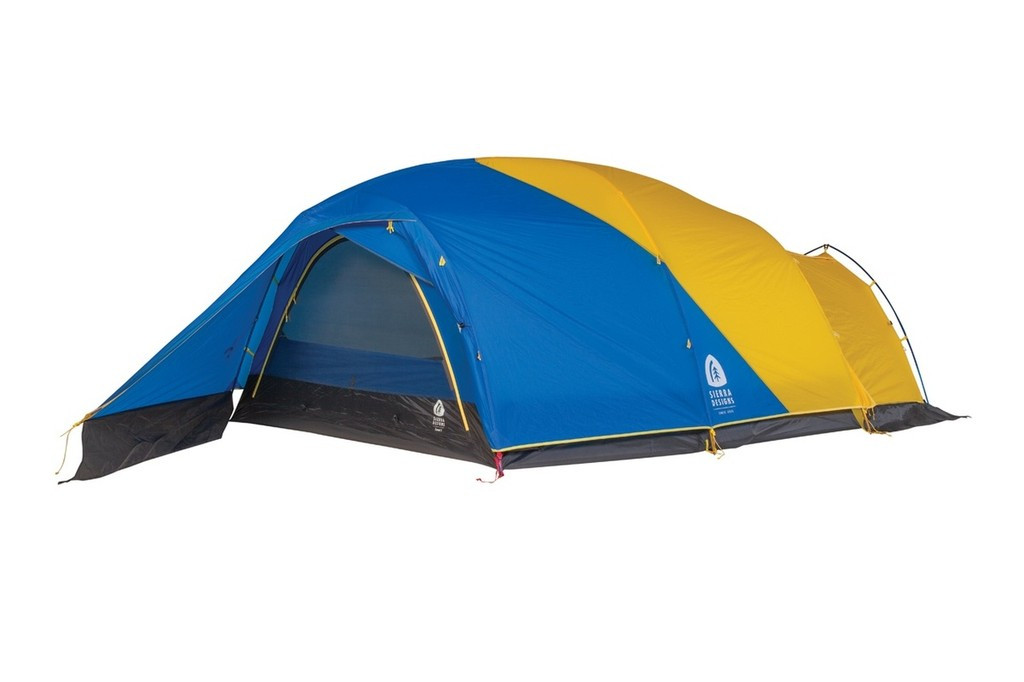 The Sierra Designs Convert 3 has a lot of top room within the Sierra Design since the ridge pole reaches a height of 45 inches right in the middle.
This tent's design allows for a wide range of setups and configurations. Such as removing rainfly and vestibules to lose weight for easy trekking is a great example. 
The 46.5 square feet floor made with nylon has a 5000mm PU coating to keep water out. Set it down on a snowy mountaintop or a damp floor, and you shouldn't have any problems.

Putting up only the outer tent, without the rainfly, and the inner tent prevents dampness completely. 

The poles may be clipped on the outside of the fly, allowing for a convenient setup. By doing this, you can maintain a waterless and sturdy tent.

The Sierra Designs Convert 3 is carefully planned and made the tent a secure space. Six different zips separate the netting from the front and back doors. It's a great way to adjust how much air gets in and how much protection you get in severe conditions.

The mesh netting on the inner tent allows you to see rain, snow, or anything else blowing outside without unzipping the tent's top layer. 

Two incorporated and detachable vestibules add another pound to the pack's total weight to the Sierra Designs Convert 3, but it's huge and allows you to store three big bags inside without taking other sides.
Although there are just eight included guylines, the tent has sixteen guys out points. They are all attached to the pole sleeves, substantially increasing their stability.
What are the positives of the tent?
As some parts are removable to make it lightweight, you can always carry the tent and weigh it down according to weather/hiking demands. 
High-quality structure and materials that last a long time and give strong protection against rough weather.
The Sierra Designs Convert 3 may be set up with little effort by a single person under normal situations. You can even check out a full guide on how to set up a camping tent

Wide range of airflow solutions.

Double zipping options so no one can break in when you are having a sound sleep at night. 

Incredibly well-made poles are strong enough to hold the tent even in snow.
What are the negatives of this tent?
Since the Sierra Designs Convert 3 tent is large, you'll need to find a suitable place to build it.
Relating to the first point, you may need even more than two people to set it up in unfavorable circumstances. 
Damping inside the tent is common in the winter when there are three occupants, and the front vestibule severely restricts ventilation.
Having three people staying in a tent can get tough. 
So many zipper pulls can make the design complex. 
The price is not suitable for an affordable budget. 
Cheaper Alternatives to Sierra Designs Convert 3 Tent 
There are several cheaper alternatives to the Sierra Designs Convert 3 tent that offer similar features and performance for a lower price point. Here are a few options to consider:
REI Co-op Half Dome 3 Plus: This 3-person tent is a popular choice among backpackers and offers ample space, durable construction, and reliable weather protection. It's priced at a lower point than the Convert 3, making it a great alternative for budget-conscious buyers.

Kelty Grand Mesa 4: The Kelty Grand Mesa 4 is another 3-person tent that offers good value for the price. It's lightweight, easy to set up, and has a durable rainfly that provides solid protection from the elements.

ALPS Mountaineering Lynx 4: This 4-person tent is a bit larger than the Convert 3 and offers good weather resistance, ventilation, and storage space. It's priced lower than the Convert 3 and is a great option for car camping or shorter backpacking trips.

Marmot Limelight 3: The Marmot Limelight 3 is a well-designed 3-person tent that offers good ventilation, weather resistance, and durability. It's priced slightly higher than some of the other options on this list, but it's still more affordable than the Convert 3 and offers comparable performance.
Sierra Gear to Consider with the Sierra Designs Convert 3 
If you're looking to combine gear with the Sierra Designs Convert 3 tent, there are several pieces of equipment that would complement this tent nicely. Here are a few examples:
Sleeping bags: Sierra Designs makes a range of sleeping bags that would work well with the Convert 3 tent. The Backcountry Bed and Cloud series are both popular choices for backpackers and provide good warmth-to-weight ratios and packability.

Sleeping pads: A comfortable sleeping pad is essential for a good night's rest while camping. The Sierra Designs DriDown Pillow and Frontcountry Bed Duo are both excellent options that offer good insulation, comfort, and durability. Check out some of the brilliant sleeping pads for camping I have rounded up too!

Camp chairs: A lightweight, portable camp chair can be a great addition to your camping setup. The Sierra Designs Flexlite Chair is a highly packable option that's comfortable and easy to set up.

Camp stove: If you plan on cooking meals while camping, the Sierra Designs 2-Burner Stove is a great option that's compact, efficient, and easy to use.

Backpacks: Finally, if you're planning a backpacking trip with the Convert 3 tent, you'll need a good backpack to carry your gear. The Sierra Designs Flex Capacitor backpack is a highly adjustable, lightweight option that's ideal for multi-day trips.
Things To Consider Before Buying A Tent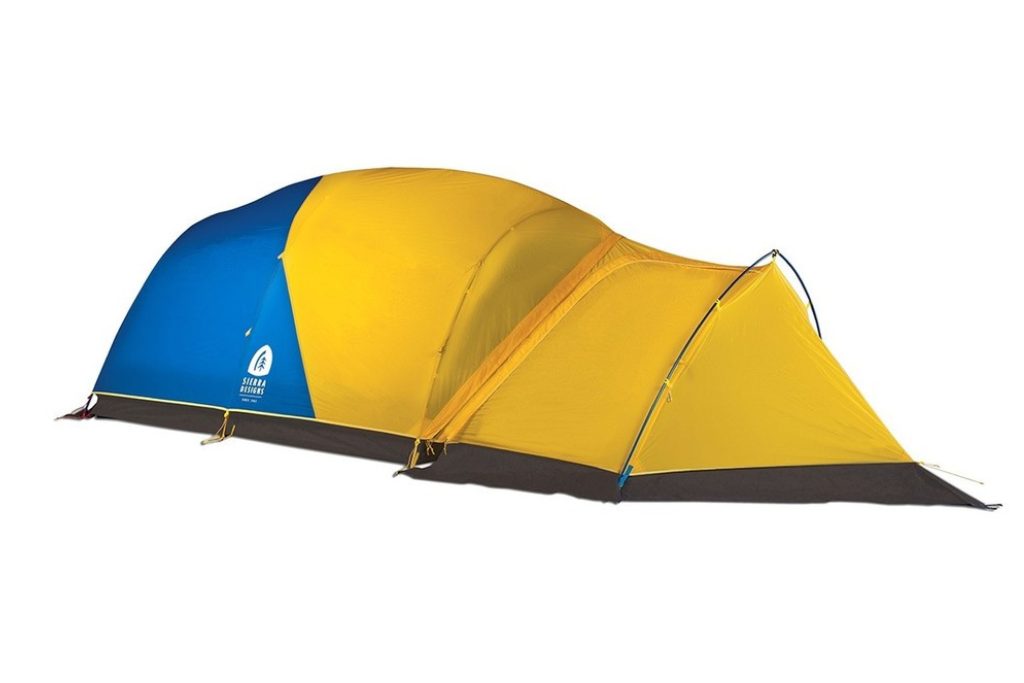 Ventilation
During the winter, the wind may be quite chilly. Check the layout to determine whether the lack of air circulation will be an issue in the winter. Consequently, you should keep searching if this is the case.
Bathtub floor
This seamless floor completely encircles the tent's footprint. A very well-tub floor will prevent water from leaking into the camp.
Backpacking
Pack a light, all-weather tent that can withstand strong winds if you plan on doing any serious trekking. Long-term camping in it will be less comfortable, but sacrifices must be made to save pack weight.
Wind resistance
Are you a fan of standing indoors? Therefore, some preparation is required. A tall tent with a high center may operate like a sail when the wind or rain is strong. If the temperature is an issue, it will be lower.
Rainfly
The tent is protected from rain by a fly that covers it. The airflow, and hence the temperature, may also be controlled. The fly of a four-season tent should fully enclose the tent, making it almost windproof in all but the worst conditions.
The Bottom Line
I could write more and more on this Sierra Designs Convert 3 review which would not make many changes. To cut to the chase, let me tate that I was quite pleased with the Convert 3's outstanding performance, variance, and being fairly lightweight. It is the kind of tent that I'd like to use for many years.
Frequently Asked Questions
My tent gets damp often, can I put it anywhere like that?
Mold can grow in a tent if damp for a week or more before being put away. Your tent and maybe your health will be affected by this.
If my tent has a rip or hole, can I fix this myself?
You can do the fabric repairs for synthetic tents. Put a patch on each side of the damage to seal it. If your tent canvas is made of cotton or a combination of materials, you should apply iron-on patches.  
What can I do if the tent's zipper won't work properly?
Pastels and powdered graphite are acceptable materials. You can also use a silicone lubricant to keep a zipper operating smoothly.
Do the raindrops on the tent's inside indicate a leak?
It might cause by condensation. It may be reduced by increasing the tent's air circulation.
How many people can the Sierra Designs Convert 3 accommodate?
Sierra Designs Convert 3 is designed to accommodate up to three people.
Can the Sierra Designs Convert 3 be used in winter conditions?
No, the Convert 3 is not designed for use in winter conditions and is not suitable for use in snow or extremely cold temperatures. 
What is the difference between Sierra Design Convert Tent 2 and Convert 3
The Sierra Designs Convert 2 is a 2-person tent, while the Convert 3 is designed for 3 people. The Convert 3 is larger and has two doors and vestibules, while the Convert 2 has one of each. Both tents have similar features and can be set up in different configurations.
Who makes Sierra designs Tents?
Sierra Designs is an American outdoor gear company that designs and manufactures backpacking tents and other outdoor equipment. The company is currently owned by Exxel Outdoors, a leading supplier of outdoor and sporting goods products in the United States.