8 Person Tent with Screened Porch
A camping trip is incomplete without the right gear. Especially when you're traveling in groups. A camping tent acts as a safe space during the trip. It needs to be spacious, durable, and easy to set up. If you have a large family who enjoys getaways, you need to invest in 8-Person Tents with Screened Porch.
Before you make the final call, learn about your product.
Features to Look For in a Tent with Screened Porch
Tents are your shelter in the wilderness. So you need to ensure they tick the right boxes. Every tent shares a few common features while others come with additional amenities. Here are some of the things you need to look out for.
The tent's berth.
This refers to the number of people a tent can host. Mind you, this doesn't consider the luggage. So it's always safer to get a larger tent when you're traveling in groups. Especially if you tend to carry more kit.
The flysheet and inner.
The flysheet is the outer fabric that protects the tent from wind and rain. It's better to find durable materials that are thick and waterproof. The inner should be as comfortable as possible. Try to look for breathable fabric.
The groundsheet.
Your tent's floor protects you from dirt, moisture, drafts, and insects. The fabric should be durable and sewn-in. Most tents have bedroom groundsheets. Try to find ones where the porch does too.
Tent poles and guylines.
Poles help build the foundation of your tent while guylines keep them upright. Guylines distribute stress from the poles and keep the tent stable. As for poles, there are various types. Fiberglass and alloy ones are more popular. The former is more common and easier to repair. The latter is stronger but harder to repair.
Windows and ventilation.
Look for tents with large windows that allow airflow and offer a scenic view. Some come with velcro curtains. Also, look for tents with a mesh. This allows condensation and provides the perfect room temperature.
What Makes an Ideal 8 Person Tent with Screened Porch
Some brands claim to be the best but fail to deliver. Buying an 8-Person tent is more complicated than you think. They're bigger, pricier, and harder to set up. You don't want your hard-earned money to go to waste. You need to be mindful of a few things. Here they are:
1.     Size, Space, and Layout
You'd think a supposed 8 person tent would fit the said number. Think again. If you're okay sharing a cramped space then yes, it would fit. Otherwise, no! There's also your gear to consider too. Ideally, 5 to 6 people can fit in comfortably.
Pay attention to the height too. Look for tents with high ceilings. This depends on the type of tent you're purchasing. The layout tells you how much room you'll have to sleep in and store your goodies in.
2.    Ventilation and Comfort
The tent is your home away from home so comfort ought to take precedence. Is there room to move in? Can you stand up? Will it keep the rain out? Ask yourself these before making your purchase. Remember that you're rooming with 8 people.
It's easy to feel confined with so many people rooming in a single tent. A tent is properly ventilated when it has a lot of windows. Try to invest in a mesh roof too. Some even come with air vents that help air circulate throughout the tent.
3. The Ease of Set-Up
A good tent should be easy to put together and take down. You don't want to arrive in the perfect location only to take hours to pitch a tent. A large tent naturally takes more time. You should be ready to invest at least twenty to thirty minutes in this.
Tents ought to be easy to assemble. Practice setting it up in your backyard first. This way you don't spend hours going back and forth with the instructions. You can let your hair down and focus on having a good time instead!
The Top 8 Person Tent with Screen Porch
To make your job easier, we've listed down the top 8-Person Tents with Screened Porch in the market! Let's take a closer look.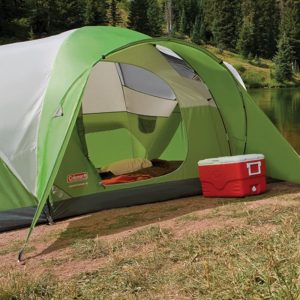 Product Description: If you're looking for a budget tent, the Montana 8-Person one is a good choice. It's perfect for beginners or casual campers. There's a lot of floor space so it's not cramped or indelicate. The ceiling is over 6-feet tall so that's another plus!
The tent can be set up within fifteen minutes if everyone pitches in. The screened porch area adds more room. You can easily set up two to three chairs and enjoy the view. It's especially handy when it rains. You're not confined to a stuffy space.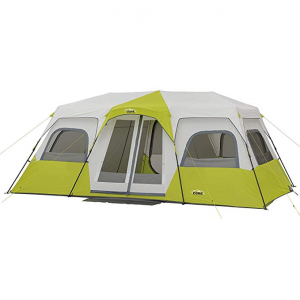 Product Description: When you're in the great outdoors, you don't want to spend hours setting up the camp. This is why this tent is second on the list. It takes less than a minute to set up and takedown.
It's extremely spacious too. The tent can fit nine people in with enough room for movement. The vertical walls allow you to move around while standing. Most importantly, it's great value for the money.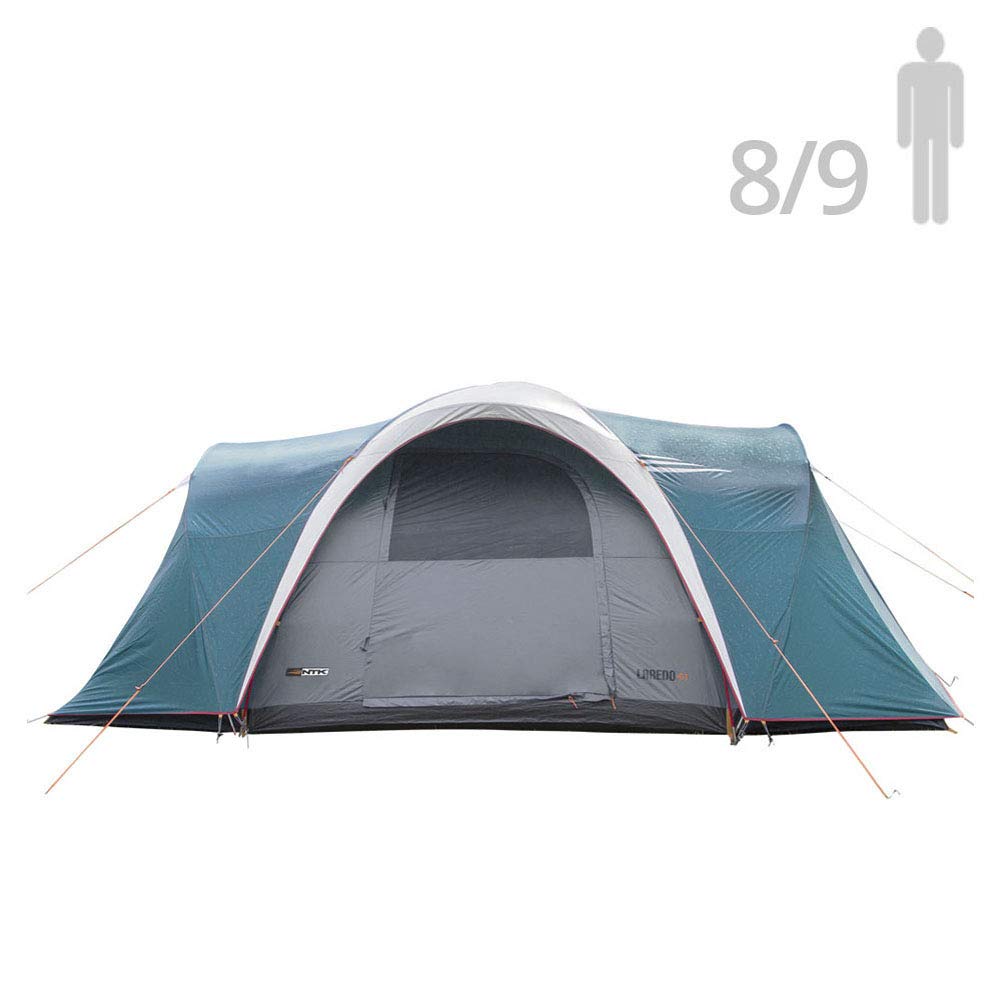 Product Description: You need to invest a little more than normal in this tent. It's constructed from a double layer polyester. This helps protect it from rain, dirt, and sunlight. The frame is set up with fiberglass rods to help with the setup. It's quick and easy.
The design is elegant and it comes with a lantern hook too. The tent is sturdy enough to sustain in long periods of rain and wind. This is perfect for camping in story areas. The ventilation system isn't up to par though.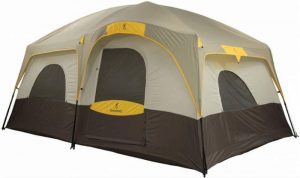 Product Description: This tent is enormous. It's over seven feet tall and has around 150 square feet of floor space. It is reinforced with fiberglass poles and steel uprights. So you know it's sturdy and stable. It comes with a room divider to help with privacy too.
One of the best features of this tent is that it has two doors. The straight sidewalls accommodate several cots and sleeping bags. It comes with six large windows so you know it's fully ventilated.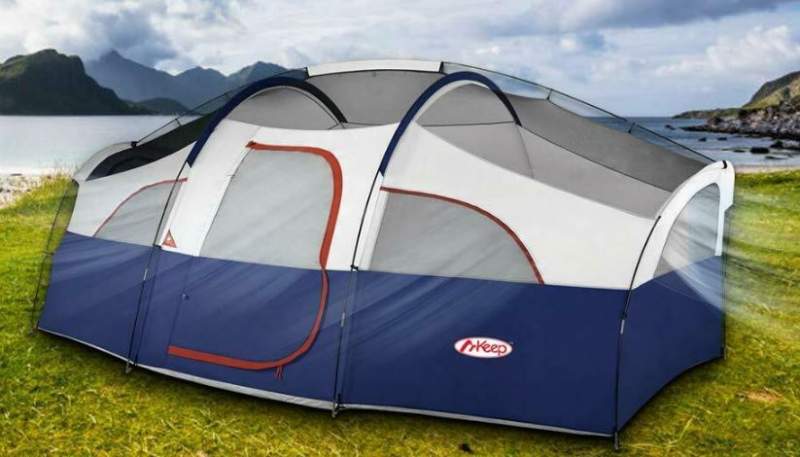 Product Description: If you're someone who enjoys the sound of rain, this tent was made for you. This tent will survive even in tropical rains. It's reinforced with waterproof and windproof fabric.
The tent has an HH rating of 4000mm so you know you'll stay warm and dry all the time. It also takes around 10 minutes to set up. There are color-coded poles to help you out.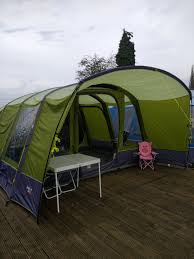 Product Description: Whether you're traveling in a group of four or six, this tent is an ideal companion to your trip. It's a unique tent in this list because it requires an air pump to set up.
This was originally intended for 4 to 6 people. There is so much space that you can room 8! The tension band system makes it aerodynamic. So you know it'll stay upright in adverse conditions too.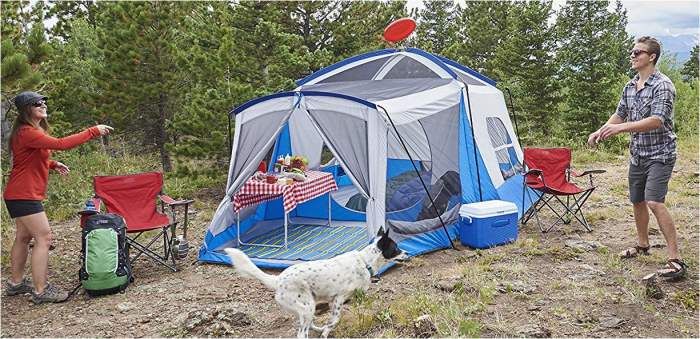 Product Description: If you're looking for a roomy tent, this is it. It's one of the coolest tents with a screened porch. The inner room is around 98 square feet! The screen room itself is around 60. It's over six feet long too.
If you're worried about privacy, you can zip the screen room. This makes an additional room with an inverted "T" style door. It also comes with a shock-corded fiberglass roof frame. This provides stability in tumultuous climates.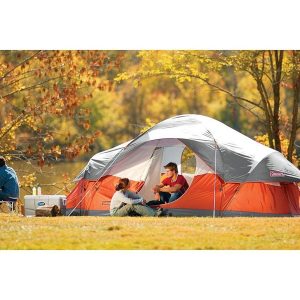 Product Description: This tent by Coleman makes it to the list because of the value it provides for its price. It's inexpensive and room. Most importantly, it takes minutes to set up. There's a reason why it's cheap. It's rumored to wear and tear easily.
If camping isn't a usual activity for you, this is a wise purchase. It comes with a low price tag and offers just as many features as the rest. The size itself is enough to finalize the purchase.
Conclusion
An 8-Person Tents with Screened Porch is not an easy purchase to make. The Montana Tent by Coleman is a clear winner for obvious reasons. There's plenty of room to move around and can be set up within minutes!
Air circulation plays an important role while traveling in groups. The angled windows ensure proper airflow and temperature. The groundsheet is strong and sturdy. The material is thick, strong, and waterproof.

The final choice is ultimately yours! Remember that comfort is of utmost importance. So read through the list and see which tent meets your needs. Ask yourself what type of traveler are you. When do you wish to camp?
Answer these questions before you make the final call!
FAQ
For an 8-person party, what size tent do I need?
You'll need 120 to 130 square feet of area for an 8-person tent, or 25 sq ft for each adult and 17.5 sq ft for every child.
What is the height of an 8-person tent?
Because most campers are under 6 feet tall, a tent ceiling of around 7 feet is optimal. There are, however, shorter 8-person tents available on the market.
In an 8-person tent, what should you look for?
When purchasing a tent for a large group, check for optimum airflow and temperature, as well as a firm and solid groundsheet. Also, the fabric is thick, sturdy, and water-resistant.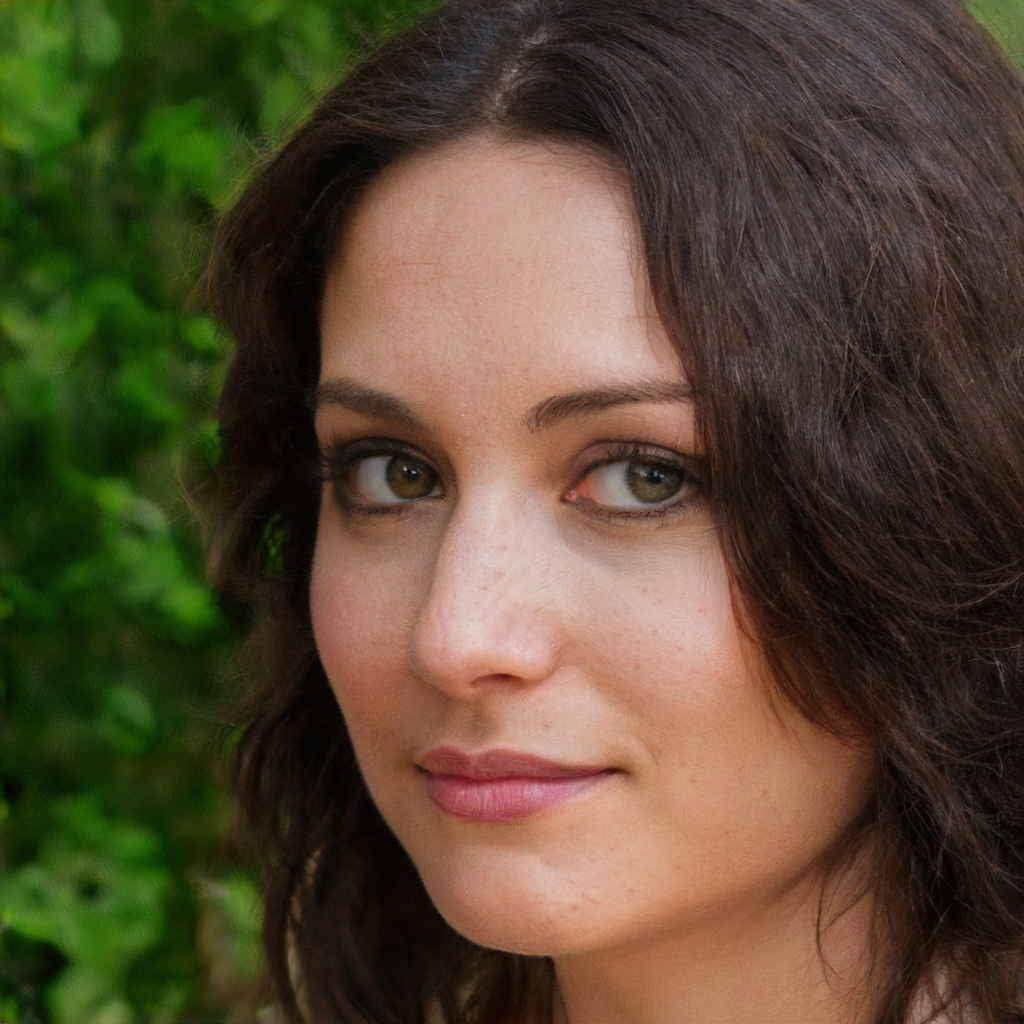 Meet Sarah, a passionate traveler and camping enthusiast who loves to explore the great outdoors. With years of exploring, she has become an expert in testing and reviewing the best tents on the market which got her to start mytravelingtents.com. Her insightful reviews provide valuable information to fellow adventurers looking for the perfect tent for their next camping trip.