Top 8 Tents you can stand in
Tall tents provide flexibility, space, height, and an overall comfortable ambiance. Tents for hiking and camping are heavier and cramped. You don't want that if you're traveling in a group. Or if you're tall. So finding a tent is trickier than it seems.
To make your life easier, this article will help you find the finest camping tents you can stand up in. Say goodbye to uncomfortable, restless nights in the wilderness!
Let's get started!
Benefits of Using Tents You Can Stand Up in
Camping is a fun activity to unite family and friends. It's a favorite pastime for many. How do you ensure comfort for all though? Your tent is your home away from home. So you need to ensure it offers the same comfort. Not only should it have space to host your group, but it should also have enough room for movement.
This is where a tall tent comes in.
1. You get to stand up and stretch your legs. 
A seasoned camper knows how important it is to have a spacious tent. Especially if they're tall. An average-sized tent will never do. They're cramped and congested. There's additional headspace to move around and even set a comfortable camping bed
2. There's more space.
Tall tents offer more room. You can set up beds, chairs, and even hang your clothes. More people can share the same space as they tend to have more ground too. You can also store your hiking gear and camping equipment here.
3. It's comfortable.
Camping trips aren't limited to horror stories around the bonfire. You tend to hike, explore nearby locations, or simply run around with the kids. After a long day, you just want to curl up to sleep. A small tent doesn't offer that comfort. A tall one does. You don't have to crouch to move around or share a cramped space.
4. They're much safer too.
Small tents tend to have more accidents. You'll know if you're out with your children. For family camping, you want a significantly taller tent. Kids are hyperactive. They tend to tumble too. With a tall tent, you don't have to worry about them tripping all over the place.
Another benefit is the additional storage space for your equipment. If they have sharp edges, they may puncture the tent. So it's best not to cram them altogether in one place.
5. Everyone gets to sleep in peace.
If you're traveling in a large group, you want additional space. You don't want to trouble anyone claustrophobic. More importantly, you don't want to get elbowed at night. There's always that one person who tosses and turns at night. So get one of these tents simply for more elbow room.
Things to Consider Before Making the Purchase
Buying any type of tent is tricky. A tent you can stand up in is trickier. Lucky for you, we know the things you need to focus on. Here they are!
1.   Size
The size of the tent determines its capacity. You need to know if it's appropriate for three people or five. It's recommended to always get a size larger. If the tent says it's for six people, five people can settle in comfortably. The flooring capacity matters too. Keep in mind that around 15 square feet are dedicated to each person.
2. Design
Size, capacity, and design are all correlated. Tall tents are built accordingly. Dome, Tunnel, and Bell tents are typically made for tall people. These designs not only accommodate multiple sleeping bags but offer more legroom too. A dome-style tent is cool for a small group or a couple.
3. Fabric
Fabric is another important thing to consider during your purchase. The material should be weather-resistant and tear-proof. Most are made of cotton, nylon, or polyester. Cotton canvases help keep your tent dry. Nylon or polyester ones don't offer the same benefit. They're much lighter and easier to carry through.
4. Portability
You need to consider how you'll be carrying your tent. You need to fix your transport accordingly. It's easier to carry nylon or polyester tents. You can just carry it on your back. Cotton tents don't offer space comfort. T So if you're on a hiking trip, gravitate towards polyester or nylon tents.
5. Tent Doors
The number of tent doors plays a crucial role in the matter of convenience. You don't want to climb over your friends and family for a bathroom break. Imagine the havoc with just a single door. Cabin style tends are preferable in this regard. They tend to have more than one doorway.
Multiple doors also improve ventilation. When you're perusing tents, check how easy it is to zip the doors. You don't want zips that continuously snag with the fabric. Or worse, are so brittle they break. Avoid ones that are noisy too.
Now you're equipped with the knowledge to make the right purchase. So without further ado, let's check out the top tents you can stand up in!
Product Description: This tent by Browning Camping is your home away from home. It's ideal for four to five people. The tent is constructed from fiberglass poles and steel uprights. So you know it stands against the elements.
There's also added height in the center. You won't have to worry about changing or walking around inside. It has straight sidewalls so there's enough room for makeshift furniture.
Most of all, it has an excellent ventilation system. Not only does it have two doors, but it also has large windows to circulate air.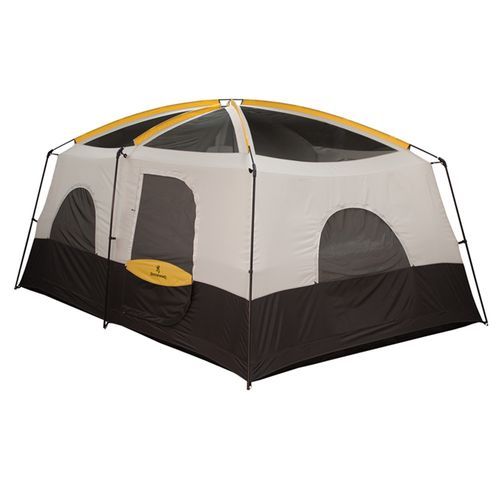 Product Description: Coleman is a front runner in this industry. This tent shows why. It's built with a dark-room technology that blocks out sunlight. You can comfortably sleep into the day. It also reduces heat to keep the temperature cool.
The seams and welded corners stop water from seeping inside the tent. It also comes with an additional flysheet to tackle tumultuous weather. Finally, the center height is around 6 feet and 7 inches. You can move around with ease!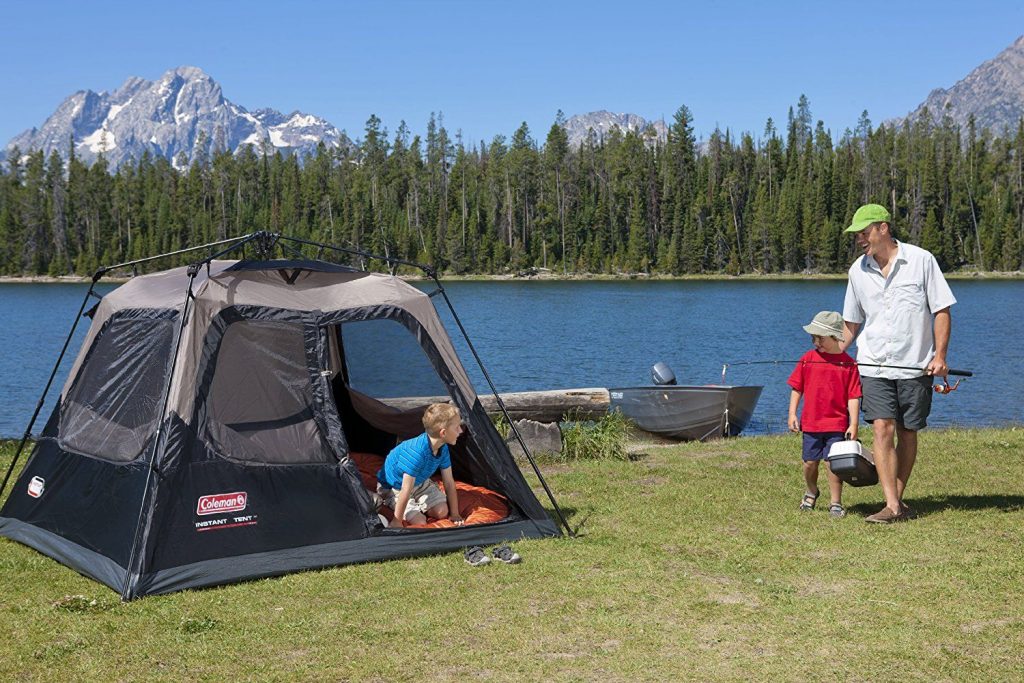 Product Description: This cabin-like tent by Coleman deserves to be on the top charts too. This fastpitch tent takes around ten minutes to set up. It's faster if you have help. This spacious cabin tent can accommodate a large group and still have space for more.
You can easily fit seven to eight mattresses with the massive floor plan. It has a center height of 6 feet and 8 inches. The inverted seams, waterproof floor, and rainfly keep your tent dry and crips all the time.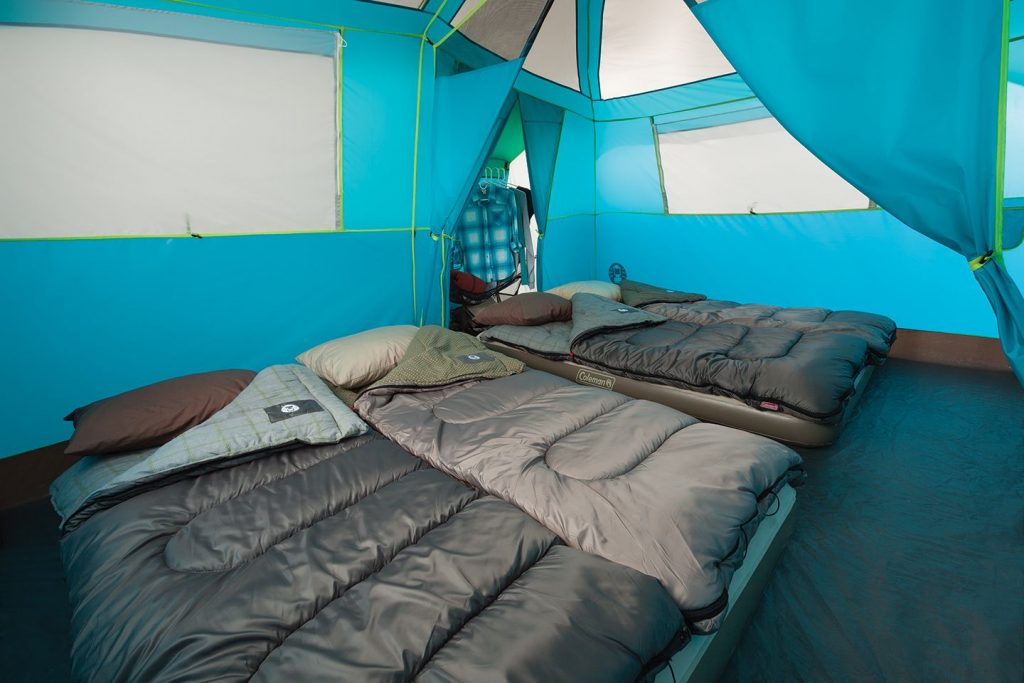 Product Description: This tent is perfect for large families or groups. It has seal seams and a water-protected entrance. So it's the perfect tent you can use in torrential rains. It comes with optional room dividers if you want your own space.
The floor is a bathtub design that is resistant to fungi. There's a thermal silver lining too. It keeps your tent-mates warm. The vertical walls offer resistance against the wind too.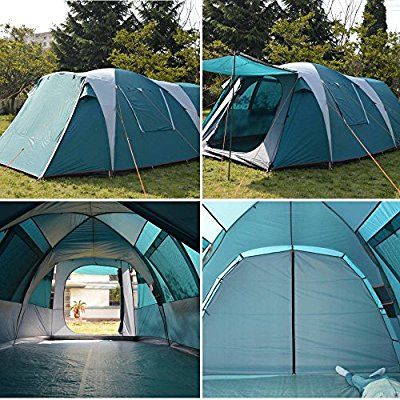 Product Description: This polyester tent has a polyurethane coating to become water-resistant. There's a convertible porch that can host a couple of sleeping bags. It's just nice to enjoy the drizzle without getting wet.
It also offers great ventilation. You'll have a mesh roof and two mesh windows. The tent is built from a shock-corded fiberglass frame with steel uprights. So it's upright in lousy weather conditions too.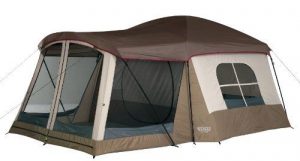 Product Description: The tent is made of a high-quality cotton canvas. It's not only durable but also water-resistant too. The tight weaves help reduce dampness and condensation. It has two large doors for ease of entry. No more shuffling in the middle of the night.
The peak is around 7 feet and 5 inches! It's one you can stand up in. It's ideal for large families with rambunctious children. There are five windows with micro settings. So you don't have to worry about creepy crawlers.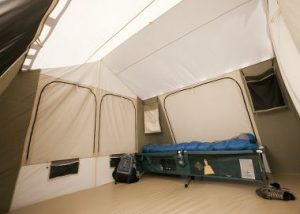 Product Description: If you're looking for a roomy tent with excellent airflow, this is it. This unique tent has a large entrance and a vented rooftop. It's also constructed from a UV-resistant fabric. The heavy-duty fabric seals in heat and keeps the tent at perfect room temperature.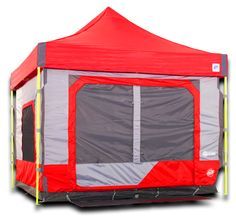 Product Description:
This tent with oxford fabric can easily fit a group of 6. It comes with silicone coating and a flysheet to protect itself from wet conditions. The fun design takes little time to set up. There's a thick mesh that stops insects from crawling in.
It offers perfect ventilation too. The tent is light compared to others so you can easily carry it on your back. It weighs around 17 pounds. It also comes with convenient transport and carriage.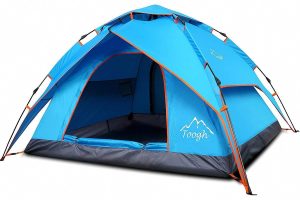 Conclusion – Tents you can stand up in
The Big Horn Tent by Browning Camping wins the title for several reasons. It's constructed with a thick fabric to ensure durability. There are multiple doors and windows for improved ventilation. You can also set up dividers to get some privacy.
The design comfortably fits three to four people with room for more! Overall, the tent is robust with a high ceiling. You won't find a better tent to stretch your legs in. All the materials are carefully curated for comfort. So it's no surprise that it's at the top of the list!
All of these tents have different features and unique designs. Some are made for certain landscapes while others can tackle any conditions. So if you're looking for a tent you can stand up in, any one of these will do!
FAQ
What is the weight of a tall tent?
We found the lightest stand-up height tent at 12 pounds 14 ounces. However, other tents on the market weigh approximately 5.5 lbs, so you're looking at over double the size.
Are tall tents sufficiently stable?
Tents you can stand up in tend to be vulnerable to wind and snow damage. In heavy winds, the tent poles are broken or destroyed, and snow frequently accumulates on top of the tent.
What is the tallest variety of tents for camping?
The bell tent or teepee form, which has one long support beam in the center to generate the highest headspace of any camping tent, is the tallest.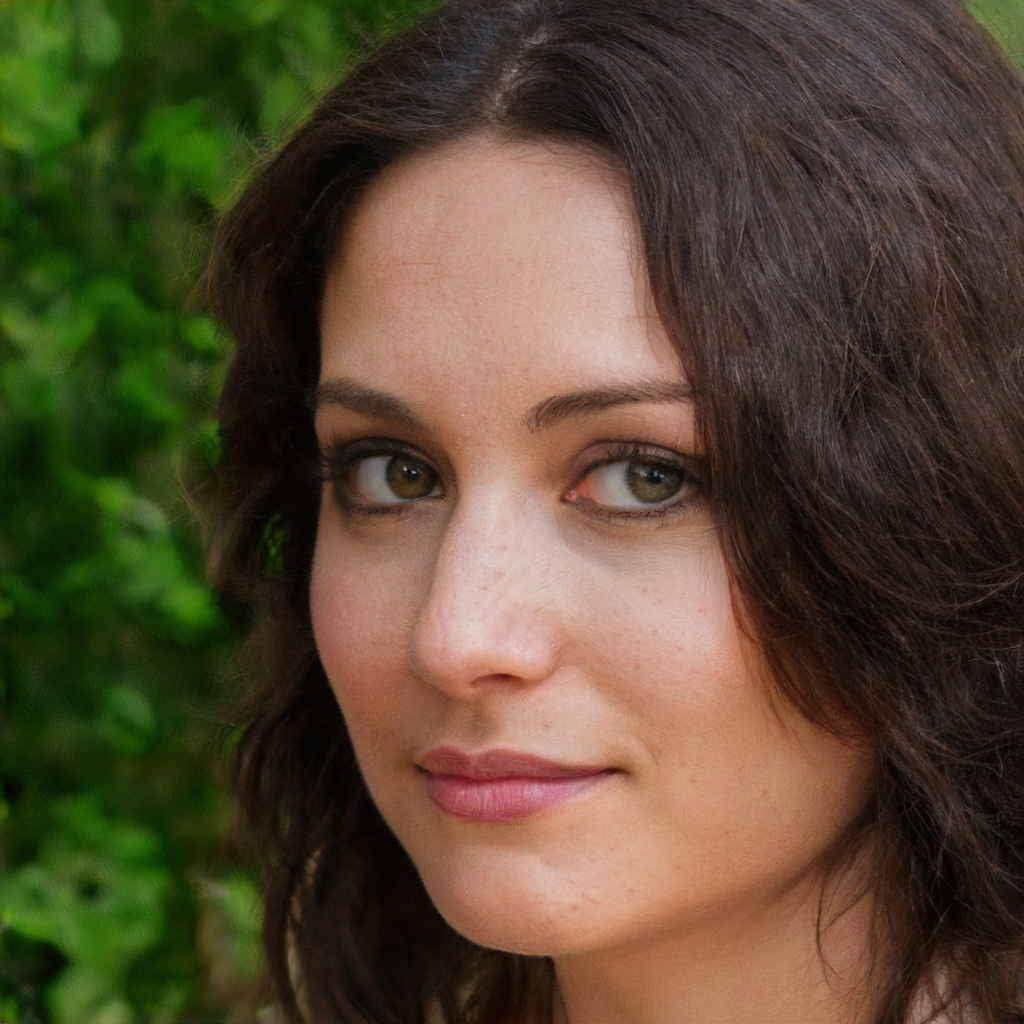 Meet Sarah, a passionate traveler and camping enthusiast who loves to explore the great outdoors. With years of exploring, she has become an expert in testing and reviewing the best tents on the market which got her to start mytravelingtents.com. Her insightful reviews provide valuable information to fellow adventurers looking for the perfect tent for their next camping trip.