Top 4 Room Tent with Screened Porch
Camping is a great way to revitalize your relationships. People camp for different reasons. Some look for ways to reconnect with nature. Others want a break from their busy schedules. Disconnecting with technology is often therapeutic. Pitching a tent or roasting marshmallows over a bonfire is oddly soothing.
All is well. Or is it?
Then comes the whizzing bugs. The struggle with space. Getting accidentally elbowed while sleeping. Sounds like an experience, right? You can avoid all of these mishaps by one thing. Buying a sturdy tent with a screened porch. Not only do you get more space but you also protect yourself from nature!
Let's dig a little deeper.
What Does A Tent with Screened Porch Mean?
These tents have many names. Some call it a screen porch tent while others call it a screen room tent. It's safer to say a tent with a screened porch. There's no room for miscommunication. These tents are family-friendly, spacious, and offer excellent protection from unwanted interactions.
The design is distinctive. There is an additional screened area to give an authentic porch vibe. Some tents have strong flooring with materials like polyurethane. Others tend to avoid flooring altogether. There are multiple designs, each with unique benefits.
Tents with screened porches are useful for several reasons. Having a screened room means it can be used for cooking, star-gazing, or storing your goodies. They're great to keep out bugs too. If it doesn't have a strong roof, it won't save you from the elements though. Let's check the benefits in detail.
Benefits of Using Tents with a Screened Porch
1.   Abundance of Space
Tents with screened porches are nifty for camping outdoors. Simply because of the space it provides. It's an excellent addition to a family camping trip. Especially for a large group. There's more room to move around and can host at least six people!
2.   Provides protection from Insects
Screened porches offer protection from annoying bugs. The screen hinders mosquitos, wasps, and other creepers from getting into your tent. You won't have to slap those annoying buggers around. Your family can sleep in peace.
3.   Offers More Storage Space
You can use this screened porch as a lounging space. Or you can store your gears here. It's the ideal place to keep your muddy clothes or boots. If you don't want to make your tent a mess, make use of this space!
4.   Makeshift Kitchen
All you need to do is set up your cooking gear here. Set up the grill, take out your skewers, and voila! You have a temporary kitchen. Just be careful with the flames. Don't overdo it. Tents are fragile and susceptible to fire.
Now that you know why you should invest in a tent with a screened porch, let's check out the different types.
Different Types of Tents with Screen Porches
Tents with screened porches come in various shapes and sizes. Different brands offer multiple features and have their unique characteristics. There are primarily two types of tents with screened porches. Let's take a look!
1. Dome Tents with Screened Porches
These tents are ideal for hitting the trail for a day or two. They're not exactly comfortable for long stays in the great outdoors. This is because of their curved walls and small headroom. A screen porch tends to be an extension of the main dome.
So while they offer more floor area, there's less space because of the reduced headroom. In short, it's cramped. This doesn't mean it's without benefits. These tents are more aerodynamic than others. They can withstand vertical pressure, strong winds, and heavy rain.
2. Cabin Tents with Screened Porches
Now, these tents are taller and have more headroom. They come with more windows and doors too. So they're more breathable and livable. You can easily fit more people without feeling confined. They're ideal for summer camping because the ceilings are made of mesh.
This means it doesn't insulate well. So it's not suitable for colder terrains. The tall tents aren't suitable for windy places either. The design won't withstand. Mild summer conditions are most suitable for these. You have to barter between comfort and protection.
One of the biggest advantages of using these tents is how easy it is to set up. People who go on cross-country tours or shift their camping spot a lot love these. The straight walls mean you can use cots and bunk beds. You won't have to worry about back pain anymore!
You are now fully equipped with information to make your purchase. To help you make your purchase easier, we've narrowed down the top 4-room tents with screened porches for you!
The Top 4 Room Tent with Screened Porch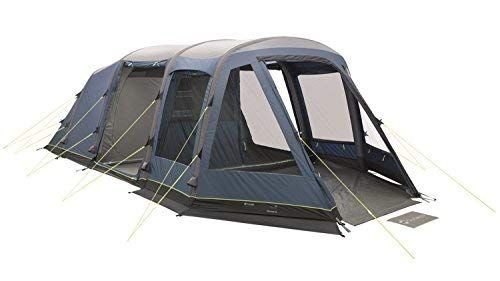 Product Description: It's an inflatable tent that can be split into one or two large rooms.All the doors and windows are made of mesh. The tent comes in a carry bag with straps to improve portability. It's built with polyester taffeta that reduces light penetration. That could be both advantageous and disadvantageous according to your preference. It comes with an OGR system that helps the guylines from tangling.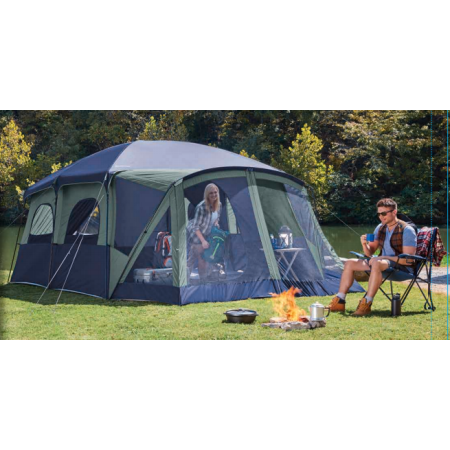 Product Description: If you have a large family, this is for you. It can hold numerous sleeping bags and mattresses. The porch area is the perfect leisure space. The flooring is sturdy so it keeps you off the ground.
This camping tent by Ozark Trail is roomy, breathable, and comfortable. It's equipped with pre-attached poles so you can instantly set it up. The screened porch is large and airy.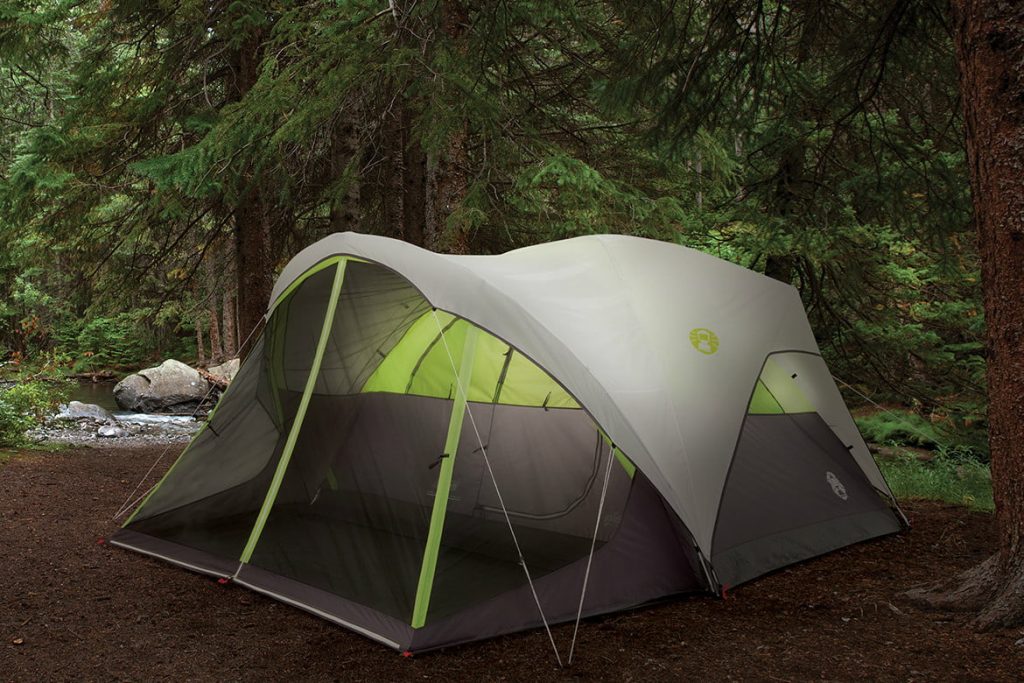 Product Description: This dome-like structure can host around six people. The screened porch offers a nice lounging area. You should know that the screened porch has an opening that can't be closed. So a few insects may sneak in.
The tent also has a strong wind frame and comes with waterproof floors. Coleman's advanced "WeatherTec" protects the tent from rain or snow. The interior will always remain dry.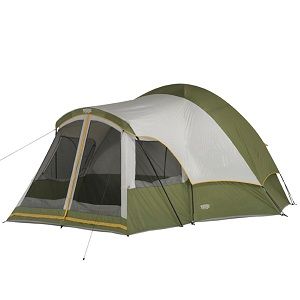 Product Description: This tent can house at least six people but there's room for more. It offers excellent isolation against the rain though. There is also the option to add zipped walls to make separate rooms.
It's constructed from a heavy material that suits all the seasons. There's a ground vent to help with ventilation. The roof has two mesh windows that keep out insects.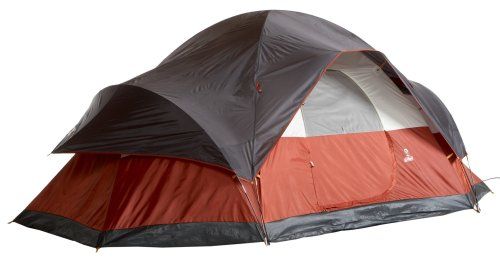 Product Description: This is a great budget tent. You need to let go of some features though. So it's ideal for a short getaway. You can choose to split the tent into multiple rooms or a single large one.
The screened porch acts as a communal. It has inverted seams that help resist temperament weather. It's engineered with Coleman's "WeatherTec" system to withstand strong winds too.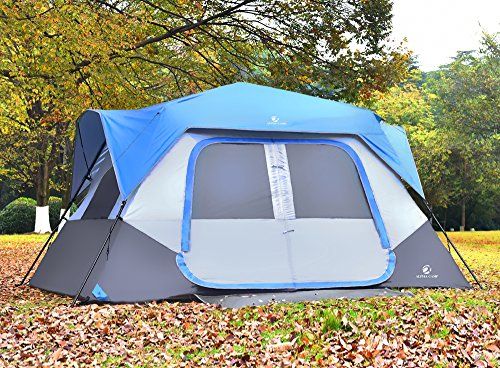 Product Description: This tent easily fits at least six people or more. It sports an eye-catchy orange design with breathable rooms. The main section comes with a floor for sleeping. It also adds a layer of protection from bugs.
The tent is equipped with a strong framework that helps it stay upright against the wind. It also comes with two large internal side pockets that help organize your supplies.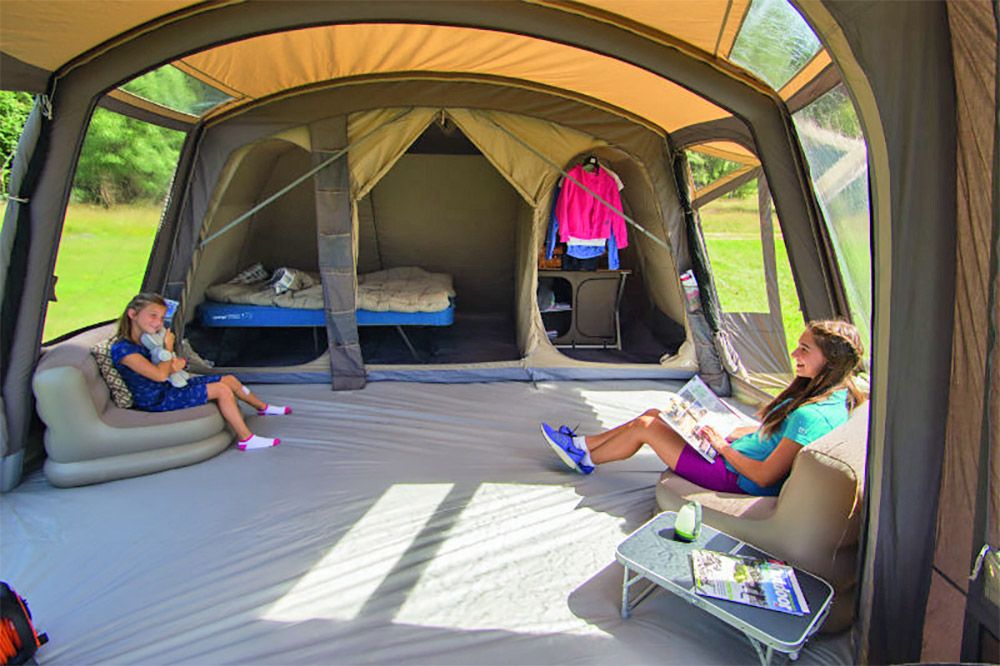 Product Description: It considers all the potential outdoor situations and brings together a solid tent. It only takes a few minutes to pitch this tent. It comes with no poles so all you need to do is pump it up.
The design is versatile, comfortable, and private. It's made of a durable fabric that's waterproof too! The tent features Vango's patented tension band system. So you know it stays upright in the high winds too.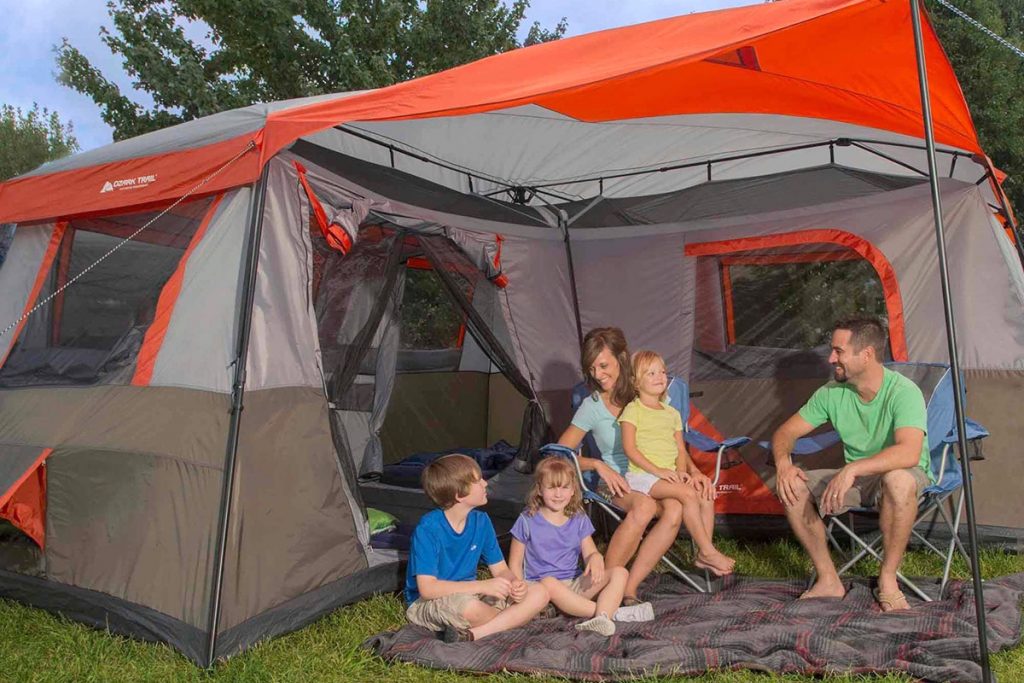 Product Description: It should come as no surprise when this tent comes on top of this list. This tent not only has a majestic size but offers great protection too. The screened porch acts as a communal room and is well protected by the mesh walls.
It takes a while to set it up but it's worth the effort and time. You can set three to four rooms with this tent. It comes with 12 windows that allow natural light to stream in. 
Conclusion
The Cabin Camp Tent by Ozark Trail is a clear winner is because it ticks all the right boxes. It's windproof and waterproof. It stops harmful rays from permeating. Most importantly, it's cavernous. The tent fits a large group with room for more. It offers additional amenities, unlike other tents.
When buying a 4-room tent with a screened porch, your personal preferences matter. Are you willing to set up the separate rooms on your own? Do you want a quick fix? Ask yourself these before making the final investment. Once you know what you want, make the purchase!
FAQ
Is it important to have a screened porch?
Tents with screened porches come in handy for a variety of reasons. If you have a screened room, you can use it for cooking, birdwatching, or storing your belongings.
Are all screened-in porch tents the same?
Tents with screened porches are available in various forms and sizes. Different brands have their own set of features and qualities.
Is it possible for you to construct your own four-room tent?
If you have a large enough tent, you can use a divider to split it into different rooms. The divider curtain is simple to set up and drapes from the tent ceiling.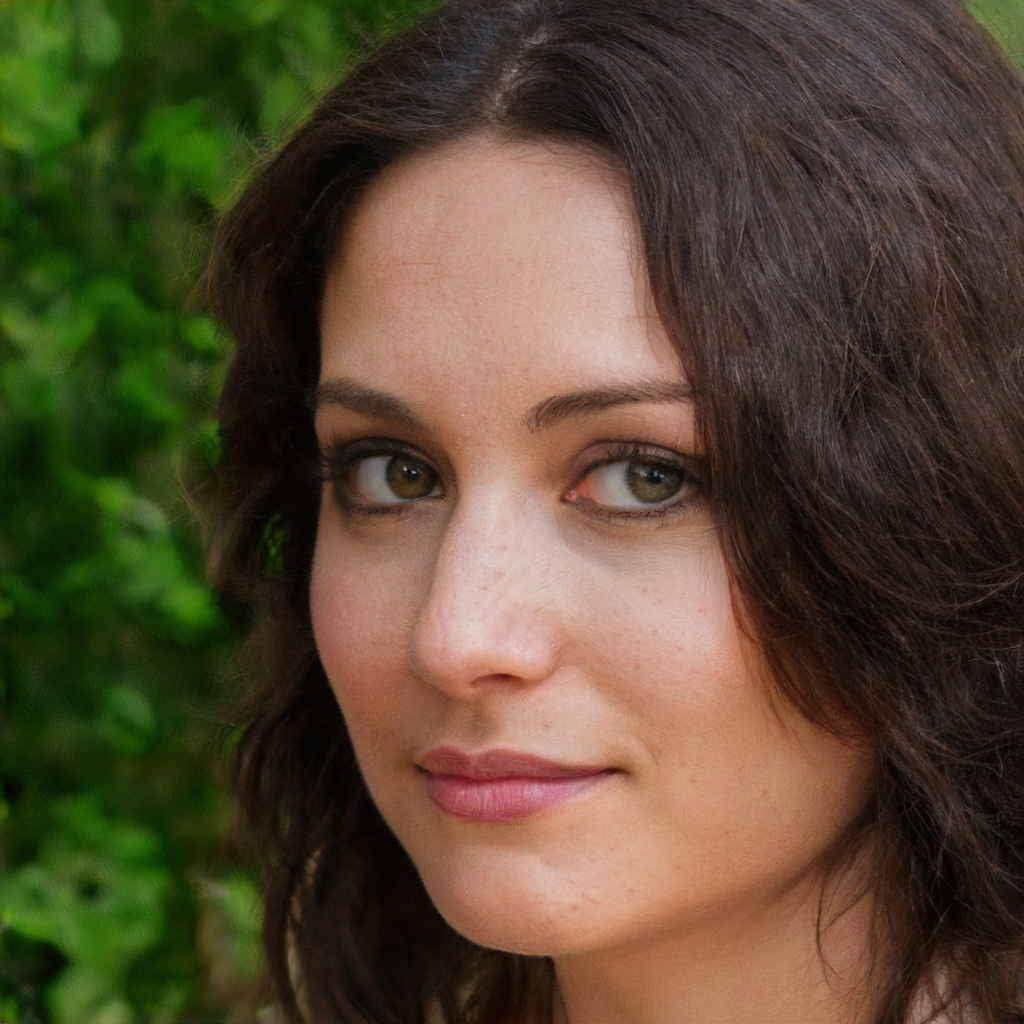 Meet Sarah, a passionate traveler and camping enthusiast who loves to explore the great outdoors. With years of exploring, she has become an expert in testing and reviewing the best tents on the market which got her to start mytravelingtents.com. Her insightful reviews provide valuable information to fellow adventurers looking for the perfect tent for their next camping trip.