Best 6-Person Camping Tent in All Categories
While buying a camping tent, you need to consider two crucial things. First, see how frequently you'll use the tent. Afterward, check whether your peers are regular campers or not. 
If both the factors are favorable, spending money on a more giant and higher quality tent with true sustainability is worth it. And for these cases, you must go for 6-person camping tents. So, here in this article, we bring you our list of the best 6-person camping tent on the market.  
1. Overall Best 6-Person Tent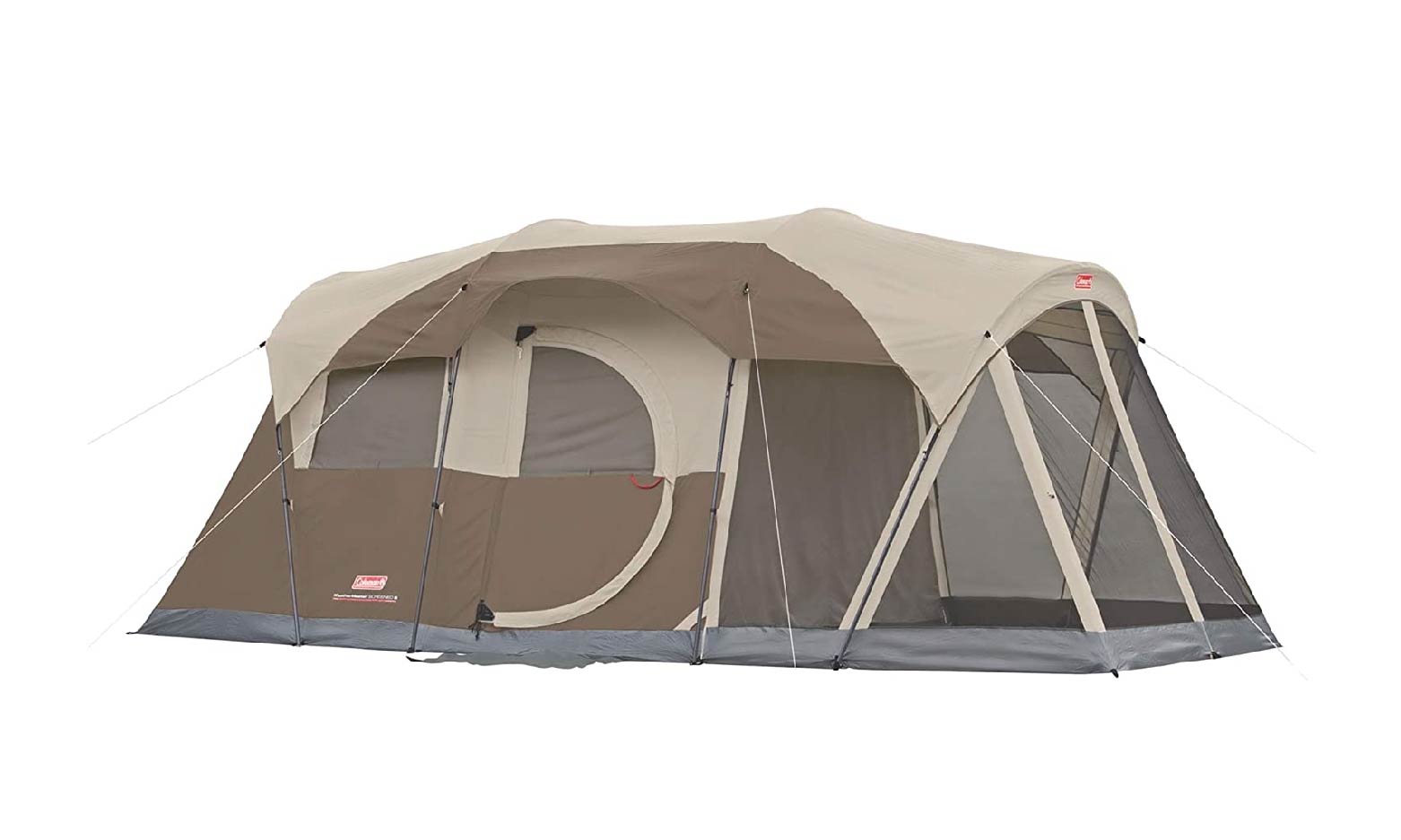 This is one of the best 6-person tents that can fully satisfy you due to its large cabin style with a screen room. So, fitting in two queen-sized beds in this large tent is very easy, and you will have more space afterward. Also, you can get inside the tent, head straight up and stand and walk around inside the tent quickly. 
Hence, the tent has a height of 6 ft. and 8 inches. This type of design comes with every Weather Tec System from Coleman. Thus, you can be very relaxed in this tent in extreme weather conditions. Why? Because it can survive almost any heavy rainy and high wind conditions.
Best Features
You can have extension cord access to this tent due to its available E-port 

Ventilation system with customizable options

Water-resistant cuffs for zips protection

Velcro straps for attaching rainfly to tent's frame

Carry bag with expandable features

Internal pockets for storage
2. Best 6-Person Cabin Tent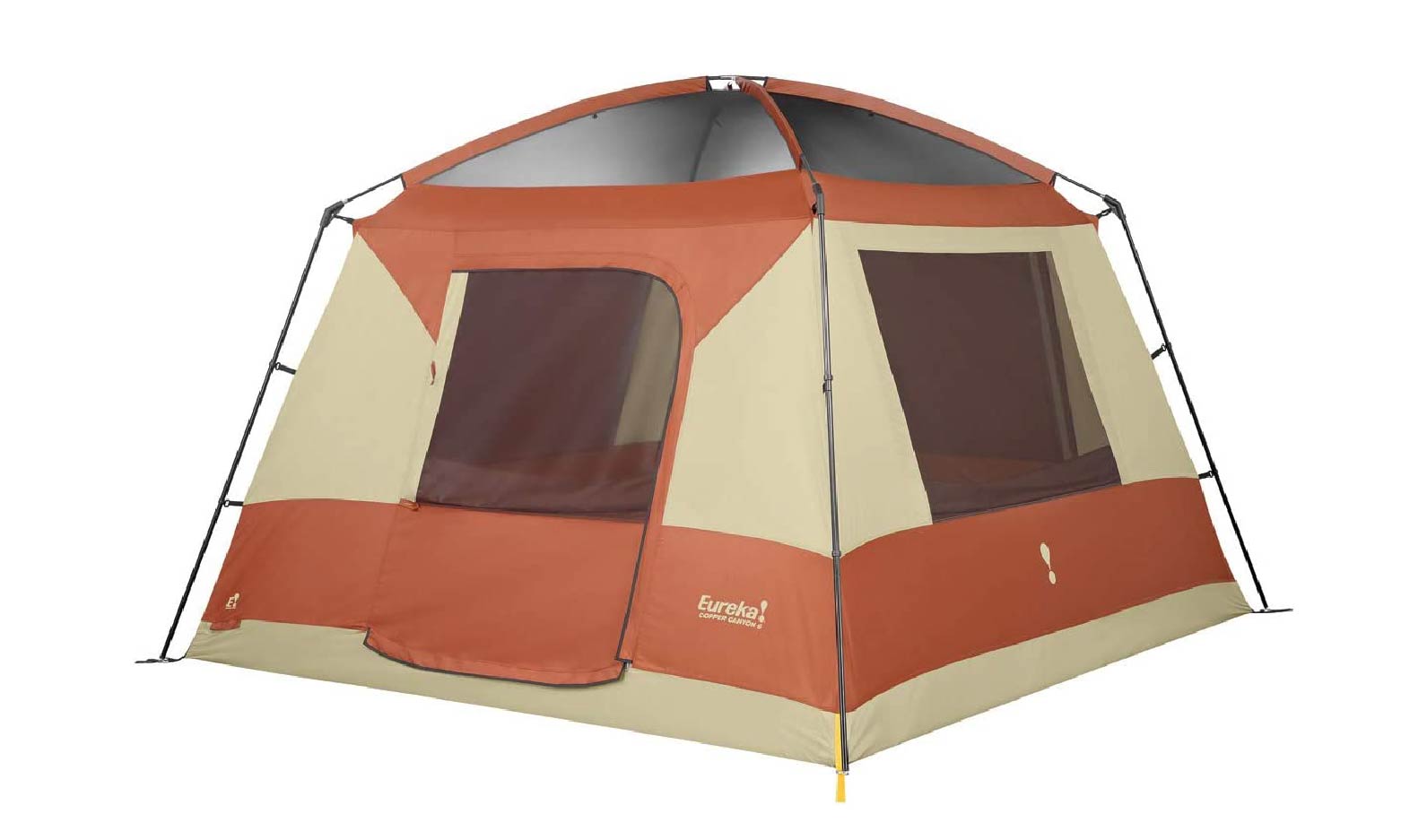 The tent model from Eureka Cooper Canyon resembles an actual cabin having near vertical walls. Eureka Copper Canyon 6 has outstanding ventilation because its three mesh windows justify its rating for 3 seasons. 
It has an easy assembling process, though its height can pose a bit of a challenge if you are shorter in stature. Hence, are you a camper family guy searching for a flexible and comfortable tent? If so, Canyon 6 is the best 6-person camping tent. 
Best Features
Gear loft for stowing the items out of the way

The E Power port is perfectly tucked away in a convenient zipped compartment. 

It comes with a large sack for packing and storing the tent up after using

Features seams with pre-seal for an excellent waterproof rating 
3. Best Comfortable Tent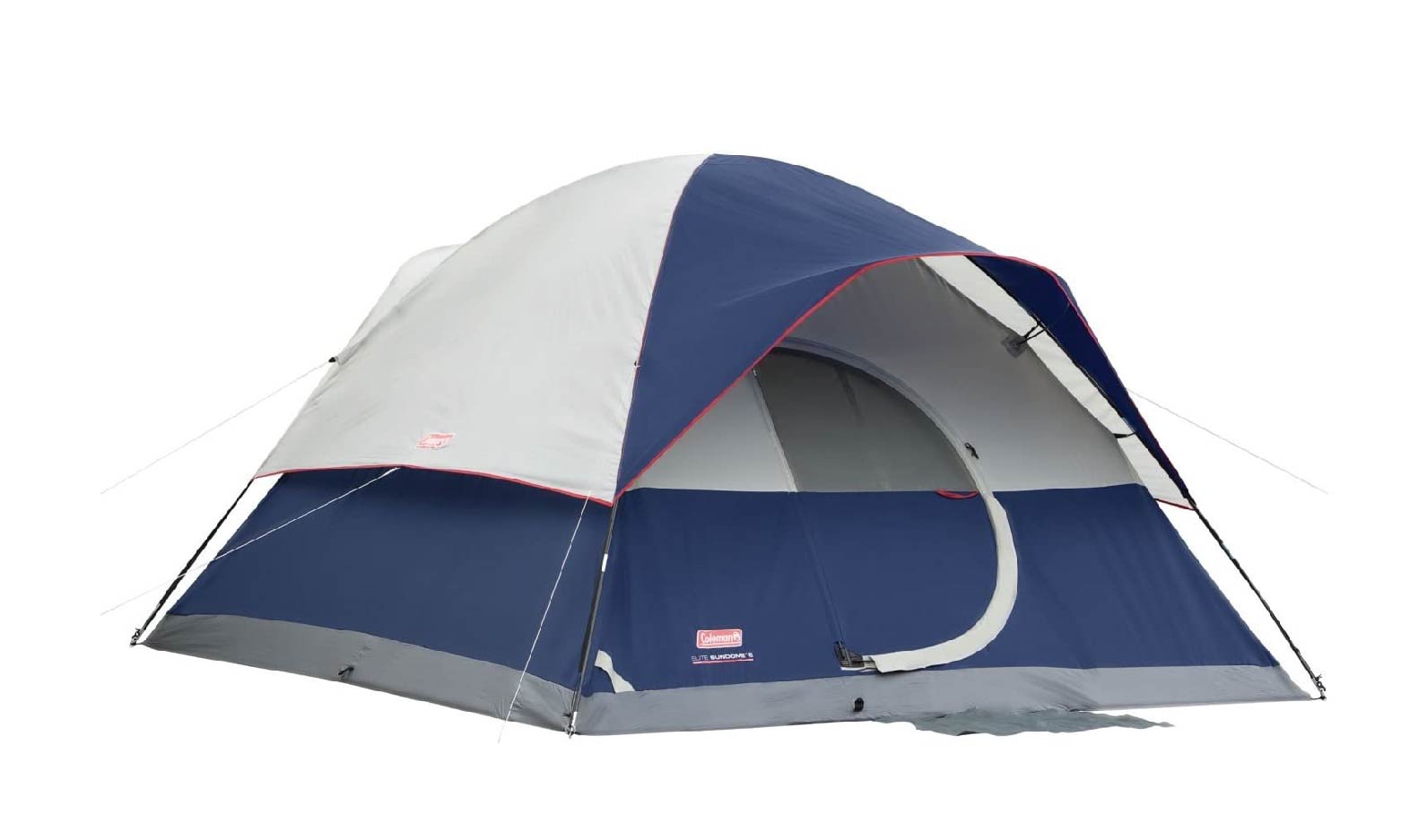 The Sundome 6 is a beautiful traditional tent with a freestanding dome across two rooms. Hence, it is one of the worthy choices for the best 6-person camping tent. One attractive feature of this tent is that there is a built-in LED light fitted with it. 
The tent is full of sufficient light due to the overhead lighting of the LED. As a result, you don't have to look around for torches or lamps in the darkness. Hence, Coleman Elite Sundome tents are a good choice if you want to go camping, especially with children. 
This LED system has compatibility with Coleman's CPX power system. As a result, you can use regular D batteries or a Power Cartridge from Coleman for powering the lights. 
Best Features
The LED light overhead comes with a nightlight setting. So this gives the children much more comfort 

A great Room Divider 

The LED light on the ceiling comes with 22 hours of battery life (eight D battery)

The Strong Flooring of 1,000 denier polyethylene eliminates the requirement for any separate footprint. 

Handy pockets for storage
4. Best Value Camping Tent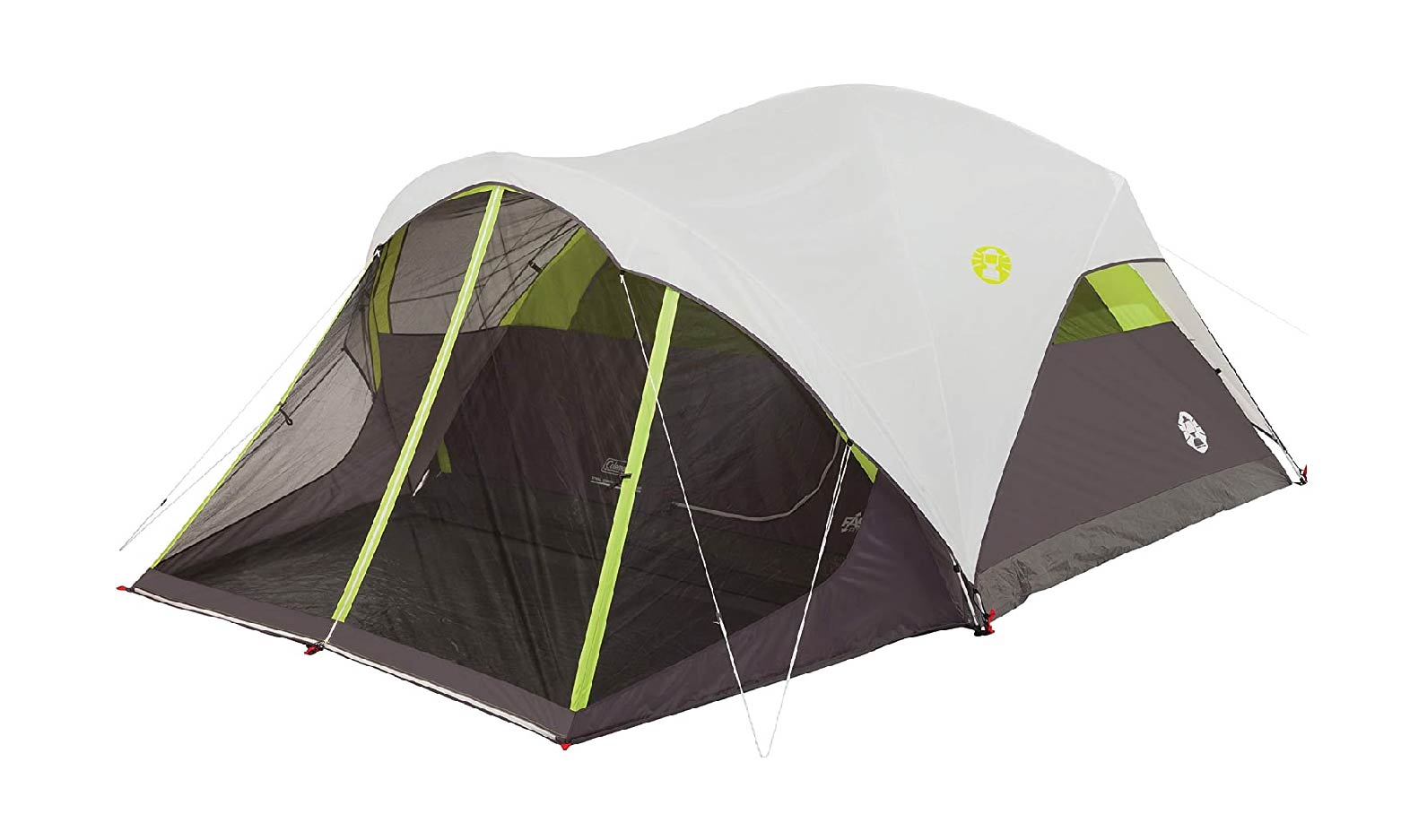 Coleman's Fast Pitch is another model you can place among the best 6-person camping tent. This tent features an extension with a dome and a screen room. 
There are shock-corded poles that are pre-attached with the tent's top hub. As a result, the users do not need to thread the rods through sleeves. 
So, you attach the poles to the inner tent with the help of supplied clips. Additionally, its fast pitch system features a more rapid-fitting feet system. This is where you put the tent's pole's ends nicely into a short tube attached to the tent's corners. As such, its best features are:
Two windows that are zip closable 

Fast fitting pitch system provides a 50% faster setup 

Window awnings that can effectively keep the rain away

Weighing just a bit over 19 lbs.

Due to its thick tarp bottom, you don't need to use any separate footprint.

A handy ceiling hook for hanging a light
5. Best Tent in Budget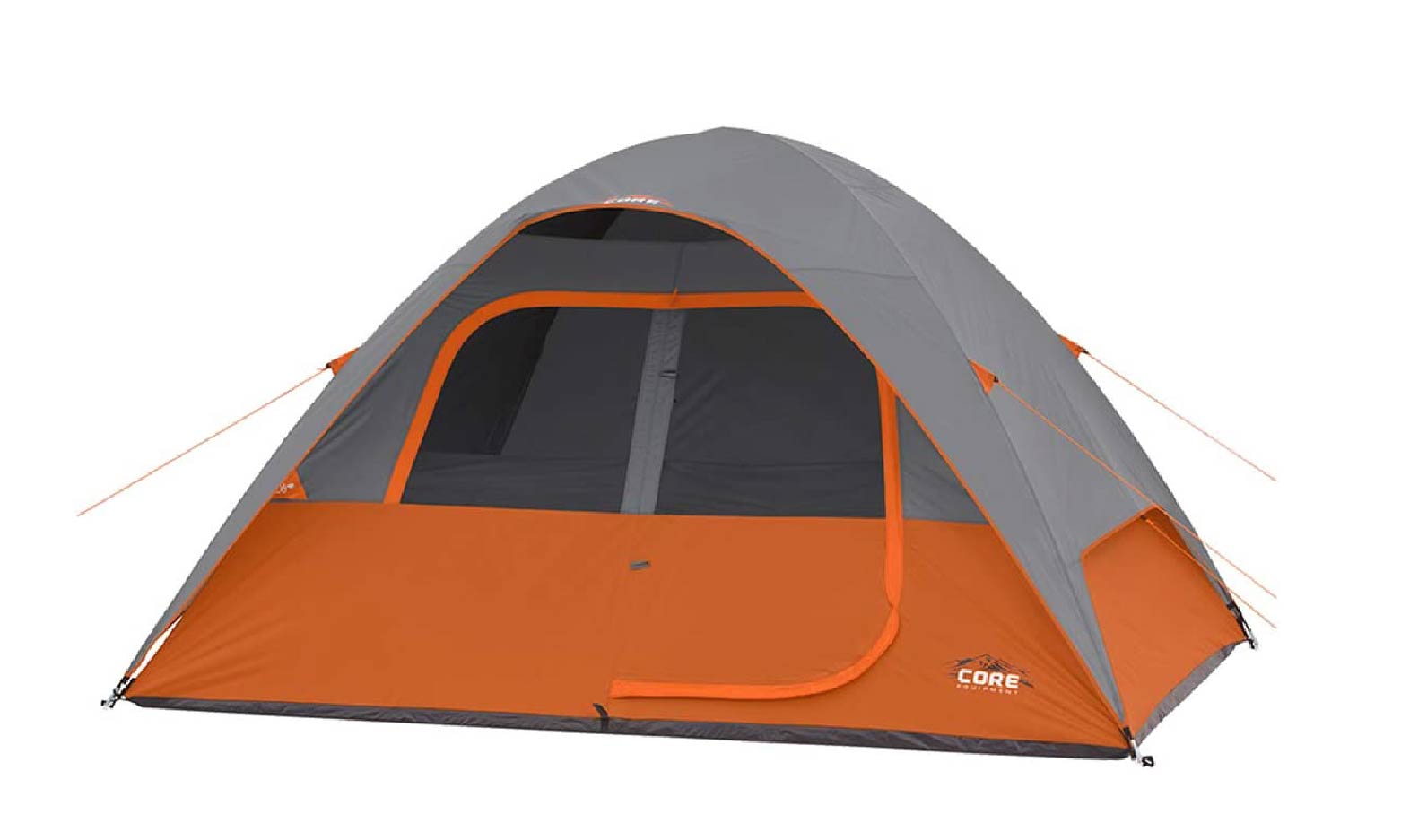 We can easily include this affordable dome tent from Core in the best 6-person camping tent list. It is very reasonable in price and light in weight. Hence, this under 15 lbs. dome tent is perfect for all the occasional campers. 
The Core Dome tent is another 3-season-rated tent. And even though it is a budget tent, it includes several features. You won't find these incredible features in other tents within a similar price range. So, if you're someone whose priority is budget, this is undoubtedly the best 6-person camping tent available. 
Best Features
Lightweight and highly flexible for a 6-person camping tent

When packed, the tent is compact and easier to carry

Quick and easy pitching

Intake vents with adjustable functionality for circulating air

Superior resistance to extreme weather

Organizer pockets

Value for money is exceptionally worthy
Conclusion:
Every travel enthusiast that wants to go camping with family, friends, or a larger group must go for 6-person camping tents. And the tents mentioned above are the best 6-person camping tents you can get according to your needs. 
However, always consider several things in your mind before purchasing these tents. So, consider the interior space, height, setup process, weather resistance capacity, and your budget. Most importantly, keep your comfort in mind as well.
You can also check: Best Budget Ultralight Backpacking Of 2022