12 Person Tent with Screened Porch
Finding a large tent for a big group can be a challenging task. The shape, size, layout, color, and other features of a tent with a screened porch are hard to find and get combined in one. Our listed tents possess all the right features so that you have an easy time finding which 12 person tent with a screened porch you should get for yourself.
Apart from getting the right color, waterproof, and a comfortable large camping tent, we also need to bear a few things in mind while buying one.
Lifespan of Tents
Most tents last for 4-5 years. Its condition also depends on the amount of use, the rigors it's put under and the weather conditions it's being used under. Moreover, the most crucial point that determines a tent's longevity is the material of its tent poles. Fiberglass, steel poles, and inflatable are the three kinds that are mostly used.
Fiberglass poles are the most common, flexible, and can be split up. The downside of fiberglass is that it snaps easily if bent too much or put under pressure. Steel poles are heavier and are great for holding up 12-14 people tents. Inflatables are the newest kind, and instead of poles, it has beams that require inflation. These require manual footwork to pump them up but can hold and set up a large tent.
How to Choose a Tent with the Best Structure?
Tents with freestanding structures need stakes and need to move around from places. It also prevents tents from being blown away by harsh winds or storms. Whereas, non-freestanding structure tents rely on stakes to shape the structure. They require effort to assemble and fix.
If many people are camping, a combination of dome and tunnel structure tent would be the best option. This would allow people to rest in their individual tent spaces as well as give others a standing room to chitchat.
Three Essential Factors to Keep in Mind While Buying a 12 Person Tent
Center Height: The peak height needs to be sufficiently high so that it doesn't cause any sort of inconvenience while standing up, walking around, or changing clothes.
Floor Space: The dimensions and the square footage are equally important to check while buying a tent. Tall people need a longer layout space while sleeping and stout campers require more elbow room.
Headroom: Before buying a 12 person tent, it's important to determine the total headroom so that 12 people can fit. Sometimes, sellers confuse buyers with the total dimension and number of rooms, but rooms necessarily don't mean all 12 people can comfortably fit in.
Number of Tent Doors isn't a Big Factor
Many people have a misconception that a large family-sized tent must have two doors. Yes, two doors are important as it prevents people from crowding around a single door to enter or leave the tent, but it's not as important as people think it is. Most cabin-sized tents for 12 or more people have a single door with zippers. It helps provide better privacy.
Important to Test it Out
Suppose, you bought a camping tent with all the best features as claimed by the seller. Before setting out for camping, it's very important you set your tent out in your backyard and check if your tent is in perfect condition or not. Check for leakages, pole quality, and whether the mesh roof is clear and tidy. And most importantly, whether you can set a tent up by yourself or not, check if it requires additional tools or extra parts that you might need to purchase.
10 Best 12 Person Tent with Screened Porch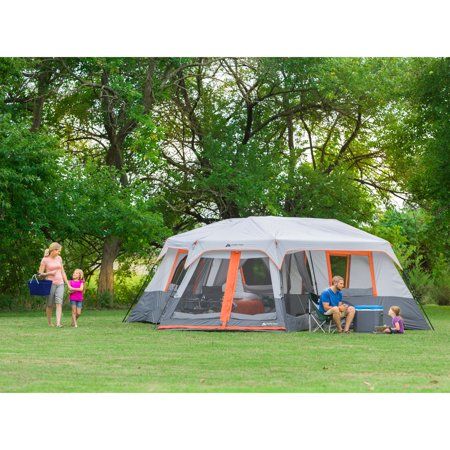 Ozark Trail tent has advanced technology and requires very little time to assemble completely. It takes two minutes to set up with no physical labor. It comes with its poles pre-attached to the tent and also fits three queen size airbeds.  The height of the tent is 76 inches at the center, and is constructed of polyester and steel. The tent is wind and water-resistant and thus will keep campers safe from strong winds and their belongings from getting wet from the rain. The tent has dimensions of 20" X18 ", with three rooms and two-room dividers with 10 closeable windows.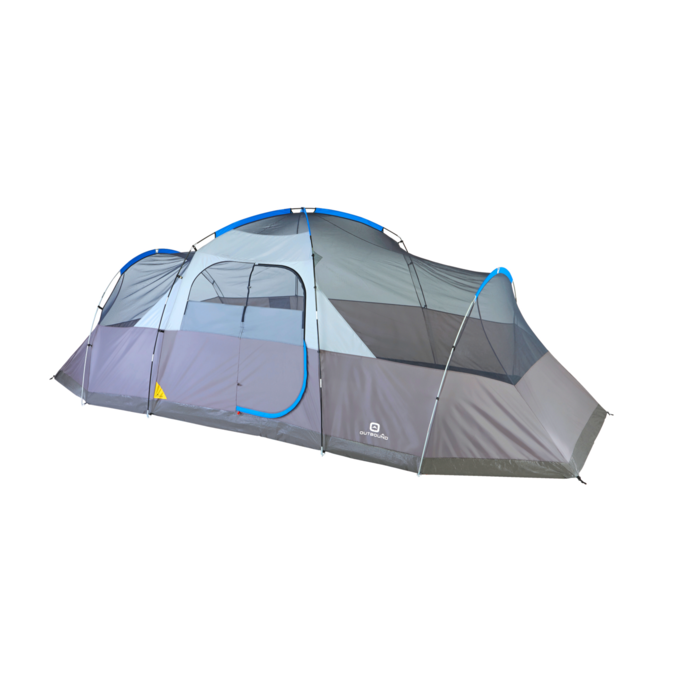 This tent can be used during any season and will help make your camping experience amazing. The Outbound 12 person 3 season tent is weather-resistant and has a water-resistant coating. Your clothes, food, and belongings will remain safe during a sudden storm or drizzly rain. This tent is 6.6 inches tall and is the size of a 20×9 cabin. Spacious, comfortable, and allows air to circulate. It is made up of Poly taffeta 185T 68D 600mm material along with fiberglass poles.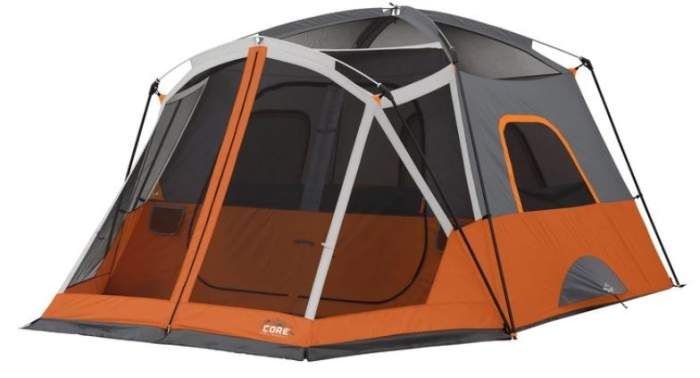 It's a spacious cabin tent of 16 feet x 11 feet and can fit four queen-size air mattresses. The center height is 86 inches, along with room dividers for private sleeping spaces for each person, and also has some extra space for gear organization.  It has a T-shaped front door, a D-shaped back door, and a rainfly system. The tent also comes with tent poles, awning poles, tent stakes, and a carry bag. You will also get a one-year warranty card along with it.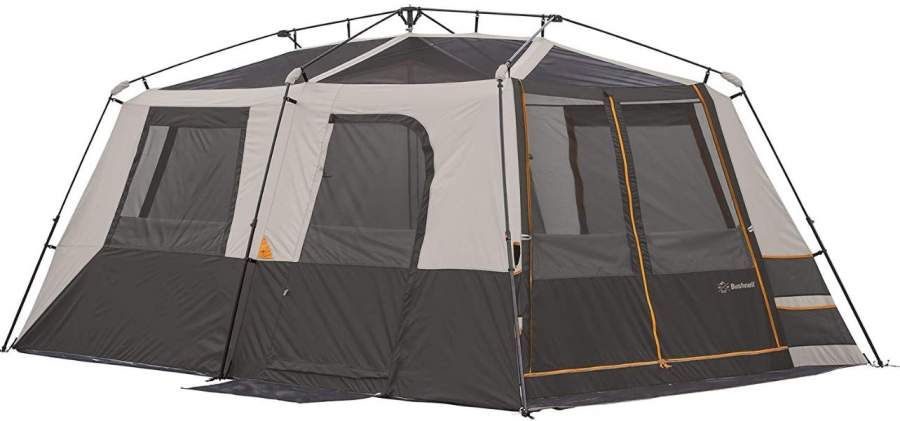 It has an advanced 60-second setup technology with poles that come as pre-attached and only require unfolding. The most amazing feature about this tent is that it has an A/C vent. Its length is 11 ft. and 9 ft. in diameter and 72 inches in height. It's also equipped with heat shield technology.
It's made of water repellent fabric, tub flooring, and fully waterproof seams. The fabric used is different from those used to make normal tents. The tent has room dividers for individual camper privacy and is also equipped with an external flashlight pocket, shelves, and a bag to carry it.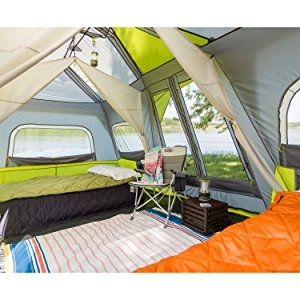 This tent has a total floor area of 180 square feet and gives each person 1.4 m² space to sleep. Just like some of the other tents, this tent is an instant fix, all you need to do is spread it out and extend its telescopic poles, and the tent will assemble itself.  The center has 12 feet standing space, which makes it stand high. Also, the tent can be placed in any terrain as it's a multi-season tent.
Core 12 person instant cabin tent is made of polyester material that has a water repellent rain fly which can also be removed in the summer. It has a mesh roof that allows campers to enjoy a view of the night sky while camping. It's also equipped with an advanced ventilation system for proper air passage. It has two D-shaped doors and three-room compartments.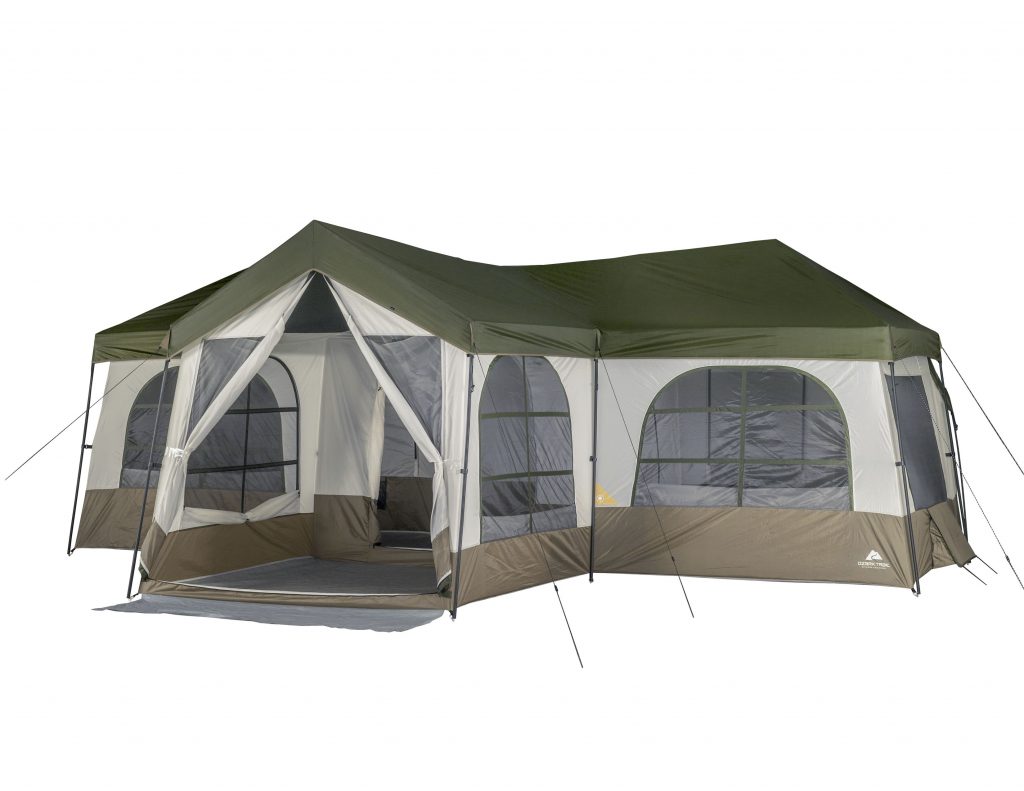 It's a freestanding 12 person framed cabinet tent; all you need to do is attach the tent to the frame and leg poles and you are all set. It has three-room compartments with two dividers. One of the dividers is a silver-coated fabric and can be used as a movie screen too. The tent has a front D-shaped door and several windows with mesh and zippered panels to allow proper ventilation.
The most amazing part of this tent is that it comes with two strings of LED light; the lights work with six AAA batteries. The tent also has two additional cabinets at the back with 2×2 feet floor each with its support poles and can be accessed from inside only. The rainfly and wall fabric is made of 190T polyester with 1200 mm PU coating.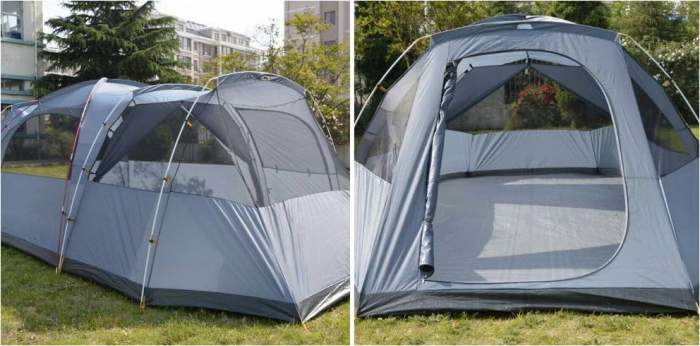 NTK Super Arizona GT tent has a total floor area of 210 square feet and has a unique two-layered structure with the inner tent and full coverage fly. The floor, on the other hand, is made of waterproof polyethylene that is heavy-duty and anti-fungal seamless. The floor layer also has an inner silver coated layer to keep campers dry and protected. This tent has a mosquito mesh which is very handy with fully breathable ultra-thin polyester no-see mesh to keep campers safe from tiny bugs and insects. The frame of the tent is made of 100% virgin NANO-FLEX shock-corded fiberglass rods.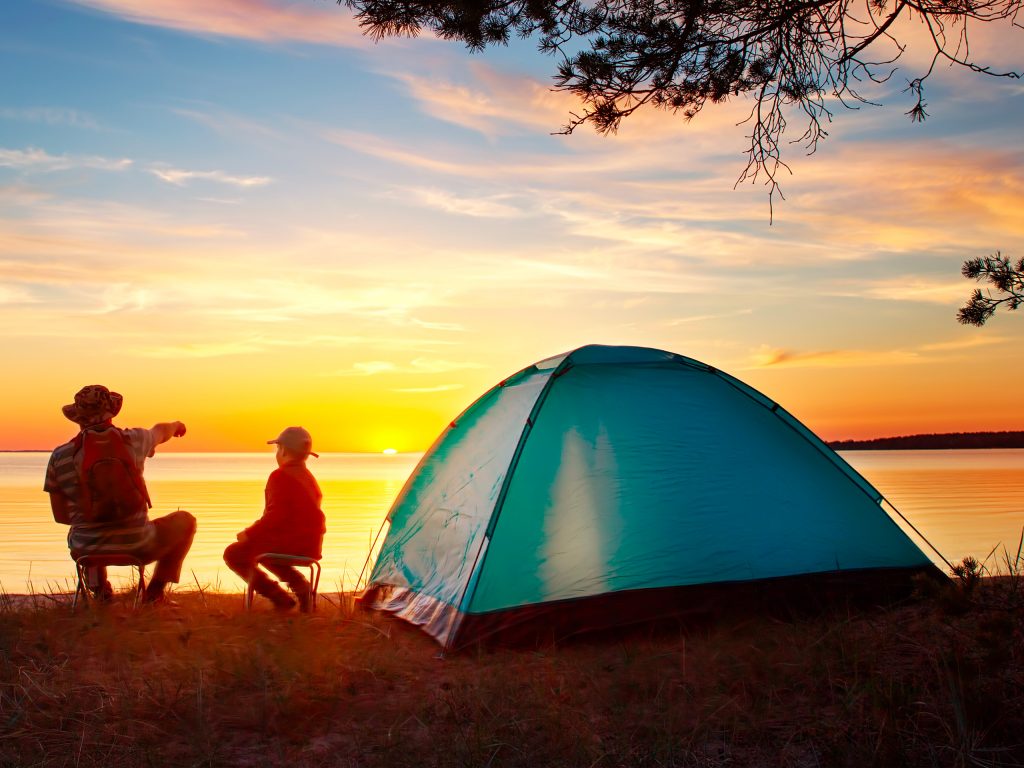 It's a large tent perfect to accommodate a large group, being 10ft wide and 6.58 ft tall with three doors and three windows with mesh. The rooms are divided by curtains. The tent is made up of double-layer waterproof polyester material along with high-density mesh. The floor of the tent is quite thick and is made of PE-coated polyester that is super thick.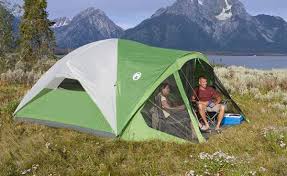 Like most advanced tents, you can set it up with less or no effort; takes 15 minutes to set the tent easily. The screen porch is spacious and can also be used as a sunshade during summer. It has sufficient storage pockets to keep important belongings safe. The floor is waterproof and the entire tent is made of polyester material.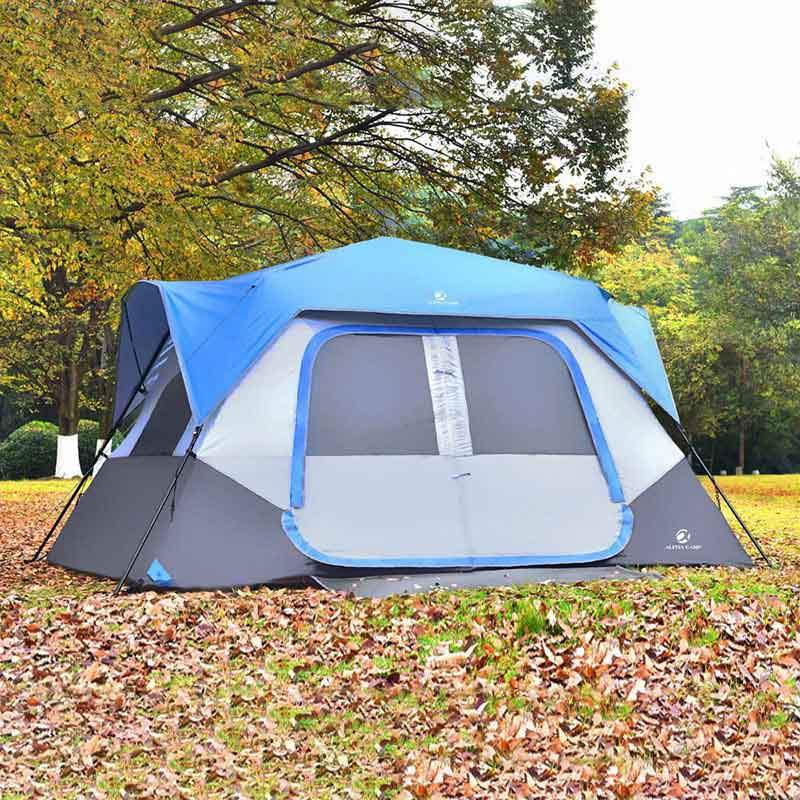 The best thing about this 12 person tent is its amazing screen porch room. It protects from sunlight, prevents bugs and mosquitoes from entering, and allows campers to experience the best camping time. The tent has water and weather protection. It has enough space and storage pockets to keep your belongings safe. The roof is transparent and reflective, so you can have a completely nighttime vision. The center of the tent is 80 inches tall and the interior is quite spacious having room to fit three queen-sized beds.
Conclusion
Now that you have read our article, you should have a clear idea about what kind of 12 person tent with screened porch you should choose for camping. Ozark has a lot of good-quality large family tents. Amongst all others, Ozark Trail Hazel Creek 12-person tent is by far one of the best camping tents for a large group. It's comfortable, has a spacious screened porch, and can be used in any season. It has a good structure, strong poles to hold it firmly in shape, and all the other essential features that are required for a camping tent. It also has additional LED lights for nighttime. So, what are you waiting for? Make your purchase now!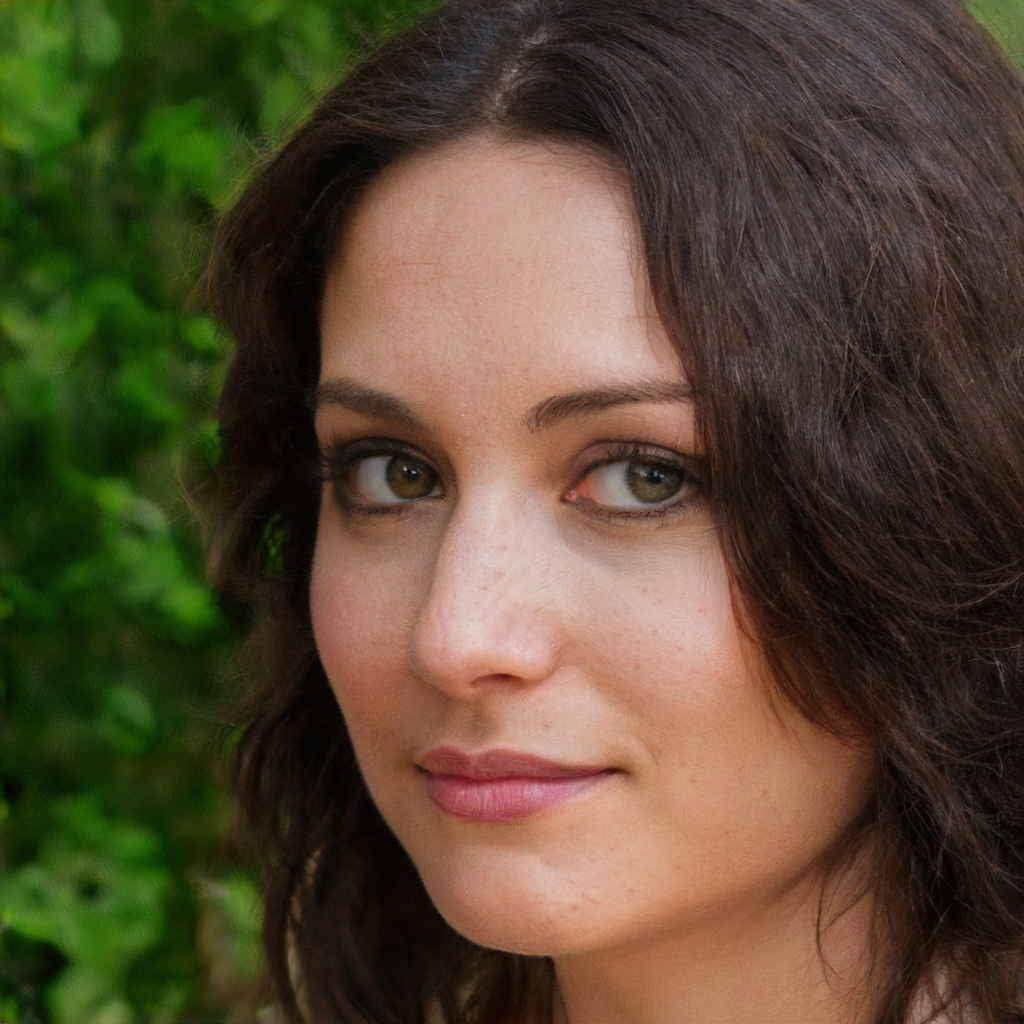 Meet Sarah, a passionate traveler and camping enthusiast who loves to explore the great outdoors. With years of exploring, she has become an expert in testing and reviewing the best tents on the market which got her to start mytravelingtents.com. Her insightful reviews provide valuable information to fellow adventurers looking for the perfect tent for their next camping trip.