10 Top Waterproof Tent on the Market
There is a myriad of uncertainties when you're in the outdoors. To keep safety and comfort in control in the best possible way, you should at least have a durable waterproof tent whenever you go camping or hiking. Since there are so many factors to consider while purchasing one, we are here to guide you on the top waterproof tent on the market.
How to Choose the Perfect Waterproof Tent on the market?
Waterproof tents are usually constructed with heavy-duty nylon or polyester which prevents rainwater or moisture from seeping through the fabric. Therefore, when you're purchasing a waterproof tent, focus on the fabric composition. Although cotton canvas might be suitable when your priority is ventilation, it will not keep you dry. Plus, they are heavy to carry as well. On the other hand, nylon or polyester tents will be waterproof, windproof, and much more affordable than any other materials.
Moreover, you should opt for waterproof tents that have a large mesh screening or window so that there is enough ventilation. Some people prefer waterproof tents that have heat-sealed seams which also prevents water from getting inside. Therefore, you should definitely incline towards the options that offer that.
What Are the Benefits of Using A Waterproof Tent?
Durability
Waterproof tents ensure durability like no other types of tents. Due to their solid construction using nylon or polyester, they are hard to tear. So, you can be assured that the top quality waterproof tents will remain unscratched even when set up on uneven or rocky grounds.
Ventilation
Most of the time waterproof tents have large mesh windows that allow proper ventilation. When it's raining heavily, the humidity levels inside the tent may rise significantly. But as soon as the rainfall starts to reduce, you can lift the rainfly and enjoy the drizzles while letting the built-up air escape through the mesh windows or doors.
Easy to Setup
Waterproof tents are very easy to set up with the accessories that come with them. Usually, even if you have never set up a tent before, you should be able to get these up within 15 minutes at most.
Lightweight
Due to the materials used to make them, waterproof tents are extremely lightweight. This makes them suitable to be carried during camping or trekking.
Affordable
Waterproof tents are comparatively much more affordable because polyester or nylon do not fall under expensive materials. Since the majority of the tent is made using these except mesh or gauze for windows and doors, waterproof tents are pretty reasonable.
How Are Waterproof Tents Different from Regular Ones?
Waterproof tents are more versatile than regular ones because they have a detachable rainfly which is a waterproof tent cover. Also, the way they are designed makes them more durable than regular tents which is why they can withstand all sorts of weather conditions. Waterproof tents are safer and warmer than ordinary tents because they protect you from UV radiation and scorching heat. Finally, a waterproof tent will keep all your gear and clothes dry which is quite crucial when you're out in the wilderness.
Are All Tents Waterproof?
To simply answer this question, no, all tents are not waterproof. While some tents are waterproof, others are just water-resistant. Water-resistant tents do the job when the weather cooperates. However, if there's a storm, water-resistant tents will not keep you dry by any means. Water-resistant tents can only help the moisture accumulated on the surface to roll off but they will not prevent rainwater from getting in. So, when you're purchasing a tent, ensure that it's waterproof and just not water-resistant, especially if you're more likely to face stormy weather.
Precautions for Using Waterproof Tents
Whether you've purchased a new tent or you've taken out an old one before your camping trip, make sure to check the tent's waterproofing feature. You can do so by simply pouring water on the tent through a pipe and check the inside of the tent. You may also use waterproofing products on the tent if required. Check out the products here.
While you're at camp, make sure to keep the air vents on the tent open so that condensation doesn't build up. 
If your waterproof tent doesn't come with a footprint or a groundsheet, you should purchase it and bring it to your camping trip. It will be really handy when you have to set up a tent on wet grounds.
10 top waterproof tent on the market
Product Description: Here's an excellent waterproof tent from MOON LENCE that is built to ensure a dry, safe, and comfortable experience in the outdoors. The tent is 1000mm waterproof and UV-resistant materials so you wouldn't need to worry about the extreme weather conditions once you're inside the tent. You'll have amazing ventilation in this waterproof tent as it's designed with a huge D-shaped mesh with dual zippers. Plus, with the durable accessories that come with the tent, you'll be able to put it up in no time!
Product Description: This tent from BaiYouDa is suitable for camping in the woods with extreme weather conditions. The high-quality waterproof materials used on the tent body, base, and mesh make it ideal to be used for a long time without being affected by heavy wind or rain. It's a lightweight backpacking tent that can easily fit two to three people with a lot of camping gear. You can be assured that the tent will not be easily ripped even if you're camping in the desert with cacti all around. Overall, it's an amazing waterproof tent that comes at a pretty reasonable price as well.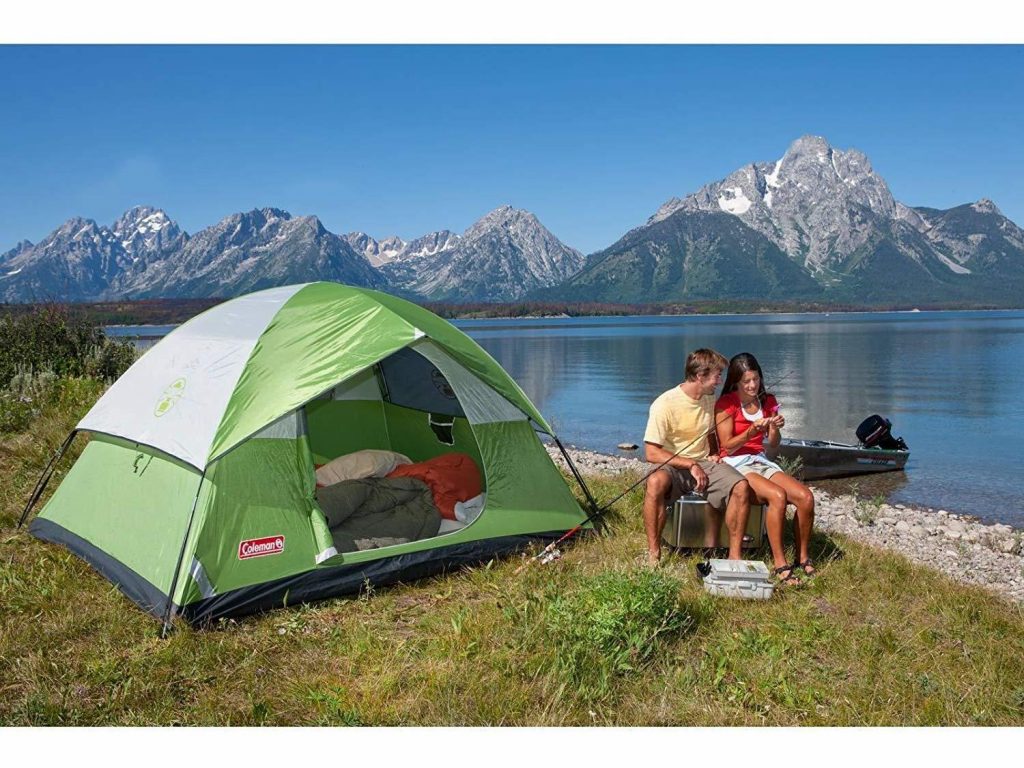 Product Description: Here's an easy-to-setup waterproof tent from Coleman that fits two people with multiple camping gear. The base of the tent is heavy-duty making it suitable for uneven or wet grounds. Due to the additional floor vent, there will be constant airflow within the tent. Also, you'll get a great view from the tent as the ceiling has large-screen panels. For its affordable price, this tent will do an excellent job even in the heaviest rains.
Product Description: This lightweight dome tent from Wakeman is meant for all seasons because the waterproof material saves it from heavy rain and wind while the light color of the tent and large ventilation window makes it suitable for the hot weather. Plus, the fiberglass poles that come with this tent can be used for activities during camping, hiking, trekking, and more! So, if you're looking for a waterproof tent for yourself or to share with a friend, you must get this one.
Product Description: Here's a family tent from NTK that is designed to fit up to six people. The heavy-duty tent resembles an igloo with a combination of an A-frame tent and a dome-shaped tent in one. The tent opens up to create a front porch with a shade that you can utilize during the day while its enclosure will create a waterproof space when required. The galvanized steel parts that come with the tent ensure well-connected poles that create a sturdy frame. Overall, it's a highly durable tent for families or a group of five or six people.
Product Description: This backpacking tent from Bessport is an amazing option for solo hiking or camping trips especially if you have a lot of gear with you. You can easily set up this waterproof tent in a few minutes using the sturdy accessories that come with it. What makes it dry all the time is its seam shaped design that allows water or wind to glide on easily without letting them enter the tent. Plus, it comes in a neutral camouflaging tone which is ideal for camping.
Product Description: Here's another tent from Coleman that is designed to mimic a cabin. The waterproof tent can easily fit up to three or four people comfortably. Thanks to its 150D polyester construction, you'll be dry and safe inside this tent all the time. Plus, it comes with an integrated rainfly that makes this cabin tent suitable when it's pouring. All in all, you'll get good use out of this tent through all seasons.
Product Description: If you are camping with six to seven people, this tent from Coleman will be perfect for you. As it comes with an extra screening room it provides enough space for you to lay out sleeping bags when the weather is dry and warm. Plus, you'll have enough air circulation with the help of the extended window awnings. The tent has storage pockets where essentials can be kept within easy reach.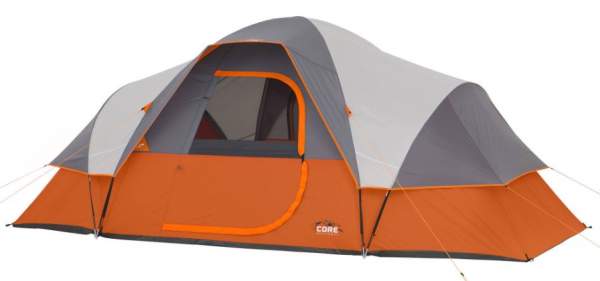 Product Description: Here's an amazing dome tent from Core that is waterproof and windproof, making it ideal for all seasons. Due to its 68D polyester construction, this tent is heavy-duty and long-lasting. Plus, the high-quality fiberglass poles that come with the tent can be utilized for multiple activities during camping and hiking. So, if you're looking for a large tent that will keep you and your family dry, safe, and comfortable, get this one right away!
Product Description: Here's a pop-up tent from Zenph that is suitable for people who get overwhelmed with the process of setting up tents in an already uncertain environment. The moisture-proof and water-proof tent are ideal for any season making it versatile. The tent is designed with double doors, an external gate, and a screen door. Plus, the quality of the zippers on these doors is smooth as well.  So, if you're looking for a pop-up tent to share with a friend in the wilderness, you should look into this one.
Conclusion
As you can see, all the waterproof tents featured in this article have amazing attributes to make them suitable for camping in all types of seasons, especially when it's pouring heavily. However, there's one waterproof tent in our list that ticks all the boxes of qualities and features that an ideal tool as such should have.
Our top pick is the Coleman Evanston Camping Tent. This is because not only does it meet the most important attributes of a waterproof tent but it also ensures maximum capacity for an enjoyable stay in the outdoors. The Coleman Evanston camping tent is made of polyester taffeta which makes it waterproof, durable, and safe. The tent comes with inverted seams that prevent water from getting inside. It features a screen room that provides maximum possible ventilation which is necessary for a waterproof tent. The tent is lightweight and easy to set up within just 15 minutes.
We had to choose the Coleman Evanston Camping Tent over the other ones because they do not offer all the attributes at once including ventilation, capacity, and portability. With that being said, all the waterproof tents featured in this article are indeed the most preferable ones on the market. So, you may choose anyone based on your preferred features and appearance.
FAQ'S – Frequently Asked Questions
Does waterproofing spray work on tents?
Earlier, the cheaper and older versions of tents weren't waterproofed but nowadays most of the new tents are waterproofed and come with rain flies. Don't assume they do, the best way to check is to test it by pouring some water onto the rainfly/tent and if it runs off completely and doesn't leave any water absorption marks then it's waterproofed.
Is 2000 mm waterproof good for a tent?
Waterproof ratings are measured in millimeters (mm) and usually fall anywhere from 800mm to 10,000 mm. A basic 2 and 3 season tent should have fly waterproof ratings that exceed 1,500mm and floor ratings that run past 3,000mm which should withstand most winds and rain and any suitable for the minimum worse weather conditions.
How to waterproof a canvas tent?
t's a simple 3-step process. Spray the tent with the waterproof Let it dry. Wash your tent to get dirt and grime off of it. Once your tent is clean, set up the tent and begin to spray the tent down. Make sure to spray every square foot that you can. Do so as evenly as possible and pay extra attention to waterproofing the seams. After a few minutes, wipe the excess off and now all you have to do is let it dry.
 How often should you waterproof a canvas tent?
If you're in a country that rains all the time like the Pacific Northwest and you're camping frequently ou might need to waterproof your tent every year. If you're a laid-back camper who camps several times per year in fair weather conditions, then you should be able to make your waterproofing last several years. 
How long do tents remain waterproof?
If you use your tent for 2 or 3 weeks each year, waterproofing it every few years should assure that it remains waterproof.
Is it possible to build your waterproofing solution?
Yes, you'll need two cups of linseed oil, 2 oz. Beeswax, and 2 oz. Rosin to prepare a waterproofing solution. Heat the wax and rosin jointly in the oven at 250 ° until they are melted and combined.
What is the best way to tell if a tent is waterproof?
Tent waterproof ratings are expressed in millimeters and typically range from 1000mm, the least waterproof level, to 10,000mm. A tent with a higher rating will be more waterproof.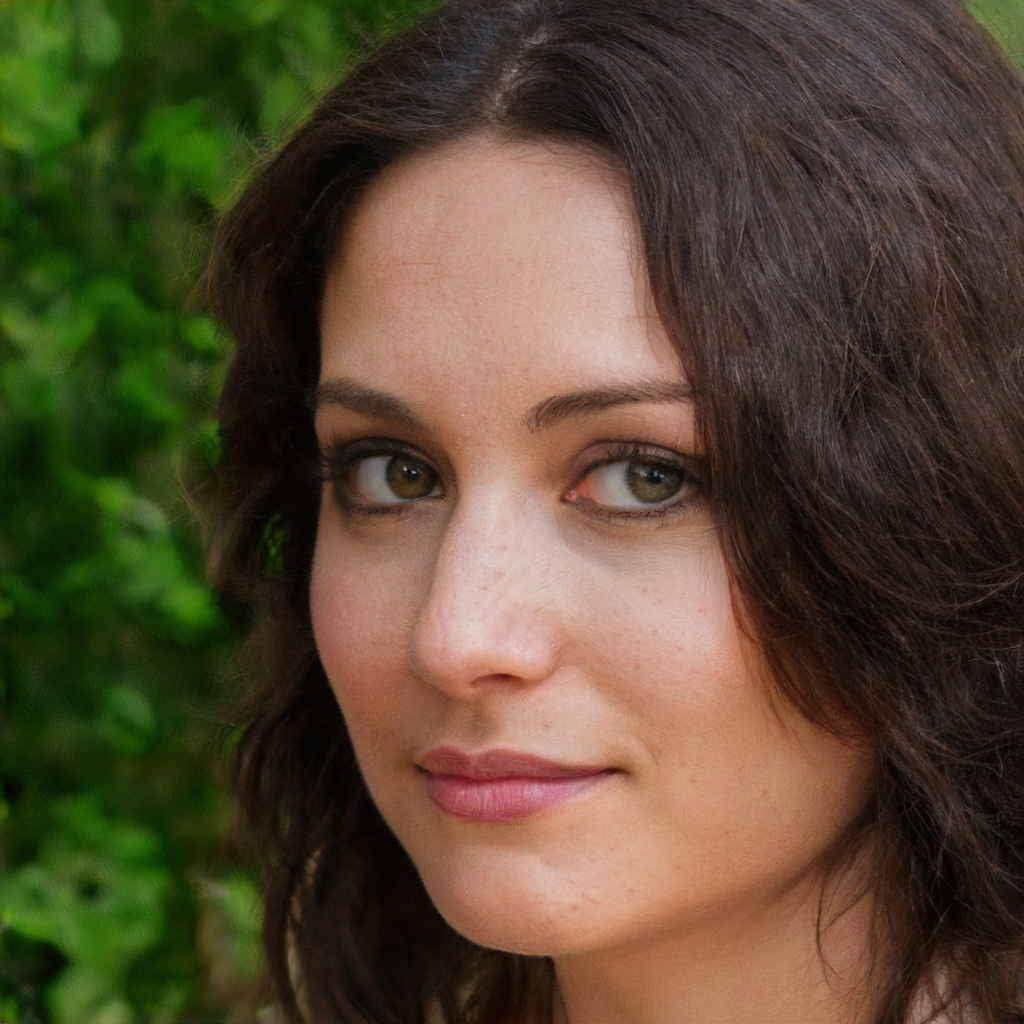 Meet Sarah, a passionate traveler and camping enthusiast who loves to explore the great outdoors. With years of exploring, she has become an expert in testing and reviewing the best tents on the market which got her to start mytravelingtents.com. Her insightful reviews provide valuable information to fellow adventurers looking for the perfect tent for their next camping trip.