5 Most Expensive Tents for Camping
Well, we all love camping but how about we give you a list of the most expensive tents for camping? Camping has been one of the ways to take a breather from your casual life and explore nature. Some people love to have a challenging camping experience and some just want to have a relaxing experience.
As the camping hobby got more prevalent among people the old school tents have been upgraded with various new features to make the camping experience more exciting. Many privileged people want to elevate their camping adventures by investing in high-quality and extravagant tents.
So we selected some most expensive tents for camping which has some fun and luxurious features. Read on…
Space Station Dome tent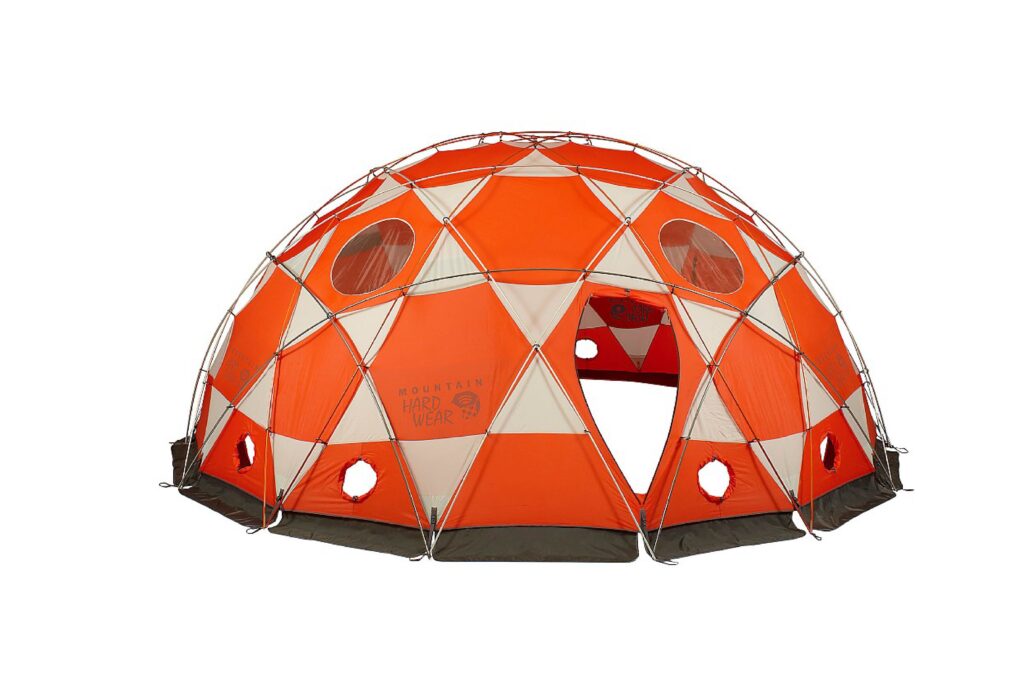 The mountain hardware space station dome tent is the most expensive tents for camping on our list with a price range of above $7000. This is one of the most high-priced tents which took over the tent market by storm. Furthermore, the space dome tent has a geodesic dome design making the tent resistant to harsh weather conditions like heavy wind and extreme snow storms. Even more, you should check out the what's the difference between a dome text vs a cabin tent
The space dome tent weighs about 78lbs, making it best for mountaineering and alpine camping. This tent can hold 20 people standing and has a sleeping capacity of 15 people. Moreover, the peak height of the space dome tent is about 100 inches with a floor area of 284 square feet. As a result, the space dome tent is very spacious which makes it easier for people to move around freely. Check out large tents for camping
Best Features
It has three large doors which makes exit and entry seamless

 

It includes UVX windows

Canopy fabric and the rainfly fabric are made of 180D polyester

Includes 10 lower adjustable vents

Lotus Belle Deluxe Tent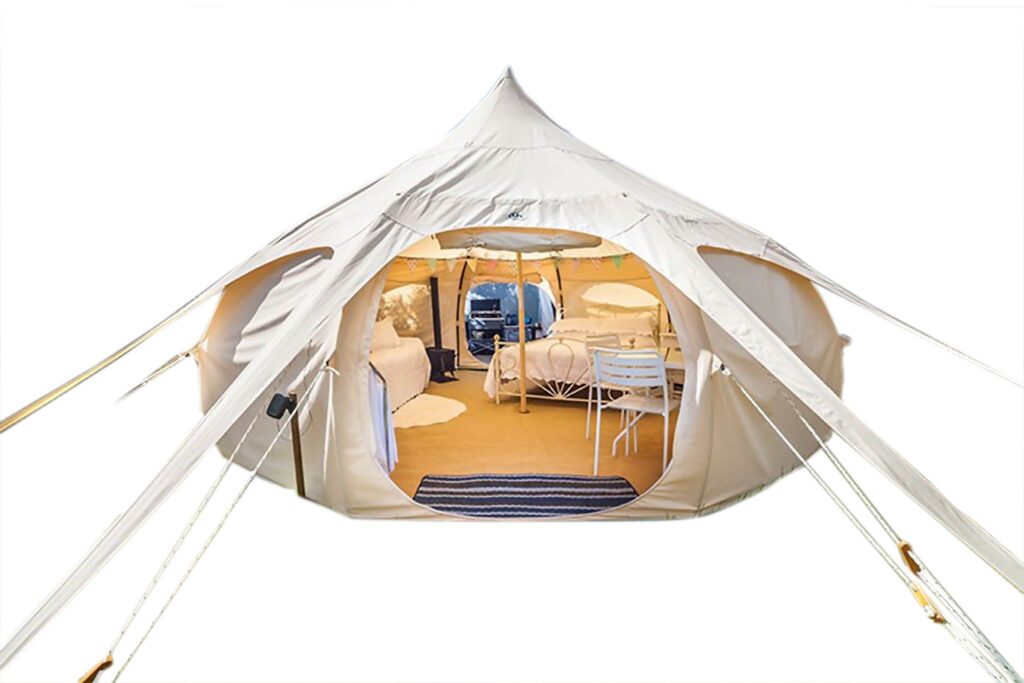 If you are looking for throwing a camping party or going on a camping trip with a large number of people lotus belle deluxe tent should be on your list. This is the second most expensive tents for camping on our list with a price range of around $4000. Moreover, this tent is spacious and looks very elegant especially for hosting camping parties and workshops.
The lotus belle tent has a diameter of 20 feet and a floor space of 300 feet. Lotus belle tent is very spacious and ideal for holding a large group of people comfortably. The tent can easily fit 3 queen size beds and host up to 20-24 people easily. While hosting a party even check out some easy meals to cook while camping
Best Features
The bespoke canvas is made in a way that it can resist fire, water, and any sort of rotting

The tent has a bathtub-style groundsheet which prevents any sort of bugs to get inside the tent

There are 4 windows with mesh screens and 2 large zipped doors

Moreover, tt  also includes roof vents for better ventilation, especially during summer
Bubble tent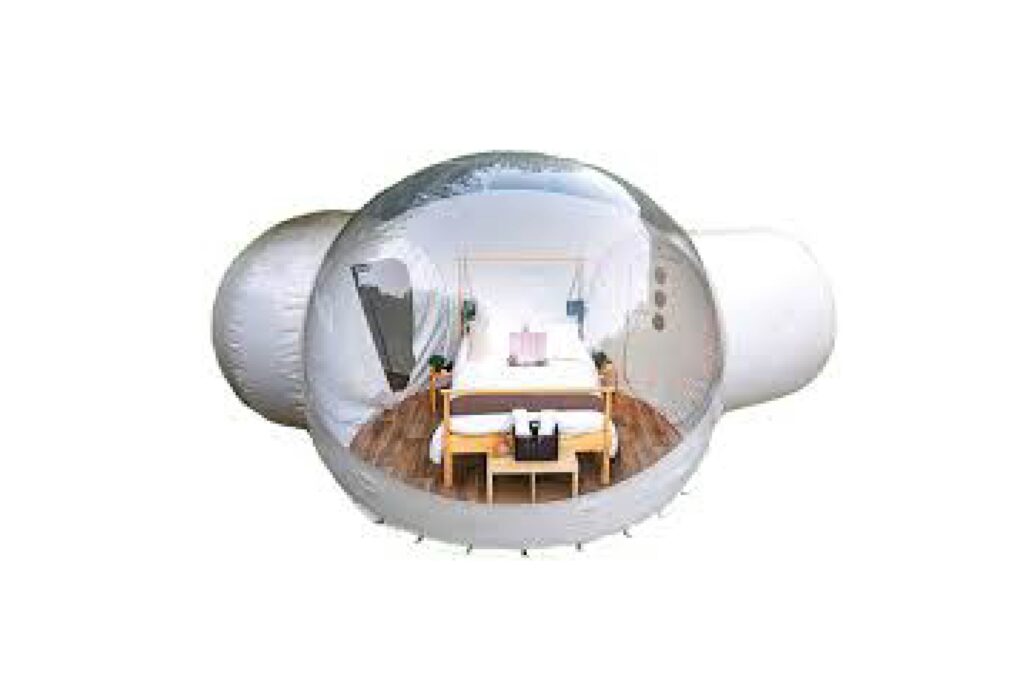 This is one the most expensive tents for camping which is very unique looking. In fact, Bubble tents are usually recommended for backyard camping or going on a camping trip for relaxation. Undoubtedly, The transparent exterior is appropriate for watching perfect sunrises, sunsets, and mesmerizing nature views. This is the perfect tent for nature lovers, stargazers, or someone who is just intro trying something different.
Furthermore, this bubble tent is can be used through 4 seasons it weighs about 58lbs. with a freestanding design. The tiny bubble tent has a diameter of 118.1 inches and a peak height of 78.7 inches which makes it spacious for two people. Also, this tent is made of polyvinyl chloride which gives the perfect transparent exterior for a 360 view of nature. You can check out bubble tent on amazon.
Best Features 
The tent includes an air pump which is connected with the tent to keep the tent inflated all time

Made of PVC which gives the perfect 360 views of the nature

The geodesic design helps to withstand windy and snow weather

Has proper airflow circulation which is appropriate for warm weather
The Baby Tipi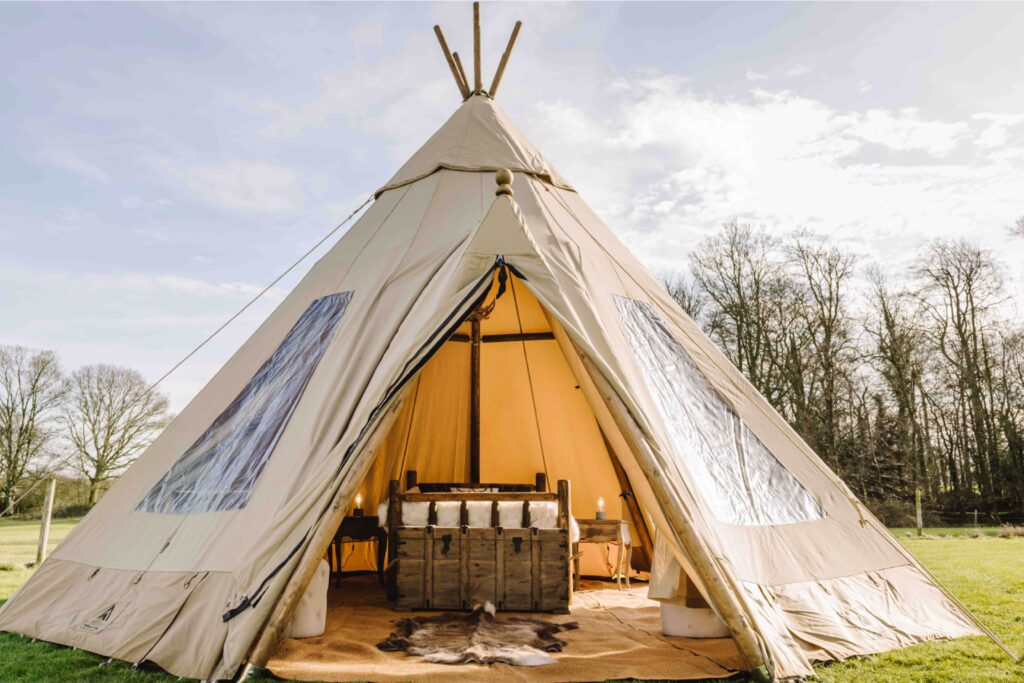 The baby tipi is one of the most expensive tents for camping and elegant tents on our list. Moreover, it is highly recommended for backyard camping or a romantic camping gateway. If you ask the Tipi Company they can add lights to your baby tipi tent to make it look more aesthetic and magical. Moreover, they can add various accessories like pillows, wooden furniture, and even a fireplace.
The baby tipi tent weighs about 77 lbs. with a diameter of 20 feet. It also has a capacity for 15 people standing around comfortably. To illustrate, the total peak height of this tent is 178 inches which makes it spacious for people to stand around. The poles of the tipi tent are made out of wood that originates from Scandinavian forests.
Best Features 
Wooden poles give the tent a stronger structure to withstand hard weather

 

The fabric of the Tipi tent has flame and water protection

 

It also includes sun protection as well as dirt protection

Accordingly you can ask the company for extra accessories
Patrol Deluxe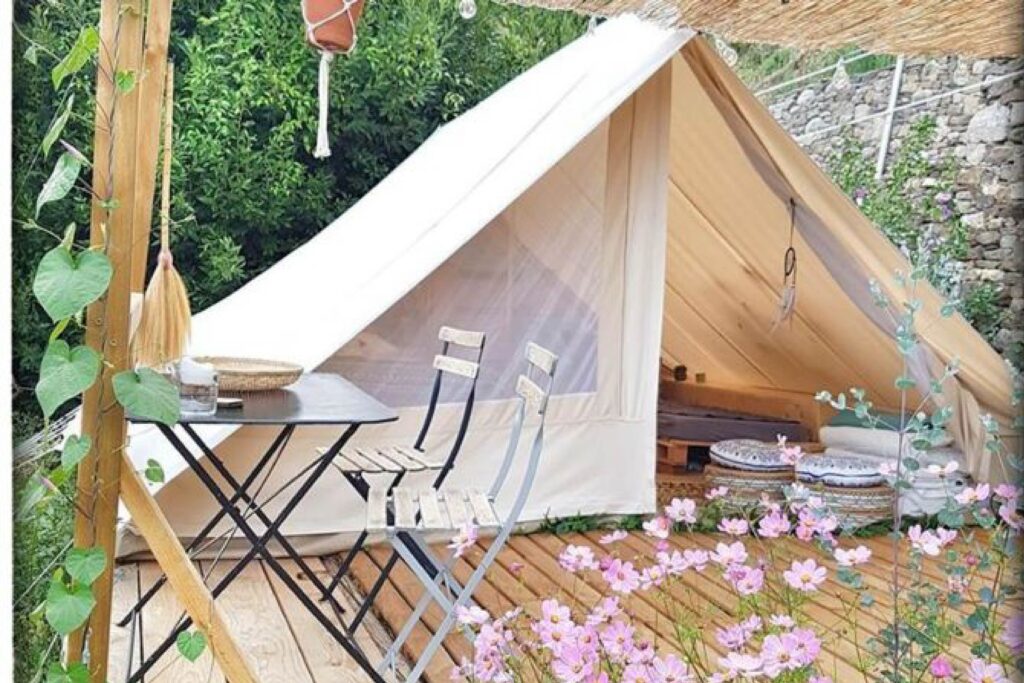 This is one of the most sophisticated looking A shaped tents which has the least expensive price range on this list. Specifically, this tent is highly recommended for family outings or camping with a friend.
Furthermore, the weight of the tent is 71Lbs with a volume of holding 10 people. The tent is made of waterproof canvas which makes it appropriate to use during wet weather.
Best Features
It has been sewn in groundsheet

It also has 4 noseeum mesh windows which help good airflow circulation and at the same time keep bugs away

Poles with a carry bag for the tent, poles, and stake bags
Conclusion
These were our favorite most expensive tents for camping with upgraded features that can elevate your camping game. It's not necessary to invest in high-end tents as low-ranged tents can also make your camping experience seamless. However, if you do have the ability and the willingness to try something new and adventurous then it is highly recommended to invest in these tents. The expensive tents will make your money worth it. Happy camping!!