10 Tent with Screened Porch with Floor
Camping is a rejuvenating experience, especially if you're traveling in a large group. You get to create exciting, heart-warming memories. It can easily go south though. The weather conditions could be abysmal. Unwanted bugs can crawl in. Worst of all, what if the tent isn't the right fit?
This is why you need to invest in a tent with a screened porch with a floor. Here's why.
Why Get a Tent with a Screened Porch with Floor?
A screened porch with a floor is essentially another room in your tent. This multipurpose room comes with screened walls. It often comes with a mesh layer to protect you from external interference. It can be used for several reasons. You can store your equipment there or even keep your dirty hiking boots.
There is also room for a sleeping bag or two. Mind you, some tents come without panels. So, they're not fully protected from the elements. Some tents come with holes in the floor. This helps drain out the water. So, the tent always remains dry. Why do some people buy screened tents without a floor then?
Well, it all comes down to preference. A porch that doesn't have a floor is an ideal cooking spot. You won't have to worry about damaging the floor. You can also place a chair there and gaze at the star above. There's enough room for your children to play around. You get to keep a close eye on them too!
What Are the Different Types of Tents with Screened Porch?
Most tents with screened porch share the same characteristics. What makes a difference in the tent construction? Let's look at three popular tent styles.
1. Dome Tents
A dome tent usually comes with a screen porch or room. They have a curved structure and tend to have less headroom. The screened porch is usually an extension of the tent.
The added space isn't exactly comfortable as it follows the same geometric formation. They're handy for storing things though. These domes are also more aerodynamic. This means they can withstand strong winds and other vertical pressure.
2. Cabin Tents
Cabin style tents have a few distinct features. They're generally much taller and roomier. You can find multiple doors, rooms, and windows too. It's thoroughly ventilated making it ideal for summer camping. Most of these tents have mesh ceilings. Warmth isn't insulated so it's not appropriate for colder climates.
Since these are tall structures, they don't hold against strong winds. This is why they're best used in warm weather. The straight walls can accommodate several bunk beds too. You can set these tents up in minutes. In short, you're forgoing protection against elements for comfort.
3. Tents with Rain Fly
These tents are freestanding. The screened area is fully covered with a mesh layer. They tend to be more spacious too. So, you can easily relax here for hours. The rain fly usually covers the screened area only. The rest of the tent is usually constructed from waterproof fabric.
What Type of Floor Does Your Screened Porch Need?
A tent with a screened porch has some obvious benefits. It makes the camping experience better. You get to enjoy the great outdoors with a makeshift roof over your head. Is it worth the additional investment? Yes. Let's dig a little deeper.
The insect population is a right menace when you're camping. You can hear the buzz around your ears while you're trying to enjoy a meal. Now imagine eating your meal inside a screened porch. You won't have to deal with those persistent mosquitoes or biting flies anymore.
The conditions of your camping spot play an important role while choosing tents. The duration of your stay matters too. Either way, it's always a safer bet to get a screened porch with a floor. They offer a layer of protection against the uneven ground. It also protects your tents from crawlers.
The material should be waterproof and durable. Look for tents that are made of polyester fabric. They don't stretch too much. So, it's extremely user friendly! It's also resistant to water and UV rays. Packcloth is another popular choice. They're more durable than polyester.
The floor should be thick too. Previous campers could leave behind debris. You don't want to accidentally stumble upon rocks, sticks, or broken glass. Try to get a tent with footprints. They offer another waterproof layer above the ground.
Now that you know what to keep your eye out for, let's look into the top ten tents with screened porches with a floor!
Top Ten Tent with Screened Porch with Floor
Product Description: The two-person screened tent is constructed from high quality, waterproof material. The interior of the tent is equipped with a No-See-Um mosquito mesh. The screened porch comes with a floor and is the perfect shelter for your camping gear.

This camping tent can stand on its own on damp grounds. There's a waterproof flysheet included too. The porch has a bathtub style floor with reinforced seams. It also comes with a tailored tent footprint! Another stand out feature of this tent is the large entryway.
The tent can withstand strong winds. It maps up to 91 inches long, 55 inches wide, and 39 inches high. To improve portability, the tent comes with lightweight aluminum poles. You'll also find a handy kit to repair unexpected tears and nips.
Product Description: Klondike is one of the top high-quality screen tents with a floor. If you're traveling in a large group, this should be your pick. The only reason it isn't on the top of the list is that it doesn't come with a footprint. The screened area can easily accommodate two people.
The tent is constructed with a strong, polyester fabric for improved sturdiness. It's coated with polyurethane to withstand weather conditions. This roomy tent is reinforced with a fiberglass roof frame. The interior has mesh openings to facilitate air circulation.
Product Description: This screened tent can easily accommodate up to four people. The porch has enough room for two more. It has an enclosed screen and a sturdy floor. The tent is equipped with front covers to protect itself from wind and rain. The floor tarp is shaped like a bathtub to drain water. The seams are inverted too.
The rainfly is attachable. So, you can use it whenever you need protection against the rain. It also acts as a shade against the scorching sun. The tent has excellent height. You can walk around with ease. The construction also makes it easy to put together.
Product Description:
NKT has been a part of the camping industry for a long time. They've engineered their products to be safe, comfortable, and sturdy. This camping tent is designed for three to four individuals. The inner door comes with a full zipper to keep out pesky insects from the tent.
The tent has a screened porch or front too. Here, you can comfortably relax and enjoy the wilderness around you. There is also a vestibule in the middle that comes with a side door. The inner screen room comes with a D-style door. This is also equipped with mesh protection. It's thoroughly ventilated too. There are tiny poles in the mesh for airflow. When the weather takes an unexpected turn, you can erect a front shed and zip it in minutes. The screen room is spacious enough to store your heavy equipment as well.
Product Description: Coleman is a front runner in this industry and for good reason. This tent is designed to host six people. It comes with a separate screen room that adds to the outdoor experience. It's the perfect relaxing spot. You can witness the greenery around you from a comfortable spot.
The Steel Creek tent only takes a few minutes to put together. It sports a fast pitch system and an instant-clip suspension. The tent is portable too as it comes with a carry bag. The tent also has multiple mesh pockets on the walls of the tent.
From the screened porch, you can set up an extension cord to an external power source. The seams in this tent are inverted. The zippers are water-resistant too. The durability of this fabric is unlike the others. It'll undoubtedly last you several seasons!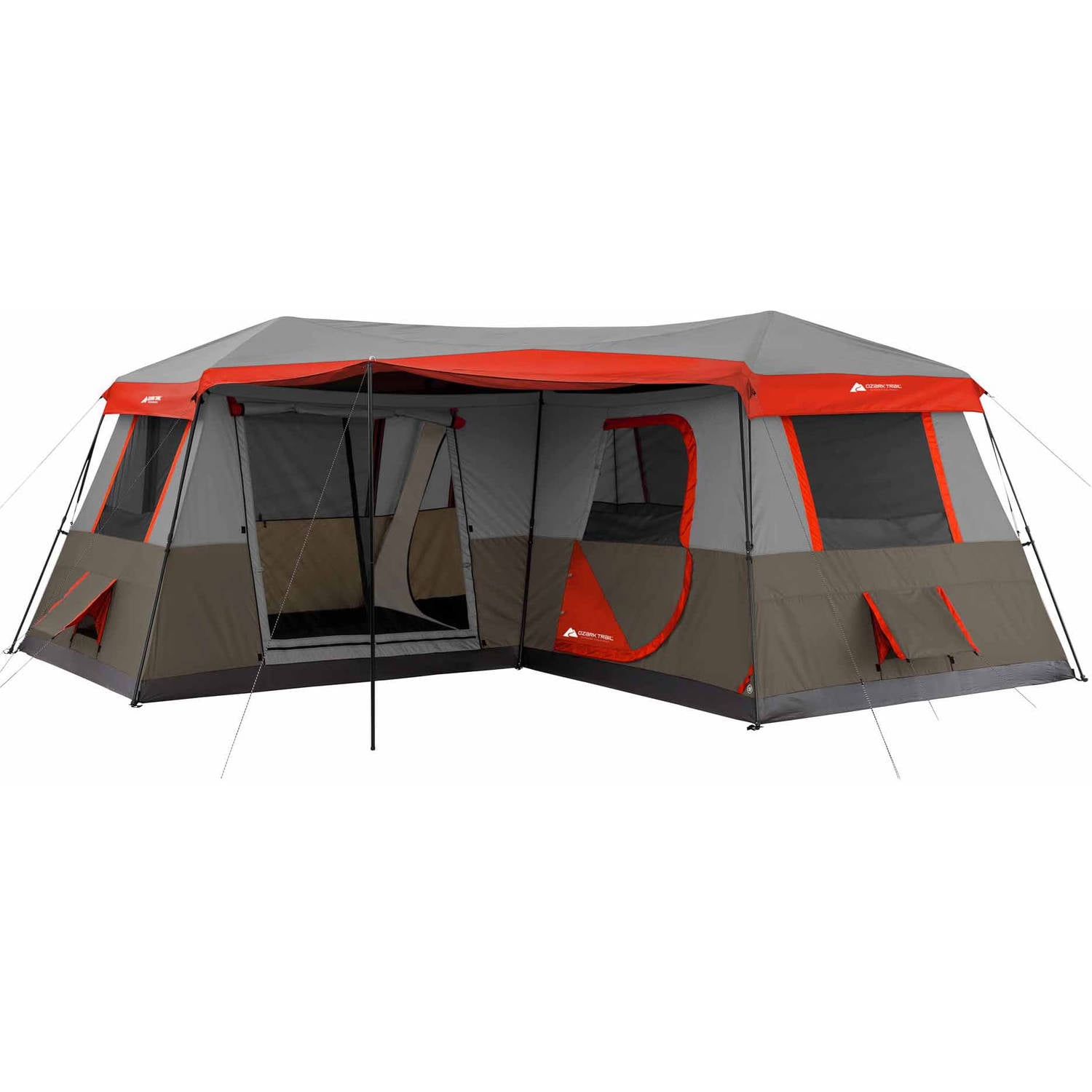 Product Description: This instant cabin tent by Ozark Trail is popular among users. It features mesh screens on the windows which is a blessing during summer. You can easily fit in six to seven people with room for more.
It comes with a divider to help create separate rooms. This tent isn't easy to assemble. You also need at least two people to put it together, especially because of the weight and height.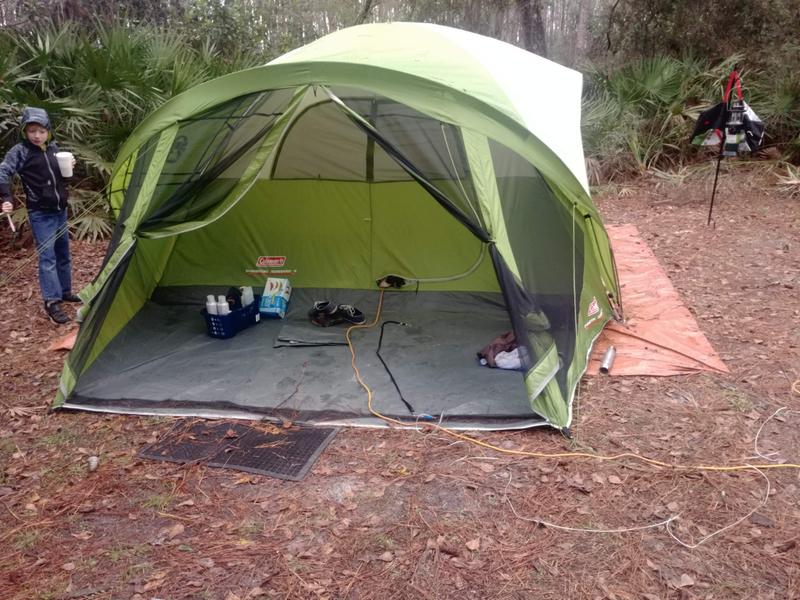 Product Description: This tent by Coleman was engineered to withstand strong winds. It's suitable for multiple climates and offers an excellent outdoor experience. It takes a while to assemble though. The process isn't hard, just coordinating it takes time. It has a roomy interior that can easily accommodate a large group.
The center height is significant too. It's around five feet eight inches. It's a tad troublesome for taller individuals but it should get you by for short trips. The tent has inverted seams and welded corners. It's meant to keep away rain, dust, and unwanted bugs!
Product Description: This family cabin tent can fit up to three queen-sized air mattresses. It even has a fully enclosed screened porch. The large floor plan can accommodate up to eleven people. You can easily store your camping tools and equipment.
The tent offers a panoramic view of your surroundings. It's a worthwhile investment for a long camping trip. The tent also has an electrical access port. The vents are adjustable too!
Product Description: This tent Nemo sports a unique design. The main body is constructed from a single layer while the front section is a screened porch. This results in a large vestibule. It sports a tunnel-shape design that can be divided into two separate rooms.
The tent also has two doors. So, you're not bothering the other inhabitants while you move. It's freestanding too. The poles are constructed from hubbed aluminum so it works in any weather conditions.
Product Description: This tent comes with a large screen room but it only has a partial floor. This offers some benefits. You can set up a lounging space and a small cooking corner too. It can withstand tumultuous weather conditions.
The pin and ring system offers a swift set up. The sleeping area is large and spacious. It gets stuffy pretty quickly though. So, it's best not to use this in the summer.
Conclusion
The Journey Duo Tent with Screened Porch by Snugpak Travel is the winner for obvious reasons. It's meant to survive volatile weather conditions whether it's heavy rain or strong winds. The screened porch comes with a floor and the perfect place to look at the scenery from.
The bathtub style floor is also a plus. You won't have to worry about water accumulating in the center. It comes with a handy kit for accidental wear and tears. More importantly, it comes with a tent footprint too! This is perfect for one or two travelers.
What if you're traveling in a large group? This is where the Klondike Cabin Tent by Wenzel comes in. The tent is equipped with all the features that appeal to large families. You can even use the screened porch as a makeshift room! Either way, it all boils down to your preference.
So, look at the features and pick the tent that fits all your needs!
FAQ
Is it safe to be in a tent with a screened porch?
Yes, screen porch tents create a safe environment for sitting, dining, and socializing with friends and family.
What is the definition of a screened porch tent?
A screened porch tent is sometimes known as a shade tent. It is a shelter with front mesh walls and a sturdy roof. A floor is included in specific versions.
Is the cloth on a screened porch breathable?
Yes. Unlike some other types of cloth, a polyester mesh is highly breathable and does not become clogged with sweat.
Is it possible to cook in a screen porch tent?
Yes, tents with screened porches are an effective and safe solution for bug-free cooking.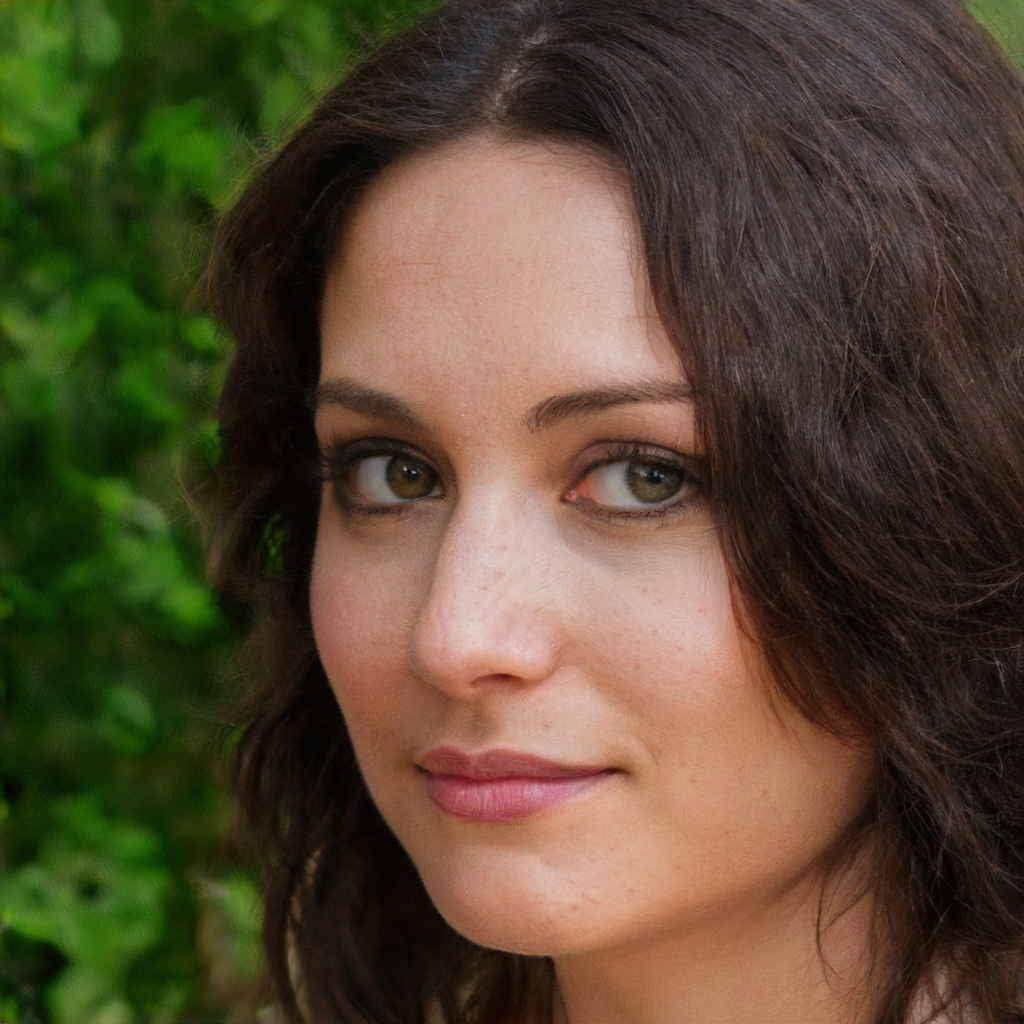 Meet Sarah, a passionate traveler and camping enthusiast who loves to explore the great outdoors. With years of exploring, she has become an expert in testing and reviewing the best tents on the market which got her to start mytravelingtents.com. Her insightful reviews provide valuable information to fellow adventurers looking for the perfect tent for their next camping trip.