How To Camp In Yosemite: A Complete Guide
Yosemite National Park, which has been around since 1864, is one of the most well-known and often visited national parks, and with good reason. Just over 4 million people visited Yosemite in 2015, many of them hiked the park's 800 kilometers of trails or slept at one of its 13 campsites. 
There aren't many parks with as many famous landscapes and mountains as Yosemite, and that includes Half Dome and El Capitan. During the summer months, there is often strong demand for camping spots.
To camp in Yosemite, it's best to reserve one in advance or get there early if you want to use a first-come, first-served site. Yosemite National Park provides several opportunities for those seeking seclusion.
A more in-depth exploration of the park's natural wonders to engage in backpacking and other forms of "backcountry" travel. An unforgettable visit to Yosemite isn't complete without a night or two under the stars in this enchanting California valley.
But how to camp in Yosemite? Is there anything more pleasant than a trek through the woods, a dip in a clear alpine lake, or the smell of fresh pine? Camping in Yosemite National Park is a dream come true, and you can make it a reality. You will learn a lot about how to camp in Yosemite after reading this post. If you want to find out more, keep reading!
What You Need to Know Before You Go Camp in Yosemite
Planning to make a trip to Yosemite Nation Park? But you don't how to camp in Yosemite.
You need to make a reservation as far out as five months in advance. There is a lot of competition, so if you want to have a chance of booking a site, you need to make sure that you sign up precisely five months before the first night of your vacation. If the dates you like are already booked, check back often since there is always a chance that someone may cancel.
Because the opening and closing dates of camping seasons vary from year to year, you should check the campground websites to see which sites will be available during your vacation so that you may make reservations in advance.
The middle of the morning is the period when spots should be claimed using the "first come, first served" method. Your journey should be planned so that you get to the campground early before all of the available spots are taken.
The two campsites in Yosemite that have showers accessible for campers are Curry Village and Housekeeping Camp, both of which are situated in Yosemite Valley. Neither of these locations is considered to be a campground.
Only six persons are permitted to stay at each standard campground. If you are traveling with a bigger party, you will need to reserve two campsites or hunt for a campground that has double or group campsites to accommodate everyone.
Bears are common in Yosemite National Park. At each campsite, you will find a bear box in which you may keep your food and other objects that give off a fragrance. However, before you go on your journey, you should educate yourself on the proper practices for preserving food to avoid any unpleasant surprises along the way.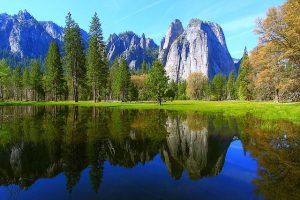 Campsites in Yosemite that Accept Reservations
To camp in Yosemite you should know that several of Yosemite National Park's campsites need booking. Drive-in campsites in Yosemite Valley, for instance, are only available with a reservation from March 15 through November.
Some campsites outside of the valley need them from summer through October. Hodgdon Meadow, Crane Flat, Wawona, and a section of Tuolumne Meadows are all included in this group of campsites.
Camping Sites Available for Booking in Yosemite Valley
Pines Campgrounds including Upper Pines, Lower Pines, and North Pines.
Located at Yosemite Valley, just around the corner from Curry Village, at a height of around 4000 feet.
Any of the 238 campsites at High in the Pines are available for camping throughout the whole year. These campsites may accommodate tents, recreational vehicles (RVs) up to 35 feet in length, and trailers up to 24 feet in length.
Down in the Pines Tents, RVs, and trailers up to 35 feet in length are welcome at any of the 60 sites available between April and October. The Northern Pines Tents, RVs, and trailers up to 35 feet in length are welcome at any of the 81 available sites from March through October.
Cost per night rate: $26 per person.
Camp 4
Located at Yosemite Valley, next to Yosemite Valley Lodge, at a height of around 4000 feet
All-year accessibility; 36 communal walk-in tent sites (sleeping in vehicles is not allowed). Starting on May 22 and running through September 15, the only way to reserve a campsite between the months of late May and early September is via a daily lottery held online at recreation.gov one day in advance. The lottery is open daily from midnight to 4:00 pm Pacific Time, and the results are posted shortly after.
Cost: Each entry into the lottery will set you back $10, which is non-refundable (up to 12 people). If your lottery application is accepted, you'll have to pay $6 per person, each night to camp.
Wawona
The coordinates are: 1 mile north of Wawona Road, at the height of 4000 feet.
Loop A is open year-round, but Loops B and C are only open at certain times. Between the months of April and September, campers with RVs and trailers that are no longer than 35 feet in length have access to 93 spots.
Costs start at $26 per night.
Camping Areas in Yosemite National Park, North of Yosemite Valley
Hogdon Meadow
Located away from Big Oak Flat Road (Highway 120). There are 105 tent and RV sites at this location, 45 minutes northwest of Yosemite Valley and just next to the Big Oak Flat Entrance Station at an elevation of 4,900 feet.
Costs as little as $26 per night.
Crane Level
Specifically, it's on Highway 120's Big Oak Flat Road to the west of Crane Flat. About 30 minutes to the northwest of Yosemite Valley, at a height of about 6,200 feet.
There are 166 campsites accessible from the beginning of July through the middle of October, and each one has the capacity to host tents, recreational vehicles (RVs) up to 35 feet in length, and trailers up to 27 feet in length. 
The cost is $26 per night.
Tuolumne Meadows
Tioga Road in Tuolumne Meadows, roughly 1.5 hours northeast of Yosemite Valley, at a height of 8,600 feet
The campground has 304 sites for tents, RVs, and trailers up to 35 feet in length from the middle of July to the end of September.
The cost is just $26 per night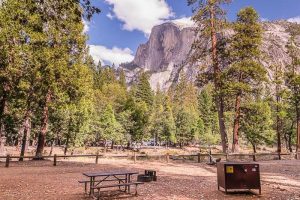 Things to look forward to doing in Yosemite
Hiking: Yosemite has over 800 miles of hiking trails, ranging from easy strolls to challenging multi-day treks. Some popular hikes include Half Dome, Yosemite Falls, and Mist Trail.
Rock Climbing: Yosemite is world-renowned for its challenging granite cliffs, making it a popular destination for rock climbers. When you go to camp in Yosemite, you can book guided climbs or take classes to improve your skills.
Wildlife Viewing: Yosemite is home to a variety of wildlife, including black bears, deer, coyotes, and mountain lions. You can see them in their natural habitat while hiking or on a guided wildlife tour.
Water Activities: You can enjoy rafting, kayaking, and swimming in Yosemite's rivers and lakes, such as the Merced River and Mirror Lake.
Photography: Yosemite's stunning landscapes make it a paradise for photographers. You can capture breathtaking shots of Yosemite Valley, Half Dome, El Capitan, and more.
Skiing and Snowboarding: In the winter months, Yosemite offers skiing and snowboarding opportunities at the Badger Pass Ski Area.
Stargazing: Yosemite is a designated Dark Sky Park, meaning it has minimal light pollution and offers an ideal location for stargazing. You can attend ranger-led stargazing events or simply look up at the sky on your own.
Ranger-led Programs: Yosemite offers a range of ranger-led programs, including guided hikes, wildlife talks, and campfire programs, providing educational opportunities to learn more about the park's history and ecology.
What to Bring when you camp in Yosemite National Park 
It's important to pack everything you need to make your experience comfortable and enjoyable. Here are some essential items you should consider bringing when you decide to camp in Yosemite:
Tent:  To camp in Yosemite, you will need a sturdy and waterproof tent that can withstand any kind of weather.
Sleeping Bag: A high-quality sleeping bag is essential for staying warm and comfortable during the night.
Sleeping Pad: A sleeping pad will provide cushioning and insulation between you and the ground.
Camp Stove: A portable camp stove is necessary for cooking meals in the wilderness.
Cookware and utensils: You'll need pots, pans, plates, and utensils for cooking and eating your meals.
Cooler: A cooler will keep your food and drinks cold, especially in the hot summer months. Read: How to pack a cooler for camping
Water bottles: You'll need plenty of water for drinking and cooking, so bring a few reusable water bottles.
Headlamp/Flashlight: It can get dark quickly in the wilderness, so a reliable headlamp or flashlight is necessary.
Warm Clothing: Even in the summer, if you going to camp in Yosemite, temperatures can drop significantly at night, so bring warm clothing such as a fleece or down jacket.
Hiking Boots: Yosemite National Park has numerous hiking trails, so make sure you bring a pair of sturdy hiking boots when you go camp in Yosemite.
Wrapping up thoughts: Camp in Yosemite National Park
To conclude, if you are going to Camp in Yosemite National Park, which is known for its breathtaking natural scenery, no matter where you end up setting up your tent, it will be an impressive sight.
There aren't so many significant distinctions between camping within the valley and camping outside the valley. If you choose to camp outside of the valley, either to the north or the south of it, you will discover higher altitudes, which provide milder temperatures, and more isolation.