Top 10 Hanging Tents for Camping
Canoe Campers or Rock climbers! Hanging tents for camping can provide you with supreme comfort like no other tent in the market. If you are a camper, you probably know the struggle of rolling into the mud when getting out of a tent. While large tents with screened porches are great, the result is an amalgamation of sweat and dirt in the morning. In such a scenario, a hanging tent could come in handy. Hanging tents for camping are a good idea since it's elevated from the ground, can exempt you from bug bites. Also, it would help you catch sight of distant wildlife. To help you in your camping expedition and make your stay comfortable, we have compiled a list of 10 ideal hanging tents for camping that you could include in your journey.
Buying Guide: What to Look Out For
If you are a newbie to camping, our buying guide will be your savior and trusted friend. Read on to discover what features make the top hanging tents for camping.
Make sure it's waterproof
When you are choosing hanging tents for camping, whether you want your tent to be elevated or on the ground, a good tent must be able to save you from the rain. Tents made from ripstop nylon, polyester, and canvas are usually waterproof. So, looking at and knowing the fabric composition is crucial while choosing hanging tents for camping.
A lightweight tent is convenient
Nobody wants to drag a heavy tent along the floor of the camping sites. This is why weight is a key factor to consider. Hanging tents usually need to be lifted while hanging them to a tree or mountain. If you've ever gone camping alone, you might be aware of how hard it can be. Therefore, when it comes to a hanging tent, the lesser the weight, the better.
Protection from bugs
Mosquitoes could ruin your night in the wilderness. Bug bites would be an addition to that party. Don't want to be a part of their feast? Look for net systems in your hanging tent that can keep bad bugs and mosquitoes away!
Consider the capacity
Capacity is something that you have to decide on before you jump into the arduous task of purchasing hanging tents for camping. Do you often camp alone, or do you include your family members and friends in the expedition as well? A hanging tent can house 2 or more campers. So, count the maximum number of people who would go on a trip with you.
Most people require some additional space to accommodate their essentials inside the tent. So, if you are going to a camp with 2 of your friends, buy a tent that can fit 3 people. That way, you and your friends would have space for yourselves and your belongings.
The Sustainability factor
Nobody wants to buy a new tent every single time they go on a trip. This is why it is important to check the materials of your hanging tent. Hanging tents for camping is more delicate than a conventional tent, as it is subjected to higher pressure. So, it is more prone to wear and tear. Do not get fooled by inexpensive hanging tents for camping. Most of these are made from materials that do not last long. Our one suggestion would be to invest in a superb quality one.
Know how much to invest
Everyone faces budget constraints while making large investments. You must decide on a price range you want to stick to while buying your hanging tent. This will narrow your search and reduce your effort by 10 times. Apart from that, you must also figure out what features you are willing to forego at this price. An inexpensive hanging tent is cheap for a reason. It either consists of non-durable materials, or it does not have many convenient features. With this simple tactic, you will be happier with your purchase.
On a separate note, consider the weather conditions during your purchase, be it extreme weather conditions or not. You do not want to end up buying a flimsy hanging tent that would sway away with the wind when you attempt to tie it to the tree. In case of extreme snow or icefall, it is preferable to invest more in your hanging tent as you want it to be reliable. Sometimes, a good quality tent could come at a lower price due to sales. Take advantage of those!
An Additional Suggestion
Do all your research beforehand. While buying a hanging tent, know which tent is easier to set up. If your hanging tent is extremely difficult to set up, you will be spending a huge chunk of time fixing it. To avoid such a situation, try setting up the tent in your garden and make the best use of the hanging tents for camping, instead.
Top 10 Hanging Tents for Camping
Key Features
The combination of ripstop nylon and polyester makes this product waterproof.
Heavy rainfall or dew would not be a matter of concern as the Lawson hammock has a rainfly attached to it.
The innate bug net helps keep irritating insects away.
A flatbed ensures comfort by removing the concave effect.
This hanging tent could be used anywhere starting from bike camping to canoe camping. Thus, it is versatile.
Can be set up without much hassle.
Includes pockets for storage.
About Product
To begin with it, in the directory of hanging tents for camping, the Lawson Hammock is Forest green in colour, this tent looks beautiful in any land filled with trees. Due to its arch pole system, it can be dangled between two objects. Besides, this system eradicates the concave effect, ensuring a flatbed so that you can have a goodnight sleep. In addition to these, the Lawson Hammock consists of nets for keeping insects out and a rainfly for unexpected rain or dew. With a light-weight design, this product is easy to carry and construct. Its high-quality materials make it sustainable. Storage is easy with the two inner pockets. This product could be a perfect pick if you want to use it on and off the ground. You can watch this video to see how to use and fix it
Key Features:
Includes a zipper that can be put in a seat cushion filled with air to make this hanging tent comfortable.
It is waterproof and UV resistant – this is why this tent is more long-lasting.
Able to carry a maximum weight of 330lbs.
Contains LED lights inside the tent.
It can be folded – it is easy to carry.
Various things can be stored in a small pocket.
A small window design provides ventilation.
About Product:
Waterproof and UV resistant, the Gartio hanging tree tent is designed to be durable. This tree tent is easy to carry as it is foldable. Apart from that, it contains an LED light inside the tent. So, you could read books in nature by locking yourself away from the world. The availability of 4 colors makes it more exciting. Apart from this, the curved cushion filled with air is sure to provide maximum comfort. Lastly, it is suitable for both children and adults as it can carry a lot of weight.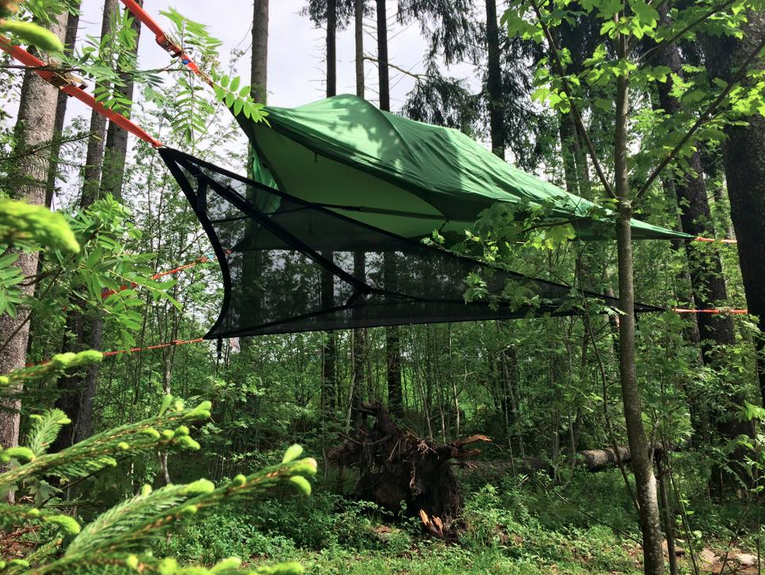 Key Features:
Has a mesh room to repel insects.
Rainfly is made from polyester that can be removed – it is waterproof and UV resistant.
Can bear weight up to 550lbs.
It is robust and long-lasting
Needs only 10 minutes to set it up.
About Product:
Do you enjoy camping but tend to avoid it due to backache from hunching inside the tent? Then, the WintMing Suspended Treehouse Tent would be the perfect solution for you. The hanging tent comes with a tensioner that pulls the stand flat. So, by buying this, you would be saying goodbye to back pain. Uplift your camping experience with a tent that is easy to fit and is suitable for all situations.
Key Features:
Contains pockets for internal storage.
Underfloor can be detached which provides external storage.
Rainfly is waterproof and can be removed.
Anodized aluminum poles can withstand extreme weather.
Includes anti-roll straps.
The tear-resistant mesh keeps insects away.
About Product:
This hanging tent provides a combination of security, solace, and uniqueness. Having a weight capacity of 400 kg, it can accommodate at least 3 people. The anti-roll strap system prevents rolling into each other's sides. Apart from this, the external and internal space provides plenty of space for your belongings.
Key Features:
Can be set up in just two minutes.
Comes with wide straps.
Weighs only about a pound.
Contains rope made from nylon and hooks made from aluminum.
Includes mosquitoes and bug net.
Has a zipper on both sides
Pockets help with storage.
This tent dries quickly and is dustproof.
About Product:
If comfort is your ultimate priority, this tent will cocoon your body in its fabric made from parachute nylon. Its ability to fit inside a backpack is one of its many convenient features. Hang the hammock on a nearby tree, and you are set for the day. The buckle design on two sides keeps this one free from dirt. The inside of the tent is voluminous and contains internal storage for keys and other personal belongings. Designed to accommodate 2 persons, this tent is suitable for couples. This hammock also makes an excellent gift for anybody who loves hanging tents for camping.
Key Features:
Made from nylon fabric, this product has high tensile strength.
It is light-weight and breathable.
The internal space is perfect for anybody who is claustrophobic.
Nets are made of high-grade polyester. Hence, it would not rip.
Has strong straps
Consists of a nylon suspension rope
About Product:
Everest active gear provides you with high-quality hammocks that are suitable for both old and new campers and some of the finest hanging tents for camping. The instruction manual facilitates the process of setting up the entire tent. This tent allows you to enjoy outdoor activities without the fear of bug bites. The design of the net provides enough space. This feature makes this hammock ideal for claustrophobic people. Furthermore, the net does not tear.  If you are searching for something unique, portable, and long-lasting, you could give this product a try.
Key Features:
The mosquito net is available
The straps are 18ft long.
The product comes with 18 different hooks – you can adjust it according to your need.
Made of parachute fabric materials.
The density of the net fabric is more compared to other hanging tents for camping, making it suitable for keeping mosquitoes away.
If faulty, the company will replace the product or refund if a complaint is filed within 3 months.
Includes a 1-year warranty.
About Product:
HCcolo Camping Hammock is a basic hanging tent with all the common features. Just like most hammocks, this one includes a mosquito net. However, the density is more than the density of other mosquito nets in the market. What makes this product more reliable is its 1-year warranty and the replace and refund policy. So, you can buy the product without worrying if you are making the right choice.
Key Features:
The asymmetrical design promotes a flat sleeping space.
The mosquito net has 2100 holes per square – there would be no intrusion of insects.
Tearing of the net is prevented as it is long-lasting and strong.
Comes with 4 internal pockets.
Has 6 loops.
Can be used with any inflatable pad of any thickness.
About Product:
Camping becomes comfortable with this bug-free hammock. The first hammock to include bug protection, this product screams reliability and sustainability. The asymmetric design provides a flat sleeping space which is essential to a relaxing time.
Key Features:
The material of this hammock is made from parachute nylon that is breathable and resists any sort of tear and dirt.
Can also be used as a sleeping pad or cradle
This hammock is foldable – it is easy to carry.
With the 10ft long strap and 18 loops, it is easy to adjust based on comfort level.
 About Product:
Lightweight and foldable, this hammock is perfect for adventures, be it hiking or camping. It is also easy to set up – it would not take much of your time. The loops can be adjusted for comfort. Moreover, it is environmentally friendly as it does not leave any harmful impact on the tree. One of the best hanging tents for environmentally concious people.
Key Features:
Available in many colors.
Can be folded and packed into a backpack.
The ropes are 157 inches each and hence, they could be easily wrapped around trees.
Includes a built-in storage bag.
 About Product:
This is one of the most perfect hanging tents for camping for someone who wants to camp alone and is looking for something affordable. Light and compact, this hammock can be carried without a hassle. If you ask us, best hanging tents for camping for a solo camper!
Let's wrap it up 
Here are our top 10 picks of hanging tents for camping that you can choose from. In this guide, we have mentioned everything you might need to know before you click the "order" button.  Now you can elevate off the earth and into solace with our recommendation. Hope this helps!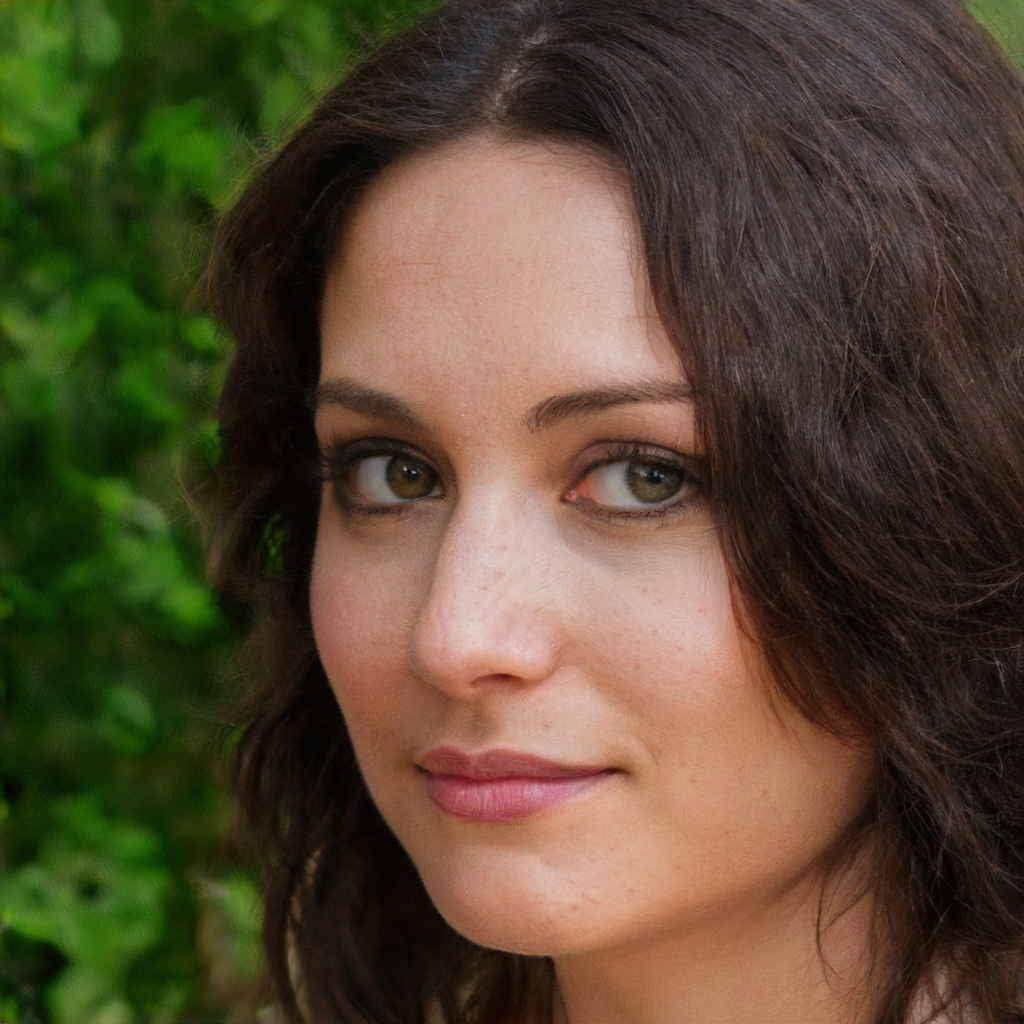 Meet Sarah, a passionate traveler and camping enthusiast who loves to explore the great outdoors. With years of exploring, she has become an expert in testing and reviewing the best tents on the market which got her to start mytravelingtents.com. Her insightful reviews provide valuable information to fellow adventurers looking for the perfect tent for their next camping trip.