Klymit Cross Canyon 2 Tent Review: Yay or Nay?
Klymit Cross Canyon 2 is one of the most favorite tent choices currently. But would it be convenient for you? I tried to discuss it neutrally without focusing on the good parts only. Also, if you are new to buying tents, this article is especially for you. Let's start,
Commonly made mistakes when choosing a tent
Get rid of the "When there is a sale, quality can go to hell!" mood. Seriously, don't let the price always be the judge while buying your most essential product. A tent is a costly investment.
Honestly, who buys a tent monthly or even yearly, right? But some of us still make the mistake of getting whichever tent is available on sale. Not always. The tents on sale would be your best match. Stay away from making these mistakes,
Not considering the capacity
Yes, there are different tents based on how many people are planning to camp with them. Don't make the mistake of getting a tent of two people if more than two are trying to camp together, and vice-versa.
Also, in most cases, the specification of members is not accurate. Because it's saying two people can fit, then it'll mean two people can sleep in it, but there is no space for bags and other kinds of stuff! So make sure you are going for a size bigger than you need.
Ignorant about material
Quality grade material is vital when buying almost anything. Even more important when getting a tent because your safety and comfort depend on it. Different materials come with different pros and cons.
Nylon and polyester tents are common, and most are bought. They are waterproof tents, and they are easy to carry. But they don't last long as sunlight damages them. Tents made of canvas last a long but they absorb water and become heavy.
So make sure you are checking whether the tent is waterproof or not. Even if it says it is, check the material for a better estimation of quality.
Buying a tent with a complex setup
People make this common mistake of getting a tent with a puzzling setup and end up regretting it. An easy setup will grant you the comfort of the tent within a few minutes.
It could be raining, and suddenly you need to camp, but you won't be getting in the tent before you are all drenched! The best time to figure out how the tent works are while you buy it. The place for setting the tent, instruments, weather, and lots of other stuff depends on the setup method.
Not checking airflow
Cheap tents usually lack proper ventilation. For a comfortable, safe, and sound sleep, you need enough ventilation. Otherwise, it'll suffocate you as you close the door. So you'll have to leave the door open by compromising your safety.
Not getting footprint
Most newbie buyers don't feel or know the importance of a footprint of a tent. It's a piece of fabric that goes beneath the tent to separate the tent from the surface. It's important because it protects the floor of the tent from damage which can lead to leaking.
Buying a fragile tent
A tent can have broken zippers, holes in the fabric, weak stitches, poor sealing, and horrible Velcro. Check your tent to avoid these faults.
Not caring the transparency
It's a personal choice. Some tents are transparent 360°, which will allow you to enjoy the view of your surroundings. Some got no transparency at all. Make sure you are paying attention to this detail according to your purpose and destination.
Not counting the quality of door and window
One door and window might not be enough if more than one person decides to stay inside. Carbon dioxide buildup might suffocate you if there isn't enough door and window. Apart from that, you won't enjoy the best of nature. The quality ambiance will deteriorate at a great scale.
Description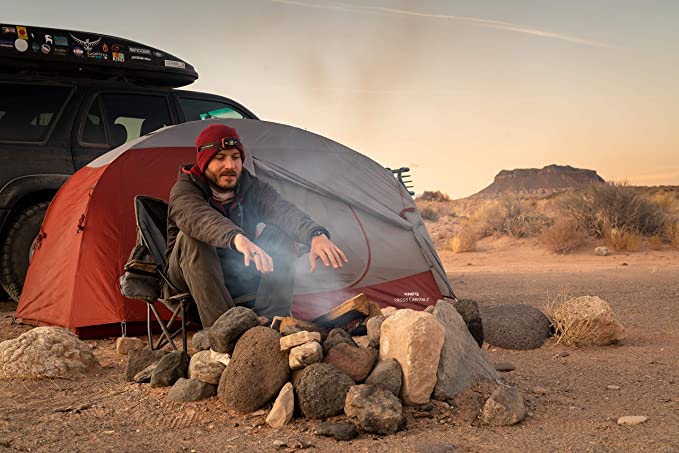 According to the website of Klymit, the Klymit Cross Canyon 2 has these key features:
Capacity: Up to four people.
Material: The mesh is 40D Polyester Mesh, and the fly is 68D Polyester Taffeta PU / 1800 mm 
WR coating, the floor is 75D Polyester PU / 3000 mm, and the pole is made of aluminum.
Price: 156$ on website
Doors: Two spacious doors
Shape: Rectangular shaped
Weight: Pack weight: 2: 6 lbs/ 2.7 kg ; 3: 7.6 lbs / 3.4 kg; 4: 10.7 lbs / 4.9 kg
Trail weight: 2: 5.4 lbs / 2.4 kg ; 3: 7 lbs / 3.2 kg; 4: 10 lbs / 4.9 kg
Warranty: 2 years
Seasons: Summer, Winter, Moonson
Want more? Jump here
[i2pc show_title="true" title="Pros & Cons" show_button="false" pros_title="Pros" cons_title="Cons" ][i2pros]Enough ventilation: Klymit Cross Canyon 2 got two ventilators on the roof to supply fresh air.
Storing pockets: This tent is handy because it got five pouches on the wall, so easy organizing your necessary items.
Waterproof: The fabric is leakproof. So, it won't soak up water. Also very lightweight.
Price: The price is pretty reasonable considering other options in the market
Freestanding: It stands on its own once you set up and
Pre-bent pole: Poles are pre-bent, so it's easy to pack, unpack, and set up. It also enables a rectangular shape inside and gives enough shoulder space.
Compatible with windy places: The airflow system inside the tent is good enough to hold the position in a windy place. You can even control the wind flow inside the tent with its front flap.
Insect protection: It got micro-pore mesh to protect you from insects, say, ants, mosquitoes, etc.
Strong yet light pole: Poles are made with aluminum, so needless to say, they are lightweight also strong.
Baggage storing space: You can keep your stuff out of your way yet inside the tent! It'll keep your stuff protected from the outside.
Fast and easy setup: The design will allow you to set your tent within 10 minutes or less![/i2pros][i2cons]
Klymit Cross Canyon 2 has the following drawbacks, but they aren't that major. Check out,
Sun damage: As Klymit Cross Canyon 2 is made of polyester, it'll receive sun damage over time.
Weight: The weight is light if you are using some sort of transportation. Not light enough for hiking.
Poor packing method: With their current design, you can fully pack it. It may look small and handy, but a packaging pouch would've been nice.
Footprint: It doesn't come with a footprint, so you need to buy it. [/i2cons][/i2pc]
Frequently Asked Questions
Can tall people fit in Klymit Cross Canyon 2?
Ans: Yes, without any discomfort.
Is Klymit Cross Canyon 2 see-through?
And: Mildly see-through.
Can pets fit in?
Ans: Sure, they can.
How long is the warranty?
Ans: Two years.
Does Klymit offer replacement parts?
Ans: Yes, they provide, and they also provide DIY service.
How to fix leaks in the sleeping pad?
Ans: Use adhesive tape for big holes and glue for small holes.
Conclusion
I think Klymit did a great job with this tent. Klymit Cross Canyon 2 is almost perfect. I'll rate it 7 out of 10! Apart from the footprint and packing issue, Klymit is undeniably the most thoughtful tent I've ever seen. It's a yay for me!
You can also read: Marmot Limestone 4P Tent: All You Got To Know