Kelty 8-Person Tent: Honest Review
Kelty's 8-person tent has become a go-to go choice for any big family camping. That is the reason why it's sold out as soon as it's stocked. So I tried to disclose the mystery behind this attraction of this popular tent. Also, to neutralize, I've added some alarming features that you should know of before you buy. Let's start!
Things To Look Out for When Buying
Weight: Look for a weight that is compatible with the way you'll carry your tent. Most people overlook this part.
Vents and vestibules: Most new buyers can't grasp the importance of this two. They ensure your comfort by maintaining continuous airflow. Also, allowing you to store your stuff.
Packing bag: Without a packing bag, your tent can receive damage even after you take it down and carry it around. It might get wet or dirty too.
Capacity: Buy one size bigger than the capacity you are looking for.
Pockets, light holder, and stargazing vent: Try not to buy one that lacks any one of these.
Description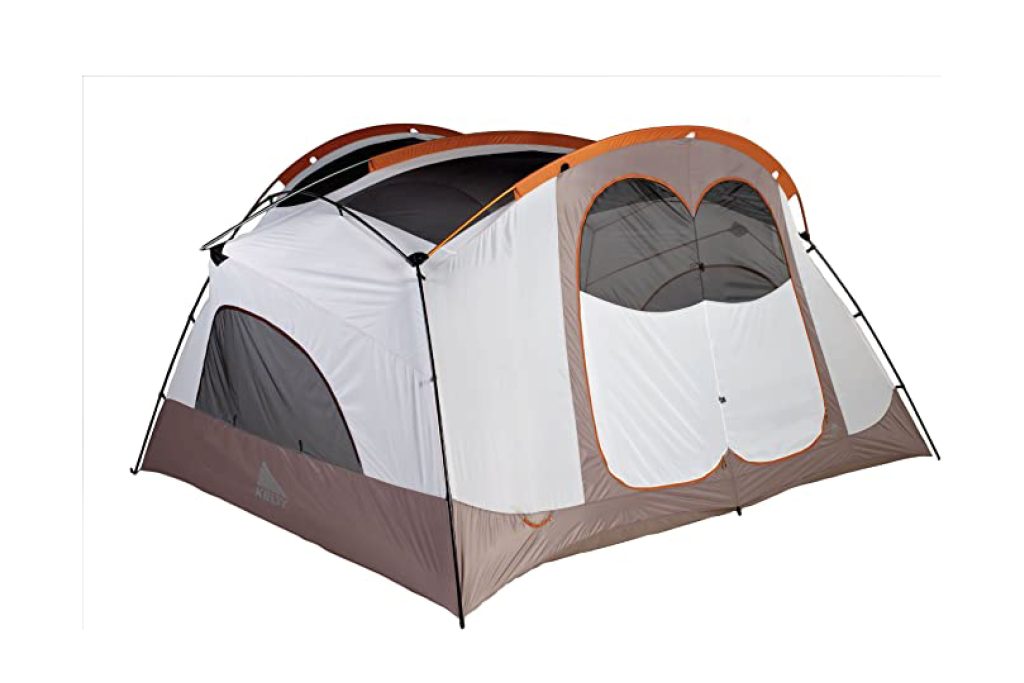 Some of the key features of the Kelty 8-person tent include a freestanding design that allows for easy setup and takedown, multiple doors and vestibules for convenient entry and exit, and ample headroom and living space for comfortable camping.
Additionally, the tent includes mesh windows and vents for improved ventilation and airflow, as well as internal storage pockets for organizing gear and other essentials. The tent also comes with a rainfly and stakes for added protection and stability in inclement weather.
Capacity: 8 people and more
Weight: 7.7 kg
Material: The floor and rain fly material is 68-denier polyester, and the canopy material is 68-denier polyester and 40-denier mesh.
Footprint: Included
Seasons: Three seasons
Peak height: 6.5 feet
Doors: Two
Poles: 3 aluminum poles
Living space: 120 square feet
Color: One color is available. Ash with blue and black. Also, green zippers.
Packing bag: Available
Vestibules: Two
Pockets: Plenty of pockets inside the tent.
Insect mesh: Available
Privacy: Zero without the rain fly
Zipper quality: Smooth
Vents: Two vents at the top
Find the price and other information here
Pros
Spacious: Kelty 8-person tent may be an 8-person tent, but it's spacious enough to fit more. Not many tents you come across will be this generous
Vestibules: Convenient vestibules are both spacious and handy. No need to cross all your sleeping friends to get outside. These vestibules are spacious enough to store the things you don't want inside your living area.
Easy to set up: Kelty 8-person tent is easy to erect because the poles are pre-bent and color-coded. You'll have no trouble understanding. Just match green with green and grey with grey! Easy-peasy
Comfortable color: The tent color won't attract bees or flies.
Footprint: Such an underrated blessing not to have to buy a footprint. Kelty 8-person tent comes with a footprint, so you won't need to find and buy any.
Smooth zippers: Kelty 8-person tent offer is popular for its smooth buttery zipper. Your life may not be smooth, but the zipper will be. They won't get stuck regardless of the weather.
Stargazing fly: Kelty 8-person tent is built by keeping in mind the demand of nature lovers. If you have already browsed the shops for buying a tent, you must know most tents block the view as the rain fly is put on. But Kelty 8-person tent has a stargazing fly with vents!
Water-resistant built: Just getting a tent with water-repelling materials might not do the job. You need a tent that has water-resistant built, no matter how the weather turns. Kelty 8-person tent has a fan base for its protection from water. A seamless and strong structure allows you maximum protection.
Secured ventilation: Even the ventilators are protected from rain. No water will get inside, yet the airflow will remain.
Packing bag: Kelty 8-person tent comes with a bag for packing up your tent. Some tents don't come with any kind of pouch to carry the tent after you disassemble it. But with this tent, there is no need to worry about getting your tent wet as you carry it. A packing bag helps you to organize your stuff as you move along. Saves you the trouble of losing a part or two.
Gear loft loop: With it, you can hang your favorite gear loft or a piece of fabric to store your stuff.
Storing pockets: Kelty 8-person tent has plenty of storage pockets with huge capacity throughout the tent. Made in a way that eight people
Quick setup: I promise you that setting up Kelty 8-person tent won't take more than 15 minutes. It's that easy. Disassembling it is easier. So if you are planning to travel around and camp in a tent, this is your best match.
Plenty of headspaces: The peak height is 6.5 feet! Perfect for people with average height. Because you can stand or walk in without needing to bend or crawl.
Cons
No gear loft: It's cool that Kelty 8-person tent comes with gear loft loops but no gear loft. It'd be nice if they added a gear loft as well.
No light holder: A light holder would've been the most convenient feature ever for indoor lighting. Sadly, Kelty 8-person tent lacks it.
No privacy: This is something you must be aware of if you are buying a Kelty Trail Ridge 8 Tent. As you remove the rain fly when it's not raining, the tent itself will become see-through. So the rainfly has to be put on most of the time.
Can't carry on your own: Kelty 8-person tent weighs 7.7kg. It's impossible to carry around unless you got some kind of vehicle.
Frequently Asked Questions
Is it safe for kids?
Ans: Yes, Kelty 8-person tent is perfect for kids.
Is footprint still included?
Ans: Yes, included.
Is the rainfly detachable?
Ans: Yes, detachable
Does it block the view?
Ans: Kelty 8-person tent has a stargazing fly, so no, it won't block the view.
Does it include lights?
Ans: Kelty 8-person tent doesn't come with any lights or a light holder.
Will this tent soak up water?
Ans: No, Kelty 8-person tent is made of polyester, so it won't soak up water.
Is it good for carrying around?
Ans: Not; you'll need a vehicle to carry it around.
Conclusion
Kelty 8-person tent is the perfect tent for 8 people that I've come across. Considering the drawbacks aren't that tough to be mitigated, it's a pretty smart tent. Built by keeping in mind the capacity and the needs of the users. I will rate it 8 out of 10. What do you think?
You can also check: Klymit Cross Canyon 2: Yay or Nay?