Marmot Limestone 4P Tent: All You Got To Know
Marmot Limestone 4p Tent is the most popular family choice when it comes to tents. I've arranged all the goodness you need to focus on and the drawbacks you should be aware of. Let's start…
Things To Look Out for When Buying the Marmot Limestone 4P Tent
There are a couple of things you mustn't miss checking when you buy a tent:
Weight: Weight determines the method you'll carry it.
Size: It also limits you from carrying it anywhere.
Capacity: Don't always trust the capacity level of the advertisement. It's better to check it.
Material: Select materials that are suitable to most weather, preferably waterproof and easy to handle.
Setting up method: Try to avoid tents that need manhandling to assemble and disassemble.
Ventilation: It's important to check whether your tent has got enough vestibules or not. Otherwise, you might suffocate.
Organizing pockets: Tents with pockets will work as an alternative to furniture.
Mesh: Mesh is important to keep insects away but make sure it's detachable otherwise you'll miss the view.
Zipper: Check if your zippers run smoothly or not.
Replacement policy: It's important because it'll grant you the possibility of getting the best quality product.
Description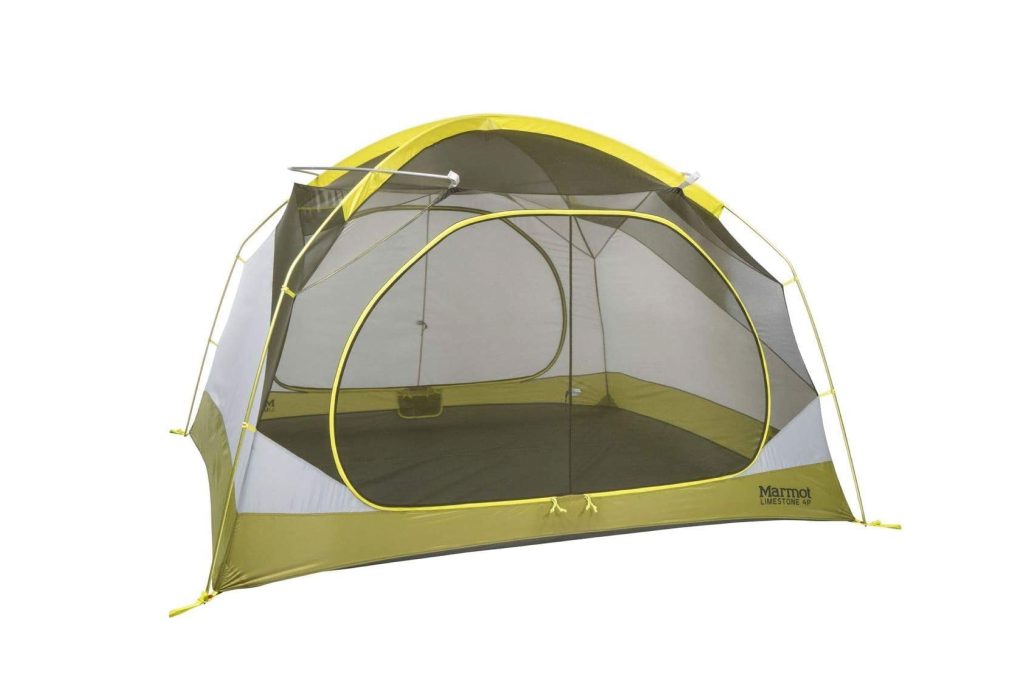 Capacity: Four people, but more can get in because it's spacious enough
Weight: 4kg
Material: The rainfly is made of 68-denier ripstop polyester, the Floor is made of 150-denier polyester Oxford, the Canopy fabric is 40-denier polyester no-see-um mesh/68-denier polyester taffeta, and the pole is made of aluminum.
Colors available: Two colors: Orange and Green
Seasons: Three seasons: Monsoon, Summer, and Winter
Footprint: Not available
Doors: Two doors opposite each other.
Pockets: Two overhead pockets and two below
Floor area: 60 square feet
Water-resistant: Yes
Lampshade pocket: Yes available
Peak height: 5 foot/ 60 inch
Pole count: 4 poles
Pole bent: Pre-bent
Vents: Two vents with shelter
Flaps: Two rainfly available
Insect protection mesh: Available
More information is available
here
[i2pc show_title="true" title="Pros & Cons" show_button="false" pros_title="Pros" cons_title="Cons" ][i2pros]Weight: The weight is very light (4kg) considering the capacity. You won't find many tents with this advantage. Can easily be carried on back.
Capacity: Most tent you see on the market, hardly is true to capacity. But Marmot Limestone 4p Tent kept their word. Not only four people can fit there easily, one more person can fit in as well. So, it's very spacious for a tent.
Cross air passage: Air passing condition of the Marmot Limestone 4p Tent is so convenient. Even when you close the rain flap, the ventilator will drain the heat with air.
Protected ventilator: This is a very thoughtful design. Even the ventilators got shields above them so that they can pass air without passing water.
Protective pockets on the outside: Marmot Limestone 4p Tent got pockets on the outside as well and they are water resistant. Also, the pouch of the pocket is on the inside, zippers are hidden; very smart and secured.
Strength: Marmot Limestone 4p Tent is renowned for its marvelous strength and has tons of reviews about how it made it through windy nights.
Prebent pole: The poles are pre-bent thus allowing you to utilize the maximum space.
Two side zippers: Marmot Limestone 4p Tent has four zippers on each side. It'll allow you to get in and out easily. Your door won't be long enough to fall off and touch the ground. You can open as much as you need to get in.
Overhead light holder: The tent comes with a light holder. Very useful for creating a bright living at nighttime.
Storage: You can keep your dirty dish, shoes, and stuffs you want to protect from outside but don't want to keep in the living area.[/i2pros][i2cons]
Low Peak Height: As mentioned before the peak height is only 5 feet. You're in luck if your height is below or equal. Other than that you'll have to crawl inside your tent.
No view: Marmot Limestone 4p Tent is covered with mesh. So even if you take the rainfly off, you'll still be covered with dark mesh.
Problematic color: Some users are complaining that the color (Orange, green) attracts bees and flies.
Footprint: Even though this tent is a costly one yet doesn't include a footprint.
Not suitable for winter: The tent may be cool for the summer but as it allows ample air passage, it's horrible for winter.
Storage: As Marmot Limestone 4p Tent is made for four people, it lacks storage pockets for four people.
Zipper: The zippers are smooth but two zippers on each side end on the ground or touch the ground. So it can get muddy triggering OCD in some. [/i2cons][/i2pc]
FAQs
Does it come with a footprint?
No, Marmot Limestone 4p Tent doesn't include a footprint. You'll need to buy it.
Can four people sleep easily in the Tent?
Yes, four people can sleep with their small bags as well.
Can rain flies be replaced?
Yes you'll need to contact Marmot
How many people needed to set up?
At least one
Do I need to buy a footprint?
 Yes, if there is a tent, there must be a footprint. Marmot Limestone 4p Tent doesn't come with any footprint so you'll need to buy it.
Can the back door be opened in the Marmot Limestone 4P Tent?
Yes, it can be opened but it's very small.
Setting up stakes available?
Yes, 8 setting stakes are available.
Conclusion
To me, Marmot Limestone 4p Tent is a pretty useful and smart tent choice. Despite the drawbacks, it has some benefits that only a few models can offer. Waiting for them to update and solve the alarming issues with their tent. If you are planning to stay outside for a long time, it's for you.
If you are planning to use it on a trip where your sole purpose is sightseeing, then you should avoid this as it blocks the view. It's a great tent considering the price, however, Marmot Limestone 4p Tent has room for improvement.
You can also check: Is Rei Kingdom Cot 3 Worth A Buy?