Top 3 best canvas tent with stove
Winter camping trips may be just as enjoyable as any other time. After a long day of fun, returning to a freezing tent to sleep probably isn't on anyone's list of ideal ways to unwind. There are a variety of stove-compatible winter and 4-season tents available. You can get some heat at night & dry up the gears and even cook food.
In case that seems like something, you would like to have on the next camping trip, keep reading because we're going to take a look at some of the best canvas tents with stove jacks and cover all you need to understand about them.
What Features Should a Tent With Stove Have?
Having a stove in a tent raises the obvious risk of melting the fabric. Thus, a suitable tent with a stove should be constructed from fire-retardant material. Canvas is indeed the material of choice for most heated tents, but its weight makes it impractical for use, so when pack weight is critical.
The capacity of tents to vent heated air is another major issue. Most people are shocked to learn how much condensation forms inside a tent from just breathing. Tents with stoves create even more condensation since campers are more likely to cook in them, boil water, dry clothing over fires, and so on. Picture yourself attempting to get some shut-eye in a sauna. This is how it may be inside a tent that doesn't allow much airflow when the weather is warm.
Best Canvas Tent With Stove:
Our top three best canvas tents with commercially available stove jacks. When making our suggestions, we considered aspects such as features, performance, pricing, durability, & user feedback.
Russian-Bear Hot Tent with Stove Jack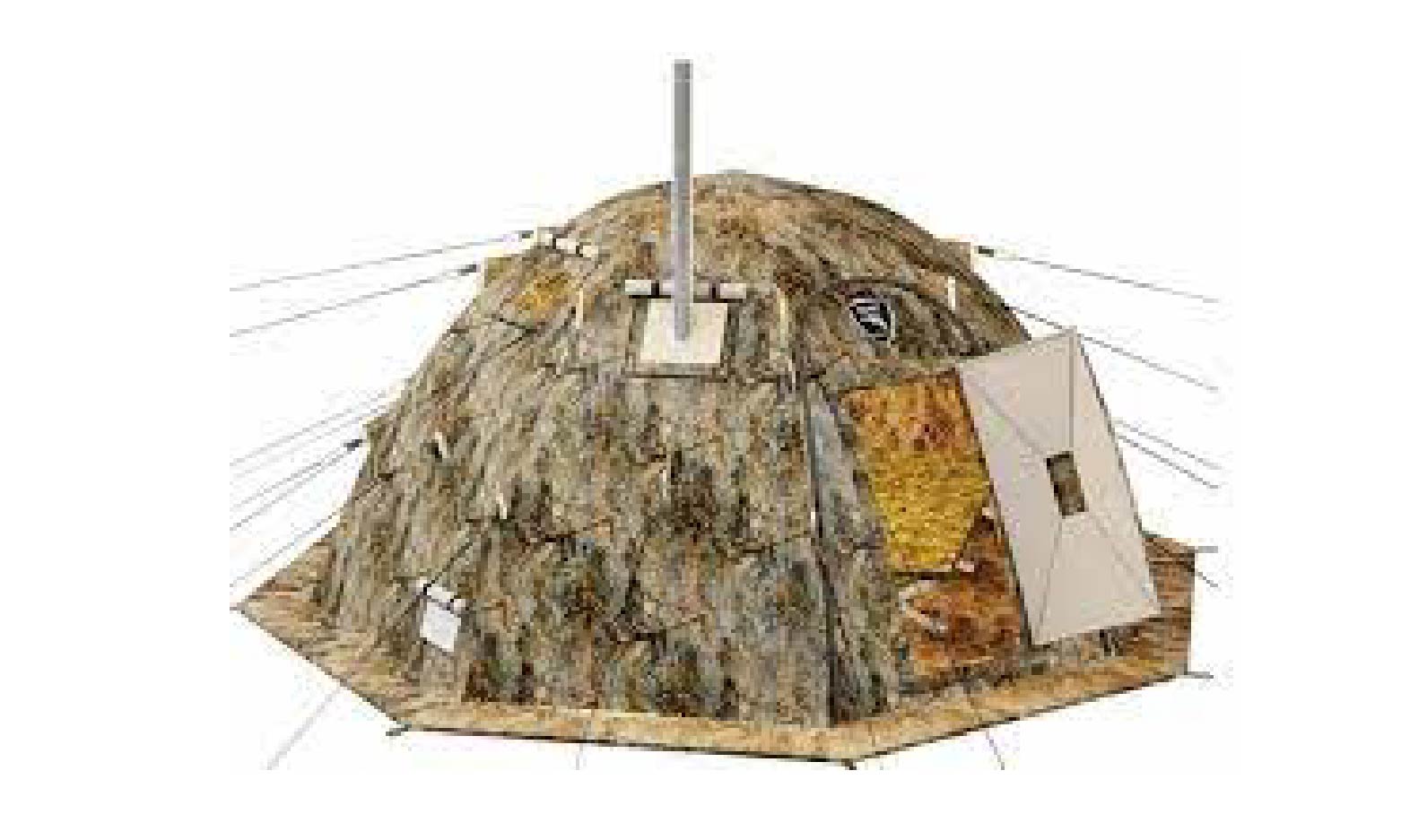 The Russian-Bear Hot Tent was created for use in frigid environments when comfort and warmth were paramount. This winter shelter's structure is formed like a dome, like an umbrella. Overall, three people could fit inside and be protected from the outside.
This tent's use of fireproof and heat-resistant materials is an added safeguard. The material is detachable and can endure temperatures up to around 1200 degrees Fahrenheit. This tent is designed to be used even in the hottest months without overheating. 
Simply take advantage of the refreshing summer wind, you just only have to pull back its inner awning. As a tent that can be used throughout the year, regardless of the weather, you will get a lot of usage out of it. 
Inside the tent is a wood burner with a stainless steel chimney (to prevent sparks, lay a fire pad below). The tent's stainless steel frame will not come into touch with the chimney's outer stainless steel circle, ensuring your safety. Therefore, the potential for a fire or other associated mishap is mitigated even more.
Due to its "Russian-style" construction, this tent is ideal for camping in chilly climates. If the ice is thick enough, you could even pitch your tent just on top of the snow. That will make various winter pastimes, like fishing, much more convenient.
PlayDo Cotton Canvas Bell Tent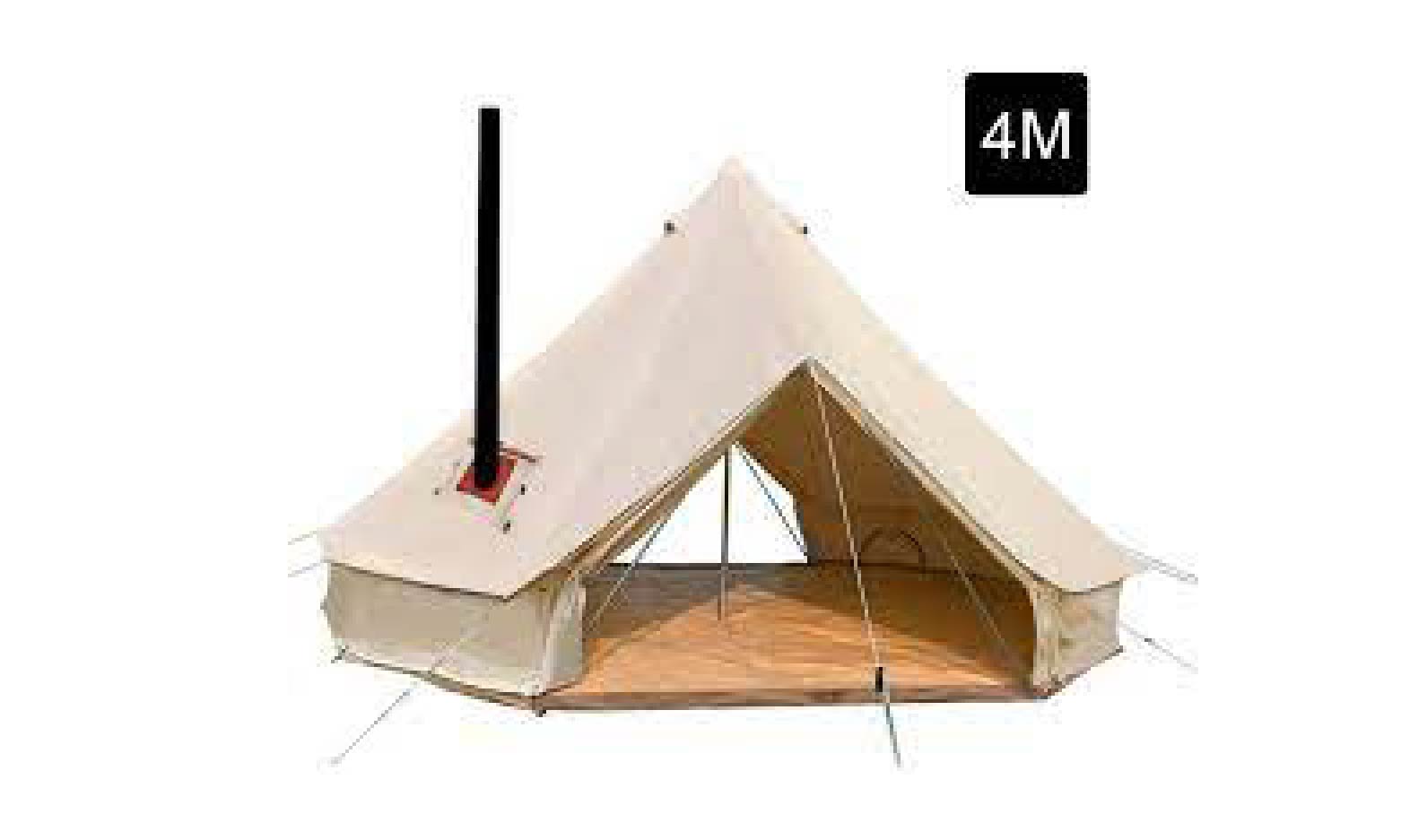 There are benefits to using material as durable as the 300 gsm cotton used to make the PlayDo Cotton Canvas Bell tent. Cotton clothing has a poor image among outdoor enthusiasts since it takes a long time to dry after becoming wet.
The cotton in this tent, however, has been treated to make it waterproof, and the canvas is strong and sturdy. The PVC floor and sealed seams ensure that any rain or snow will simply roll off the tent.
This four-season tent benefits from a combination of waterproof cotton to preserve breathability and insulation, meaning it won't overheat even in the hottest months. It includes mesh-netted, zippered windows & top air vents that keep insects away.
Although the bigger tents are listed as having a diameter of 9 feet – 23 feet, their height is much greater. The heights are between 2.8 and 4.9 meters (9.2 and 15.1 ft). The diameter of this stove jack measures 5 inches.
WHITEDUCK Regatta Canvas Bell Tent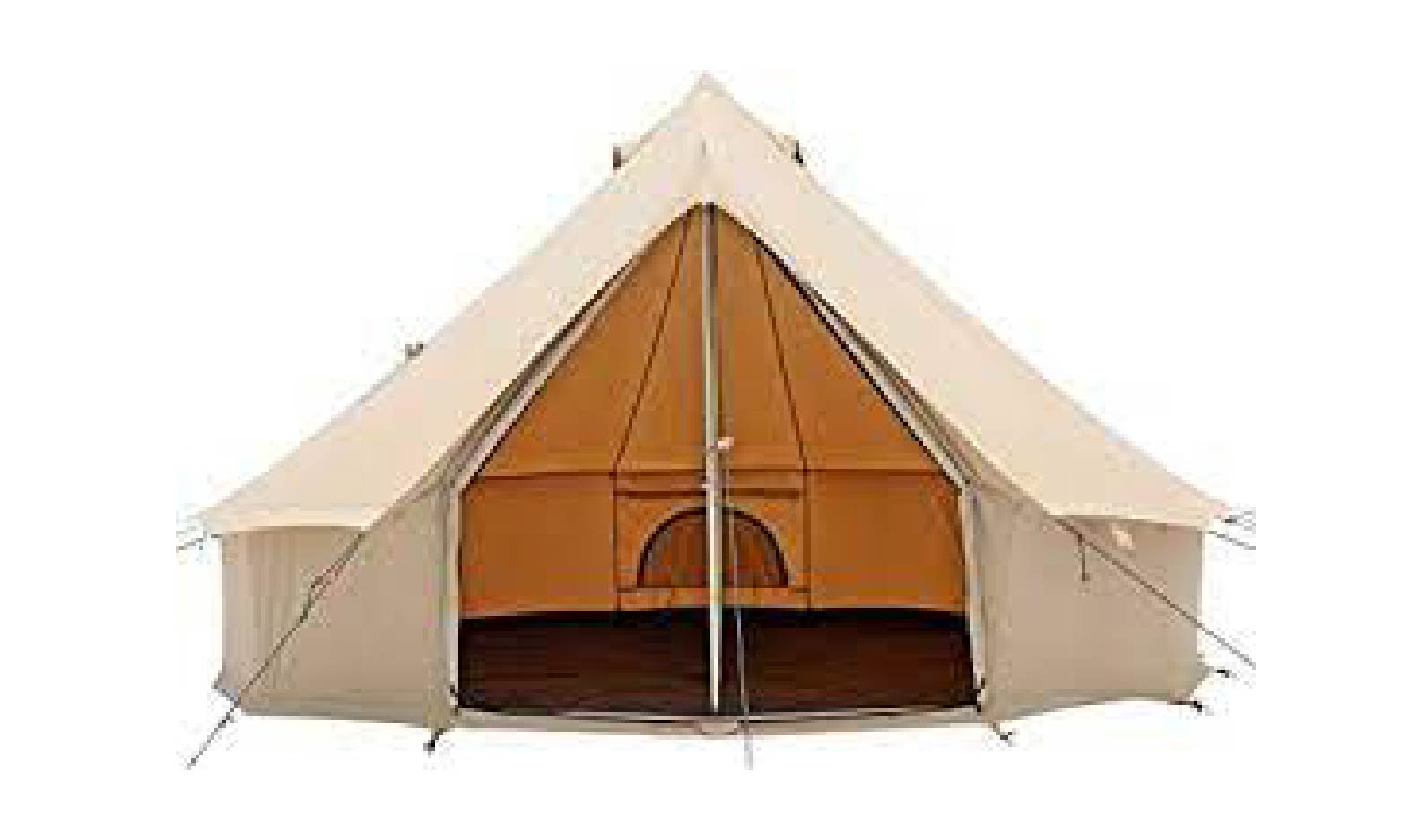 With its high-quality construction and included stove jack, the WhiteDuck Regatta Canvas Bell Tent would be a great choice for your next camping trip. 
This tent may be used all year round, both in the summertime and wintertime. It comes in three different sizes. Inches: 10, 13, & 16 feet. The tent is properly designed and constructed using sturdy materials.
A party of three may comfortably fit within this 10-foot tent together with their belongings, including a small wood heater. When the stove is not really in use, four people may comfortably fit in this space throughout the summer.
The tent's material and zippers are both of military quality. There is a solid sense of durability in the build. Seams & stitching seem to be of a good standard. This tent seems to be sturdy and well-constructed. 
This tent's ceiling has four openings for air circulation. When the tent is put up, they maintain its open position, allowing plenty of fresh air flow. The tent comes with built-in equipment bags on each side.
You may use this year-round tent thanks to the doors, windows, & vents all have roll-up mosquito screens. Inside the tent, there is a designated space for a stove jack. Included is a fireproof stove jack that is 5 inches in diameter.
The tent is a little heavier than 50 pounds. It won't be a tent suitable for backpacking out from the wilderness. It's perfect for setting up camp right next to your car. A sled may be used to transport the tent plus the stove to a new location if you are camping in the winter.
When looking for a high-quality, all-year-round tent, go no further than the WhiteDuck Regatta Bell Tent. There are a variety of sizes to choose from to accommodate any sized party or family. As a result, it is one of the best winter tents with stove jacks in our opinion.
Conclusion
There is a wide variety of canvas tents with stove jacks available on the market, some of which are excellent while others are not so much. So it's not easy to find the best canvas tent with a stove that suits all your needs. We have given our opinion after doing our thorough research so that we can assist you in making the right choice in purchasing choice for a tent that has a stove jack with canvas. 
You can also read: Best Cooking Equipment for Camping in 2022