Ozark Trail 20-Person Tent Review
Camping and tenting are very interrelated terms. The much inter-relation has given birth to many new inventions in this traveling world. There are tons of varieties of tents available. Every variety provides different utility suited to different perspectives. One such extravagant type is Ozark Trail 20-Person Tent. This one is huge and accommodates around 20 people in one single Tent! Can you believe that? It has several single units of rooms in it. The utility it provides is just spectacular!
The Ozark Trail 20 person has a particularly distinctive feature; it has four separate units of rooms for 20 individuals. Each room can get hold of one full-sized bed accommodating four people. Additionally, the units have different doors to go in and out. There's a room in the center which you can use as a meeting room. And a sleeping room at night. Stupendous value for bucks, right? Let's explore a bit more about the Tent and its further details.
What is the type of Tent?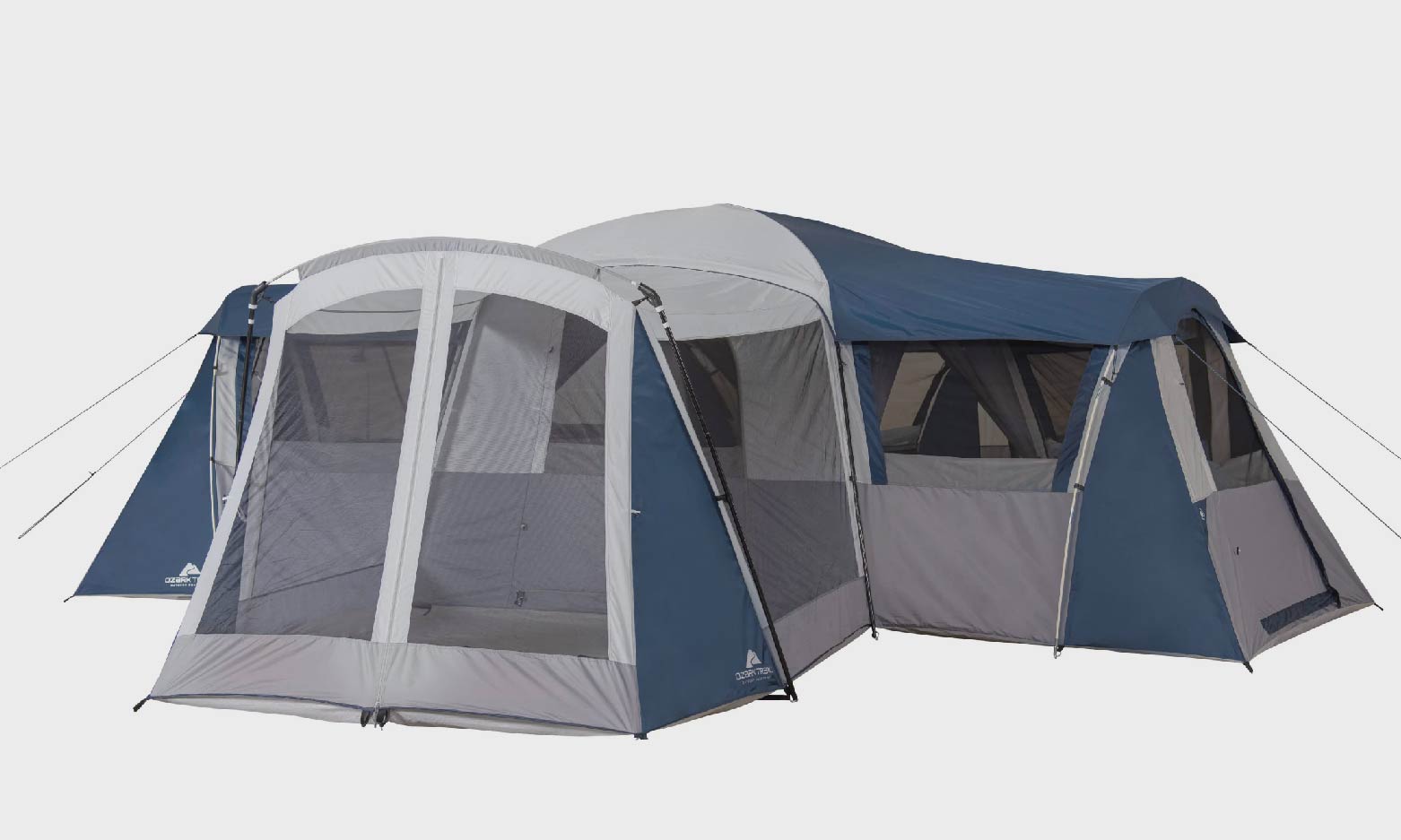 This one is a family tent. Comprising many spaces for a large-sized family going out on a hike or a tour. It's more like a mini hotel house. It has separate single units, and each is large-sized, accommodating more than four people each. It's a hexagonal area comprising a Y-shaped structure.
The Tent has three separate doors for the other three units. However, setting this up takes time and a lot of space. It'll take 25 x 21.7 feet of space. It looks much bigger, though. It's one of the best among the bigger-sized tents.
So, Who Needs It?
If you have an extra large family with more than 15 members, it's the one to go for! But hey, that's not all. Keep reading. It's not the biggest in this category. Plus, the number 20 doesn't necessarily mean it's 20. If you try to accommodate such a massive number of people, you won't be getting any spaces for keeping your backpacks. To be honest, it's not 20 if you do not have arrangements for your bags.
The actual space area it offers is around 279 square feet. Per person, 14 ft square area. Not too much, right? But still, it's a lot because you aren't living here permanently. To be honest with you, a large family of 10-12 members is fine for this Tent. But if arrangements are there for the necessary equipment outside, then definitely, use it to its potential.
Instead of a large family, close friends can enjoy more with this Tent. Three couples will accommodate and find it more than enough for themselves. And the colossal middle room for dining purposes. It makes it a temporary hotel-type residence and provides ample utility.
The Seasonal Pattern for this Tent
It is a summer-season tent that can't provide extreme durability. That's majorly due to its larger size. It's also hard to set up and can not take the winds in the first place. The best condition for this Tent is dry weather in summer when there is no rain and not so much wind. 
The Materials and Details about the Tent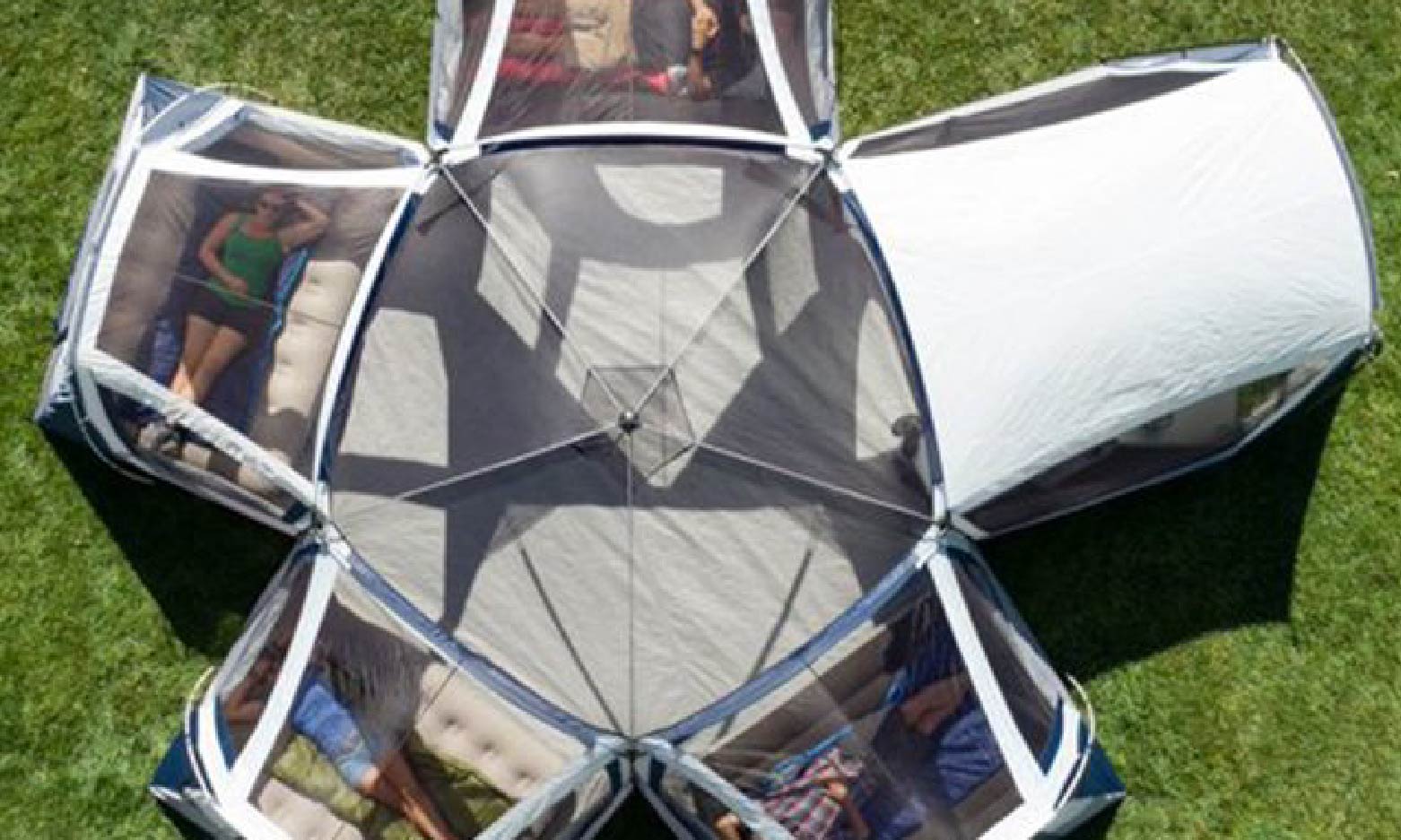 First of all, it's a waterproof tent. There is no sign of leakage of water during rainy days. But the waterproofness isn't the best if you consider other tents. Like I said before, it's better to use it less often during rainy and windy days as it won't be able to take much of the force. 
The manufacturer doesn't provide a detailed array of information about its materials. However, the doors are double-layered. And there are eight doors in a single tent. Hard to believe, right? Also, each of the units has its zips so that privacy can also be maintained. Rain protection is also there. 
The more specific detail is as follows:
Twenty poles are made of aluminum and fiberglass; these consist of 8 leg poles made from aluminum, three roof poles made from fiberglass, two long poles made from fiberglass, six poles made from fiberglass, and two long poles of fiberglass for the two ear-like rooms. One pole is made from fiberglass above the main entrance door.

The whole Tent is set up.

22 steel rod

Hexagon structured frame

Fly

4 Male ropes
Set up
Go through this video to see the setup. The entire thing can be on its feet within 20 minutes or so.
Features it Offers
Weight: 49.8 lbs (22.55 kgs)

Floor Area: 25 x 21.7 ft (7.7 x 6.6)m

Space per head: 14 square feet.

Total area required: 280 square feet

Peak Height: 83 inches (212 cm)
Pros and Cons
| | |
| --- | --- |
| Pros | Cons |
| Larger size, ample amount of practicality. | The claiming is a bit too exaggerated. Not 20 people, necessarily. |
| The comfy environment inside.  | No vents on the floor. |
| Full privacy | Less rigid, not suitable for windy or rainy conditions. |
| Separate entrances. | It takes a lot of time to get installed. Also, the process isn't easy. |
| Ventilation is excellent; thus, staying at night will be great. | The fabric is not top-notch waterproof. |
Conclusion
Ozark trail 20-person tent is only recommended for larger families that aren't necessarily too large. Still, this one is a great tent to go out for camping and traveling. It's a luxurious one and will serve everything from its point. However, managing it will be a bit of a hassle if not easy. It shouldn't be used in windy and rainy areas. But a great one for casual traveling.
FAQ
Is this one really large?
Yes, large but not the largest. Plus, the claimed 20 people is not a practical way to go about it. Ideally, 10-14 people can stay comfortably inside the Tent.
How much time will it take to set up?
With expert hands, it'll take around 20 minutes or so.
What is the best Weather Condition for this Ozark trail 20-person Tent?
As I mentioned above in the article, windy and rainy weathers are something to be aware of. It is a summer-based tent. Use it accordingly.
Yes, it is!
The materials mainly consist of aluminum rods and fiberglass, which are pretty expensive and potent. So, yes, the materials are top-notch.
You can also read: The Best 4X8 Tents