How to Camp in Alaska: A Detailed Guide for Campers
Alaska, with its vast wilderness and stunning landscapes, offers a truly remarkable camping experience. The natural beauty is remarkable, with mountains, beautiful lakes, and breathtaking glaciers. It can be considered a heaven for outdoor enthusiasts, especially for those who love camping. Learning how to camp in Alaska truly will allow you to fully immerse yourself in this breathtaking setting.
However, you should be thoroughly prepared and have proper knowledge before you venture into this land. In this article, we will guide you through the essentials on how to camp in Alaska, and ensure that you have a safe and memorable adventure.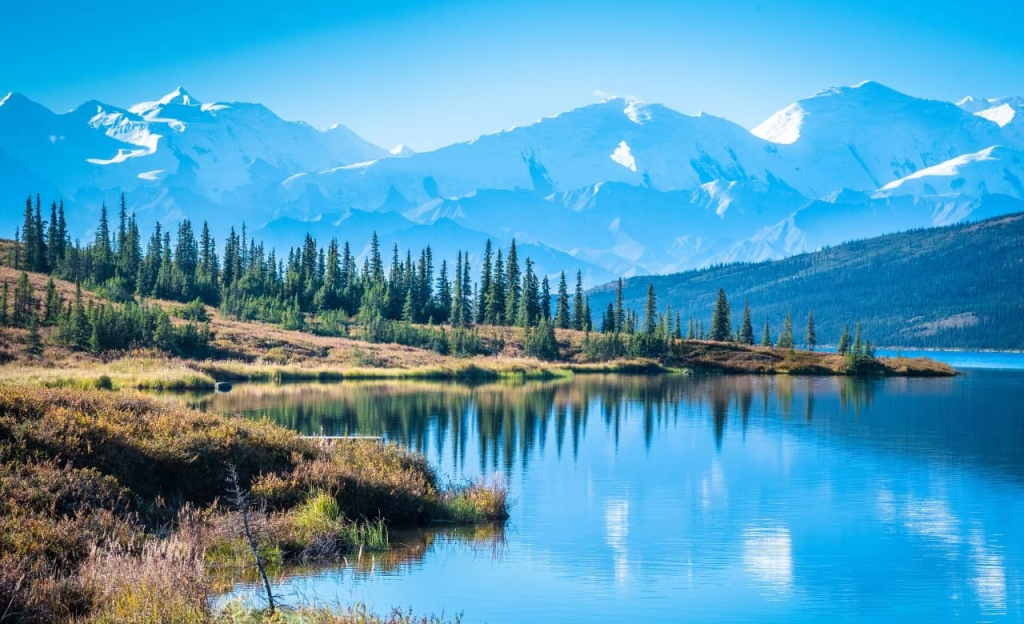 How to Camp in Alaska: What Should Be Noted
Although Alaska has more publicly accessible land than most states, you cannot set up camp wherever you want. Like in other US regions, you can camp outside of a campground, but you must ensure that the public land you are on allows camping.
Private, public, park service, and state park campgrounds are all available in Alaska. Reservations can be made at all campgrounds, so make sure to do a thorough research before you go anywhere to camp.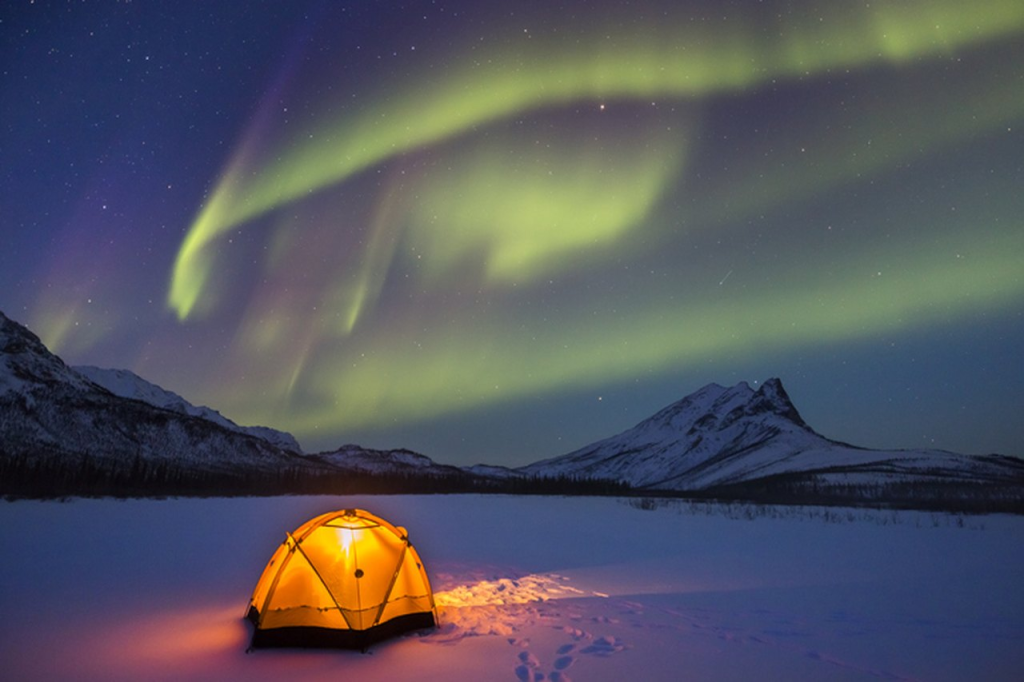 Research and Planning
Timing is everything when it comes to camping in Alaska. Research the best time to visit based on your preferences, whether you want to witness the midnight sun, catch the vibrant fall colors, or enjoy milder weather. It is said that you can go camping considerably from May to September in Alaska. The most pleasant and hottest months are said to be June and July, but you can encounter freezing temperatures and rainfall at any time. There are a few things to be noted about Alaska:
In Alaska, the summer months do not experience nightfall; from late May through July, there will be constant or nearly constant daylight. While there will not be any nightfall at all in the extreme north, you will find some light in Southeast Alaska.
Late August and September are recommended for experiencing the Northern Lights in Alaska, as there are less bugs during this time. However, towards the end in September, be ready for chilly evenings and potential snowfall.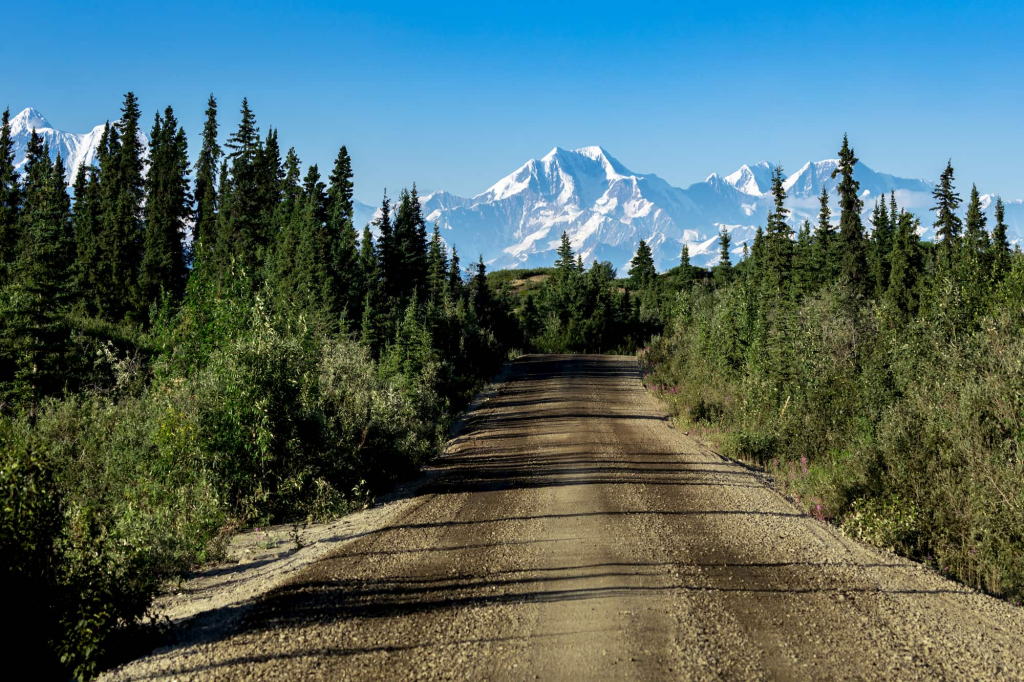 Here are some of the most common ways to camp in Alaska:
Tent Camping: Traditional tent camping is a popular choice in Alaska. Whether you're in a developed campground or exploring more remote areas, setting up a tent allows you to immerse yourself in the natural beauty of the state.
RV and Camper Van Camping: RVs and camper vans provide a comfortable way to explore Alaska's vast wilderness while having the convenience of a mobile home. Many campgrounds offer RV hookups and facilities for waste disposal.
Backcountry Camping: For the more adventurous, backcountry camping lets you explore Alaska's remote areas that are inaccessible by road. Obtain permits if necessary, pack lightweight gear, and follow Leave No Trace principles to minimize your impact on the environment.
Campgrounds and RV Parks: Alaska has a range of developed campgrounds and RV parks, especially near popular destinations. These sites often offer amenities such as fire pits, picnic tables, restrooms, and sometimes even shower facilities.
Yurt Camping: Yurts are becoming increasingly popular in Alaska. These semi-permanent, circular shelters provide a cozy and weather-resistant accommodation option. They're especially great for those who want a balance between comfort and nature immersion. Familiarise yourself by Checking out what is Yurt Camping
Campsite Selection – Where to Camp in Alaska
Alaska offers various types of campsites, each providing a unique experience. National parks like Denali and Kenai Fjords offer breathtaking scenery, while state parks and public lands provide more secluded options. Here are some popular camping destinations in Alaska
Denali National Park and Preserve: Home to North America's highest peak, Denali offers various campgrounds and backcountry camping opportunities. The scenery is breathtaking, and you might even spot wildlife like bears, moose, and caribou.
Kenai Fjords National Park: Camping near the stunning fjords of Kenai offers a chance to witness glaciers, marine life, and pristine wilderness. Accessible by boat, this park's camping options are more remote, providing a true wilderness experience.
Chugach State Park: Close to Anchorage, Chugach State Park offers numerous campgrounds with stunning mountain views and access to hiking trails. It's a convenient option for those who want to experience Alaska's beauty without traveling far from the city.
Wrangell-St. Elias National Park: As the largest national park in the U.S., Wrangell-St. Elias is a paradise for backcountry camping. Experience immense glaciers, towering mountains, and vast landscapes that truly embody Alaska's wilderness.
Katmai National Park: For a unique camping experience, consider camping near Katmai's Brooks Falls to watch the famous brown bears fishing for salmon. Permits are required for backcountry camping and can be limited due to the park's popularity.
Glacier Bay National Park: Accessible by boat or plane, Glacier Bay offers stunning glaciers and a mix of camping options, including established campgrounds and backcountry sites.
Tongass National Forest: This massive forest covers much of Southeast Alaska and offers diverse camping opportunities. From coastal camping to forested sites, Tongass National Forest showcases the region's beauty.
Arctic National Wildlife Refuge: For truly remote and rugged camping, the Arctic National Wildlife Refuge offers a once-in-a-lifetime experience. Accessible by small plane, you'll be surrounded by untouched wilderness.
Homer Spit: This unique camping spot combines coastal views with beachside camping. You can camp right on the Homer Spit and enjoy stunning sunsets over Kachemak Bay.
Valdez: Valdez offers a mix of campgrounds and opportunities for backcountry camping. Enjoy scenic beauty, water activities, and easy access to hiking trails.
It should be noted that many campsites do not have the best cell phone reception.  This excludes only a few of the campsites close to Anchorage or the Denali National Park entry region. So, before leaving, you must print or download all of your bookings and directions.
Also, keep in mind that some sites may require reservations, permits, or fees.
Essential Gear and Equipment
Investing in the right gear is an important part of a comfortable camping experience in Alaska. Here is a list of items that are essential for a camping trip in Alaska:
Get a sturdy and weather-resistant tent that can withstand strong winds and rain.
Choose high-quality sleeping bags, sleeping pads, and camping pillows to ensure a good night's rest in the chilly Alaskan nights.
Purchase cooking equipment that you could easily use outdoors. Before camping, also get your food in the biggest town you will come across.
You must remember to take campsite items like lanterns, headlamps, and insect repellent. Also, if you want to keep your necessities safe from bears, either carry a bear bin along or make arrangements to rent one in Alaska.
Get a backup battery because charging stations for your phone will be limited while you are camping.
Lastly, pack various clothes in order to combat the ever-changing weather of Alaska. It is also wise to take the appropriate clothing needed for protection against the pain.
Safety Considerations
Safety should be a top priority when camping in Alaska, particularly in relation to wildlife encounters. Familiarize yourself with wildlife awareness and precautions, especially regarding bears. Carry bear spray as a protective measure. Look out for signs and try to abide by any campground, trail, and other area limitations.
Additionally, learn about river crossings and practice safety on the water, and ensure you have the required knowledge and tools. Last but not least, let someone know where you are going and be ready for emergencies.
Campfire and Food
Any camping vacation is made cozier and more amicable by campfires, but it is essential to understand and comply with campfire regulations and restrictions. In Alaska, firewood may be scarce in certain areas, so gather it responsibly. When it comes to food, pack proper storage containers and learn cooking techniques, especially in a bear country. Hang food in some areas to prevent attracting wildlife. Additionally, follow the principles of Leave No Trace for waste disposal.
Outdoor Activities and Recreation
Camping in Alaska offers an array of outdoor activities and recreation opportunities. There are several backpacking and hiking trails that let you explore the wide wilderness and take in breathtaking views. Fishing is a popular activity out in the woods, providing a chance to catch fresh Alaskan salmon. You will get great opportunities for wildlife viewing and birdwatching, including the chance to see grizzly bears and bald eagles. For those who are adventurous, you can consider glacier tours or kayaking expeditions for a fun experience.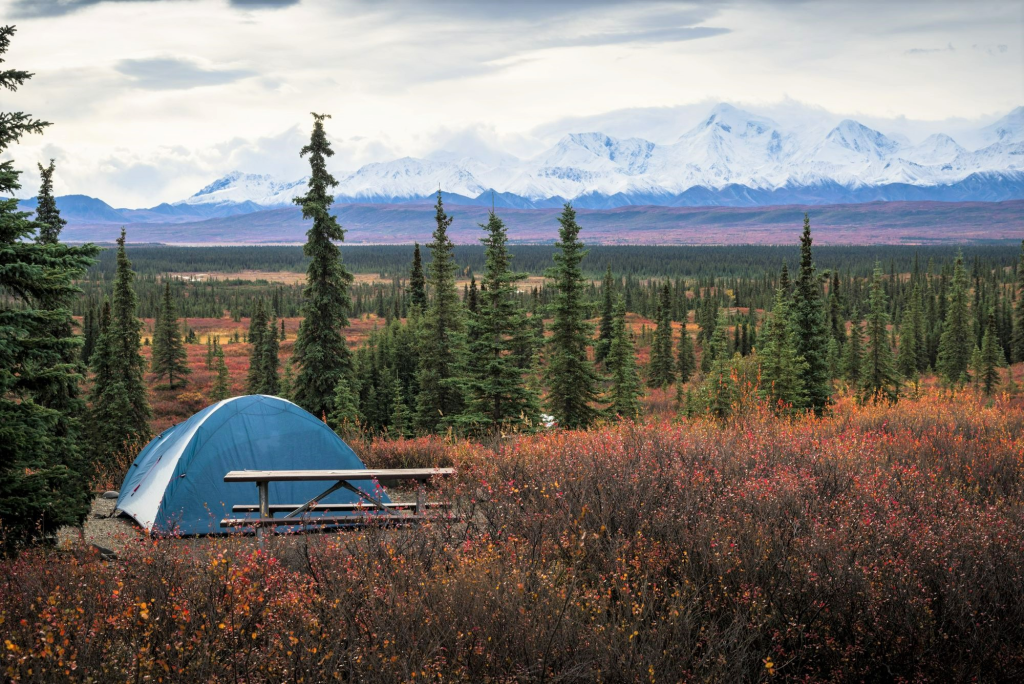 Cultural and Environmental Respect
Alaska is home to many vibrant indigenous cultures with deep connections to the land. Show respect for these cultures by learning about their traditions and customs. Additionally, practice ethical behavior in the wilderness by staying on avoiding sensitive habitats and minimizing noise pollution. By demonstrating respect for both the cultural and environmental aspects of Alaska, you contribute to the preservation of its unique heritage.
How to Camp in Alaska: Concluding Remarks
Learning how to camp in Alaska is a truly extraordinary experience, allowing you to immerse yourself in the majestic wilderness. By conducting thorough research, preparing the right gear, learning safety precautions, and practicing responsible camping techniques, you can make the most of your journey.
So, embark on this adventure, explore the beauty, and create cherished memories that will last a lifetime.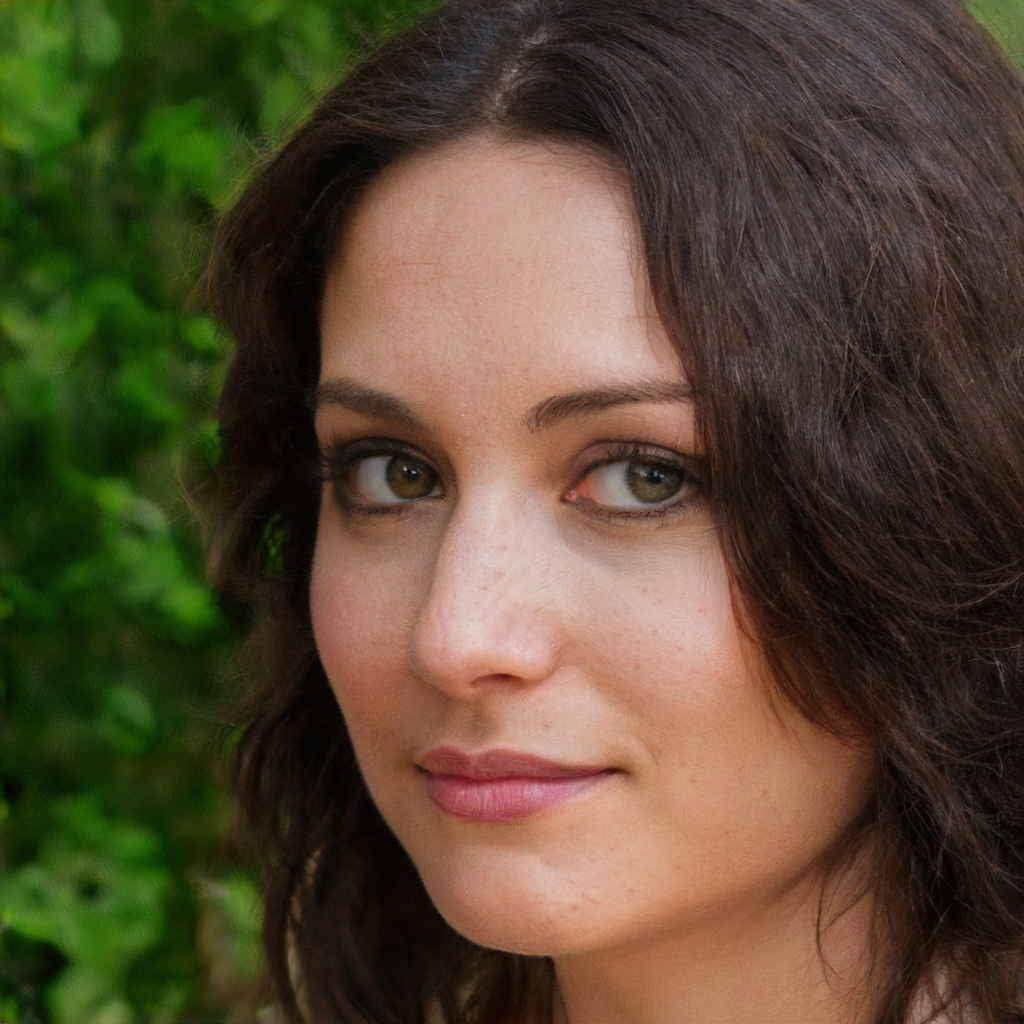 Meet Sarah, a passionate traveler and camping enthusiast who loves to explore the great outdoors. With years of exploring, she has become an expert in testing and reviewing the best tents on the market which got her to start mytravelingtents.com. Her insightful reviews provide valuable information to fellow adventurers looking for the perfect tent for their next camping trip.