What is the Best Screen Tent for Camping: Unraveling the Top Picks
Camping is a great way to connect with nature, but pesky bugs can sometimes spoil the
fun. That's where screen tents come in handy. These tents provide protection from bugs
and shade, allowing you to enjoy the outdoors without unwanted visitors. But, what is the best screen tent for camping?
In this article, we will explore some of the best screen tents for camping and highlight their key features.
What is the Best Screen Tent for Camping: Features to Keep in Mind
When searching for a screen tent for camping, there are several features to keep in
mind:
Size and Capacity: Consider the tent's dimensions and capacity to accommodate the number of people you plan to camp with. Make sure it offers enough space for everyone to sleep comfortably.
Screen Material: Look for a tent with high-quality screen material that is durable and provides effective insect protection. It should be able to keep bugs out while allowing for proper ventilation.
Ease of Setup: Choose a screen tent that is easy to set up and dismantle. Look for features like color-coded poles, clear instructions, and quick assembly systems to simplify the process.
Portability: If you plan on backpacking or hiking to your camping destination, opt for a lightweight and compact screen tent that won't weigh you down. Consider the tent's packed size and its ease of transportation.
Weather Resistance: Ensure the tent is designed to withstand various weather conditions. Look for features like a waterproof rainfly, reinforced seams, and a sturdy frame to provide protection against rain, wind, and other elements.
Additional Features: Consider additional features that may enhance your camping experiences, such as multiple entry points, storage pockets, gear lofts, or a removable floor.
Coleman Screened Canopy Instant Setup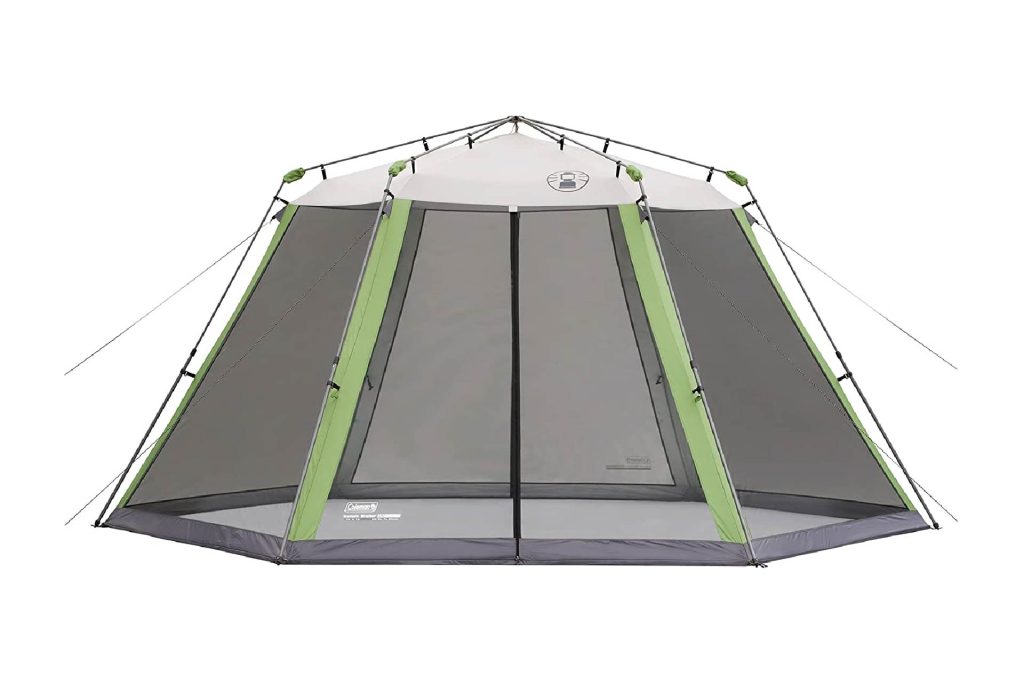 The Coleman Screened Canopy offers ample floor area, measuring 120 square feet. Although it takes about 3 minutes to set up and weighs 45 pounds when folded down, the transport bag features wheels for easier transportation. The sturdy construction of this tent makes it ideal for withstanding strong winds and heavy rain. It features two doors for easy access and removable mesh walls to increase airflow.
Best Features:
Spacious design with 120 square feet of floor area
Sturdy construction for wind and rain resistance
Two doors for convenient access
Removable mesh walls for increased airflow
L.L. Bean Woodlands Screen House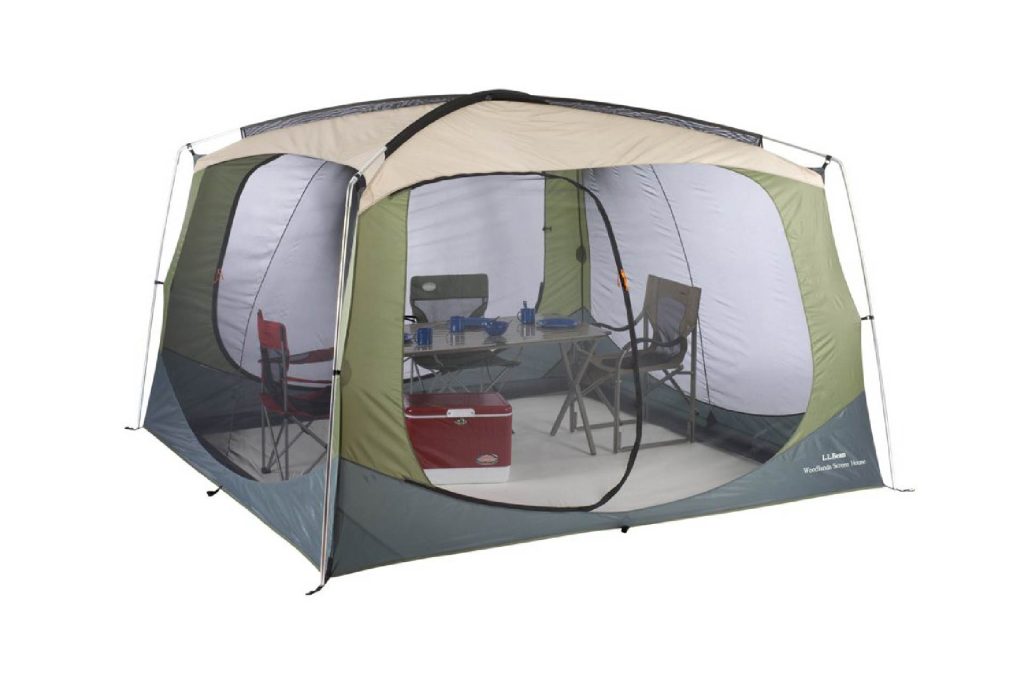 The L.L.Bean Woodlands Screen House is a durable and stable option for camping in windy conditions. It has rugged shock-corded aluminum poles, 10 stakes, and 8 guy lines for stability. With a peak height of 6'6″ and a size of 10′ x 10′, this screen house offers plenty of room for camp tables, coolers, and chairs. Additionally, you can purchase a Fly/Floor Kit accessory for enhanced weather protection and versatility.
Best Features:
Rugged shock-corded aluminum poles for stability
Includes 10 stakes and 8 guy lines for extra support
Compatible with Fly/Floor Kit for full coverage rainfly
Offers ample space and peak height of 6'6″
Quest Instant Canopy Tent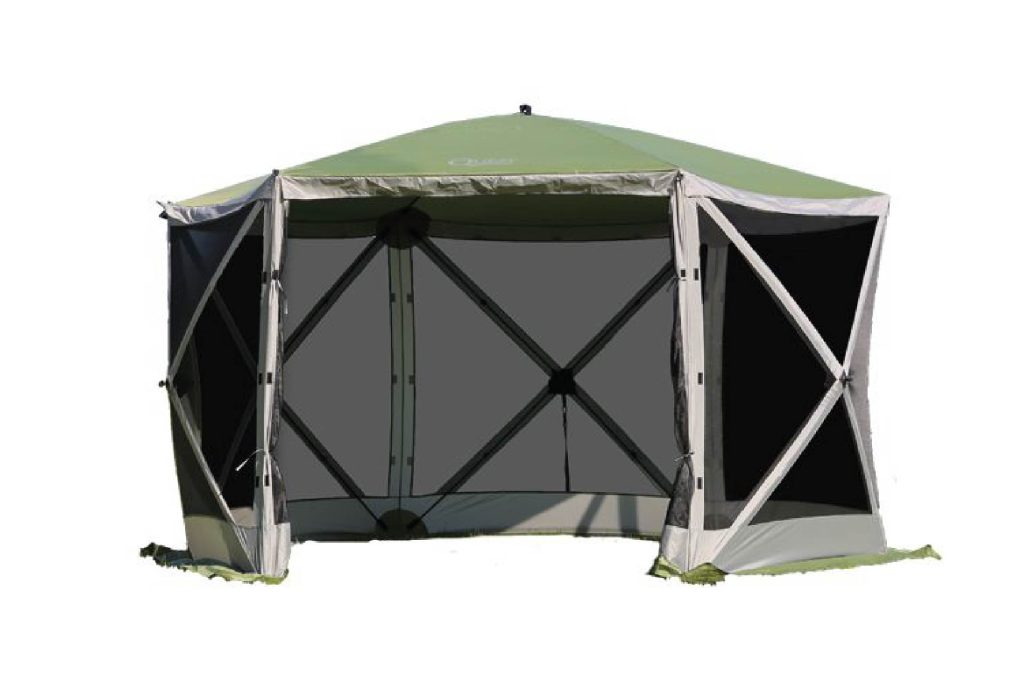 The Quest Instant Canopy Tent is a budget-friendly option that provides quick assembly and effective bug protection. While it doesn't come with poles, it fits any standard 10′ x 10′ slanted canopy. This screen tent features a wide door for easy furniture movement and curtains for partial or complete protection. It is lightweight and easy to transport, making it suitable for various outdoor activities.
Best Features:
Affordable price
Lightweight and easy to transport
Fits any standard 10′ x 10′ slanted canopy
Wide door for easy access and curtains for adjustable protection
REI Co-op Screen House Shelter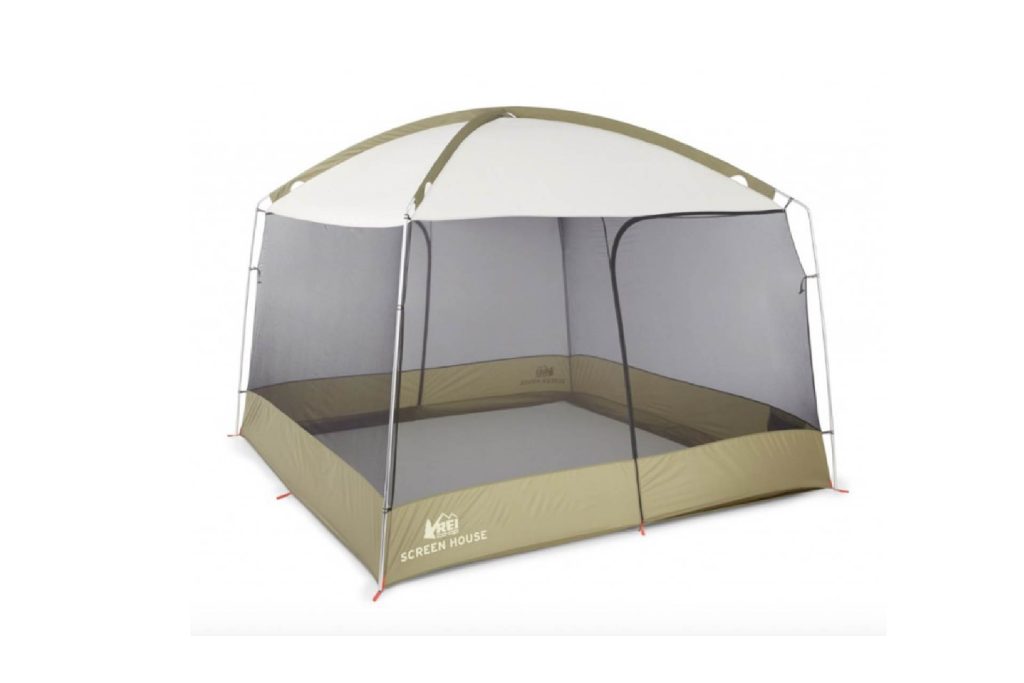 The REI Co-op Screen House Shelter offers bug and shade protection, excellent
ventilation, and 360° views. It is a floorless shelter positioned over a picnic table or as a
lounging area. The screen house features two-sided zipper openings for quick and easy
entry/exit. The polyester taffeta roof provides shade, while the solid fabric perimeter
around the base keeps crawling insects out.
Best Features:
Floorless design for versatile use
Quick and easy entry/exit with straight zipper openings
Provides bug and shade protection with excellent ventilation
Solid fabric perimeter blocks crawling insects
Alvantor Screen House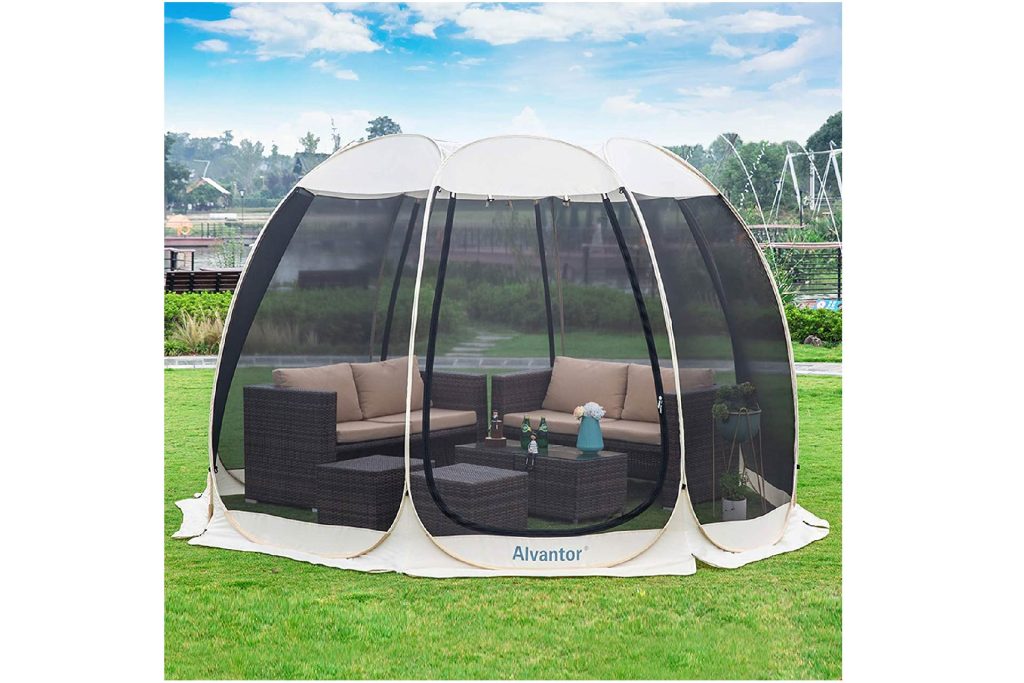 The Alvantor Screen House is an instant screen tent with a foldable tent frame that
springs up for quick setup. It offers 100 square feet of usable space and has a tall peak
height of 7 feet. The lightweight design makes it easy to carry and store but it may
require staking down to prevent it from blowing in the wind. The tightly woven mesh
keeps bugs away, and the tent.
What is the Best Screen Tent for Camping: Concluding Remarks
Choosing the right screen tent for camping is crucial to ensure a pleasant outdoor
experience. Considering the abovementioned features, you can make an informed
decision when purchasing a tent for your wild camping adventures.
Remember that lightweight and durable tents enhance your camping experience while embracing nature and a clean environment. With these considerations in mind, you'll be well-equipped to find the perfect screen tent that meets your needs and allows you to fully immerse yourself in the wonders of the great outdoors. Happy camping!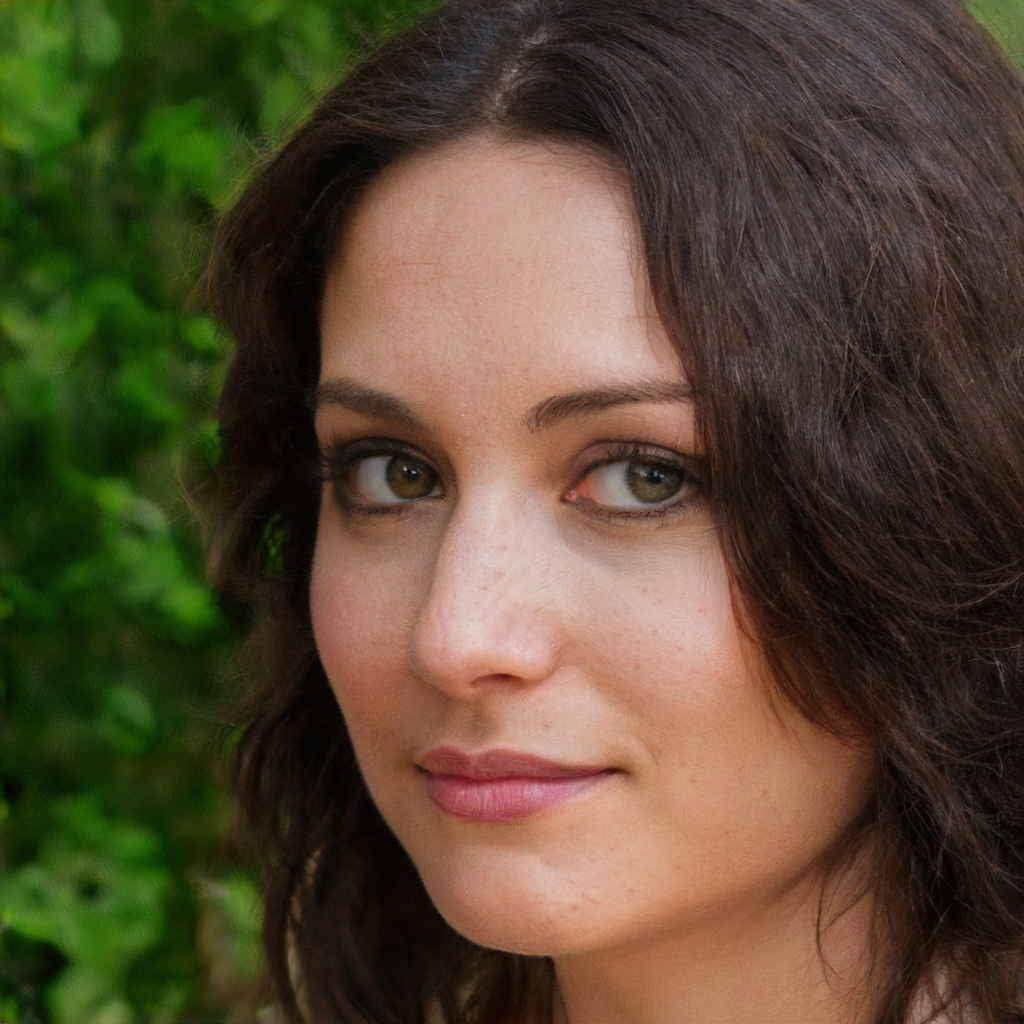 Meet Sarah, a passionate traveler and camping enthusiast who loves to explore the great outdoors. With years of exploring, she has become an expert in testing and reviewing the best tents on the market which got her to start mytravelingtents.com. Her insightful reviews provide valuable information to fellow adventurers looking for the perfect tent for their next camping trip.