10 Cool Camping Gadgets on Amazon you have Check out
Having the proper equipment can make all the difference when camping. You can find some cool camping gadgets on Amazon to make outdoor time more enjoyable. There is no lack of devices to make your camping journey more pleasant and practical, including high-tech lamps, compact coffee machines, weatherproof speakers, and solar-powered charges. Upgrade your camping game with these must-have gadgets to take your trip to the next level!
Cool Camping Gadgets On Amazon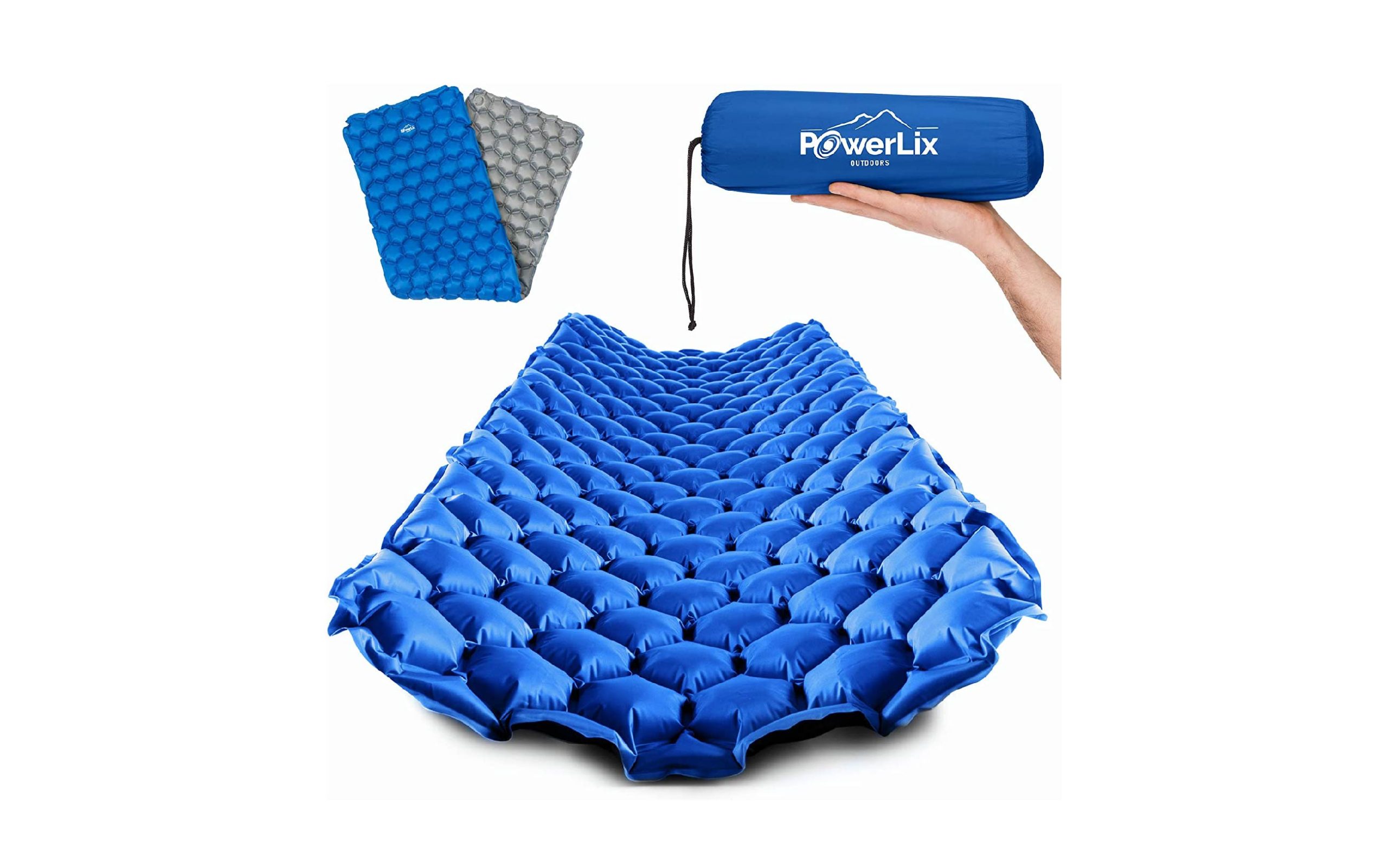 The Powerlix Sleeping Pad is an inflatable mattress to support your body anatomically. It concentrates on your pressure spots to keep you from waking up with sore arms, backs, and elbows. The pad rolls up small and expands without needing an air compressor, making it convenient to carry and store in a bag. Plus, it's soft enough for a good night's slumber. It's thermally sealed to keep you toasty at night, but users say it's also fine for keeping you at a healthy temperature when traveling in the spring and summer. It's highly rated and one of the cool camping gadgets on Amazon
Pros:
Portable and lightweight, perfect for hiking or backpacking excursions.

Rapidly inflates and deflates with an integrated air compressor.

Constructed using sturdy materials to last through repeated uses.

It insulates well from the cold, hard floor, allowing for a cozy night's slumber.

The pad's rough surface makes it less likely that anyone will accidentally slide off it.

Includes a storage case and maintenance tools.
Cons:
Since it is intended for lightweight backpacking, some people may find the width insufficient for a good night's rest.

Not the best for those who lie on their sides and require more padding at the hips and shoulders.

Some users may find it exhausting to fill the device using the built-in compressor manually.

In the event of air loss overnight, it may be necessary to re-inflate.

Air leakage may occur because the opening is challenging to shut entirely.

Costlier than comparable outdoor sleeping mats.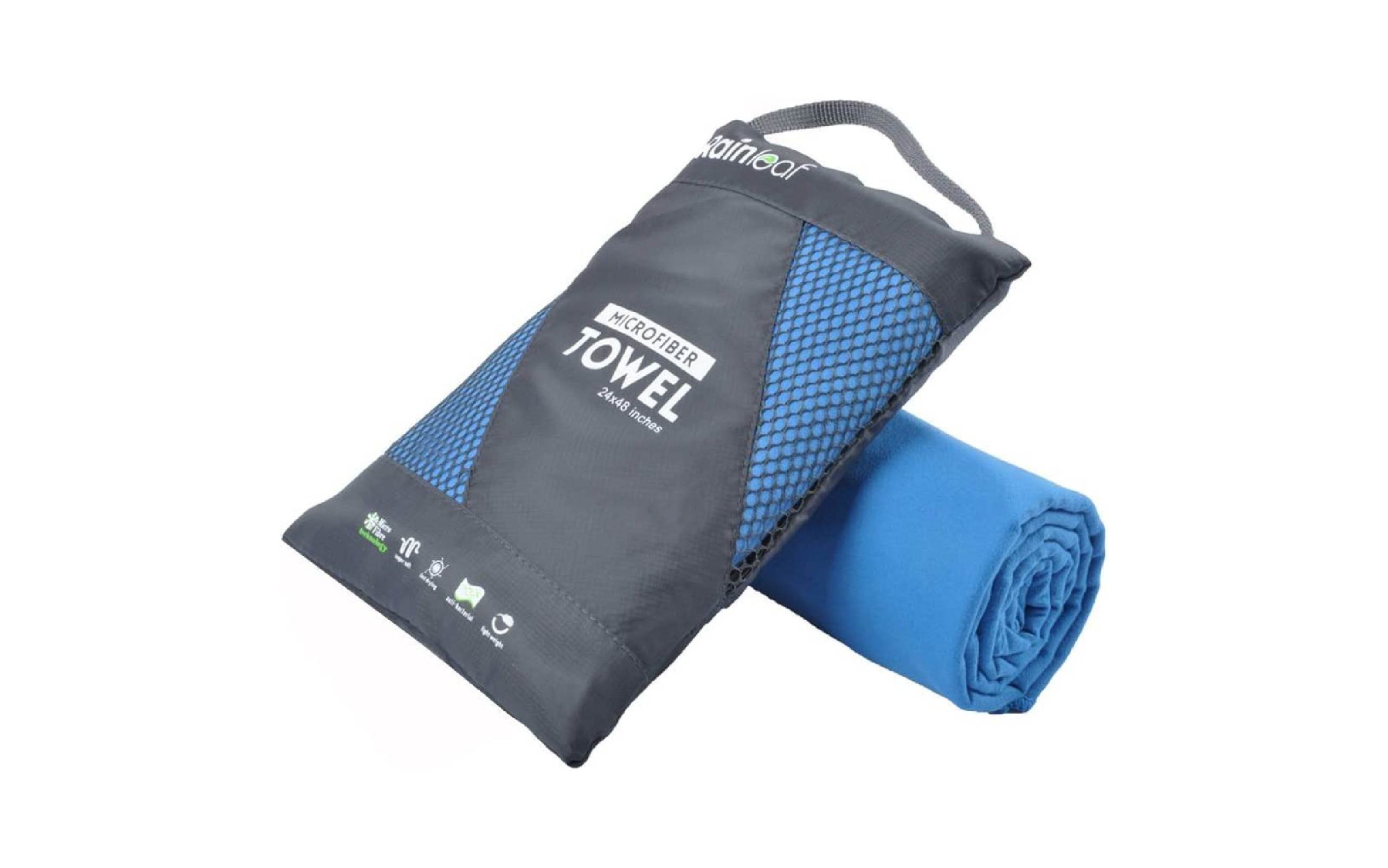 Getting damp while hiking is an inevitable part of the experience. This microfibre cloth dries quickly and absorbs wetness, so you won't have to worry about drips or stains in your tent or camp kitchen. It's a great bargain because you can choose from six different colors.
Pros:
Super absorbent, lightweight, and incredibly plush microfibre fabric.

It dries rapidly, making it an ideal garment for outdoor excursions and vacations.

Includes a convenient container for transport and storage.

Sustainable and recyclable, cutting down on trash and pollution.

Antimicrobial and odor-proof.
Cons:
This cloth material won't hold up as well as others.

A larger, fluffier blanket would be more pleasant to use.

When damp, the feel can be displeasing.

Cleanliness may suffer without regular cleaning.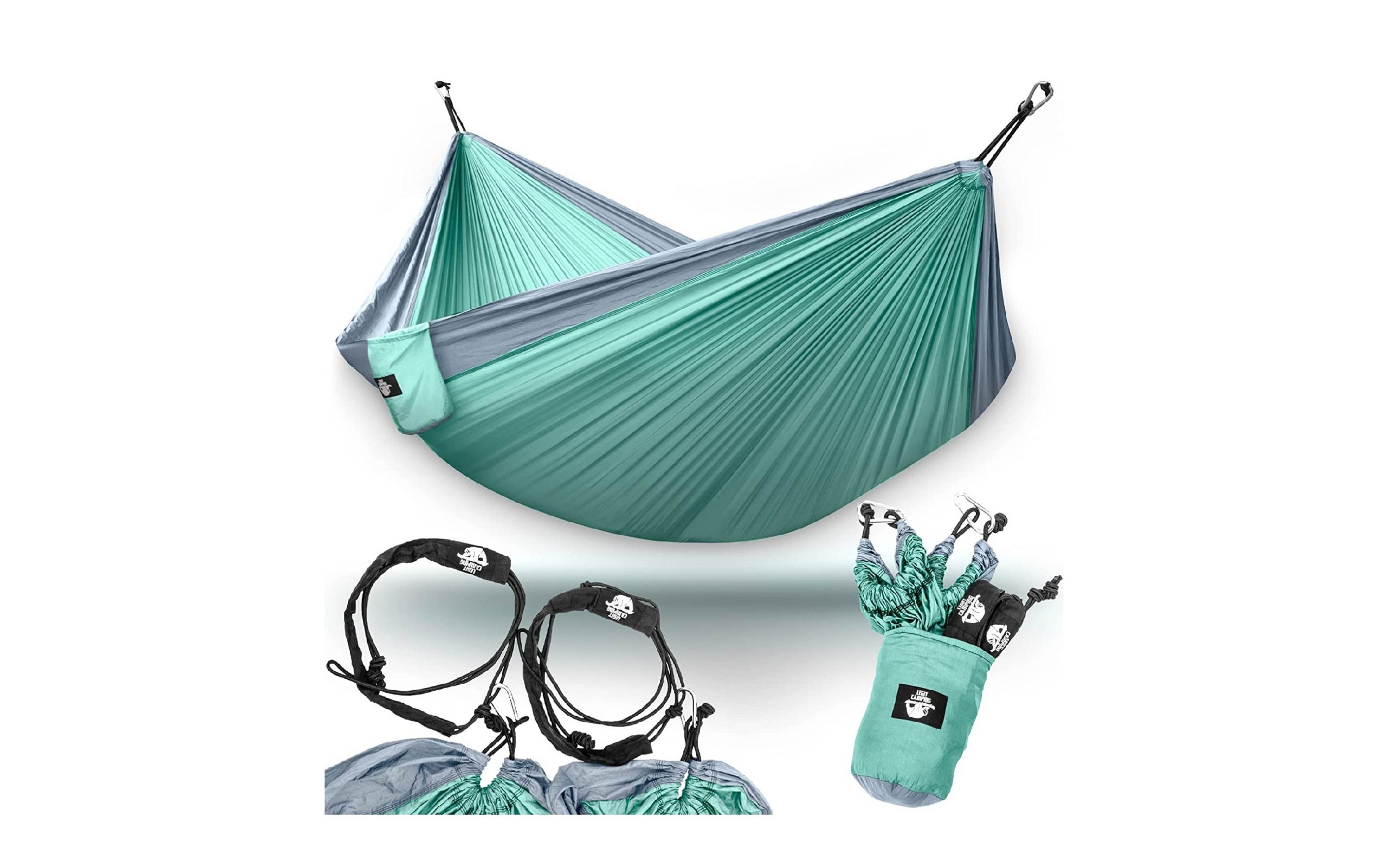 This double parachute canopy is an excellent addition to any outdoor adventure. It can support up to 400 pounds despite being compact and lightweight. About eight thousand users on Amazon have given it 4.8 ratings.
Pros: 
It's portable and light to stay out of the way on your outdoor adventures.

Simple assembly and disassembly; all required parts are included.

Constructed from high-quality, long-lasting fabrics that are both comfy and capable of supporting up to 400 pounds.

Multipurpose; can be used as a shelter, a sheet, or a blanket on the ground.

Price-wise, it's within reach of a wide variety of adventurers.
Cons:
It won't keep out all of the pesky critters.

The mattress may be challenging to enter and exit for those with limited movement.

Heavy downpours or other severe weather conditions could make it unsafe.

A conventional shelter may appeal to users who value privacy and protection more than convenience.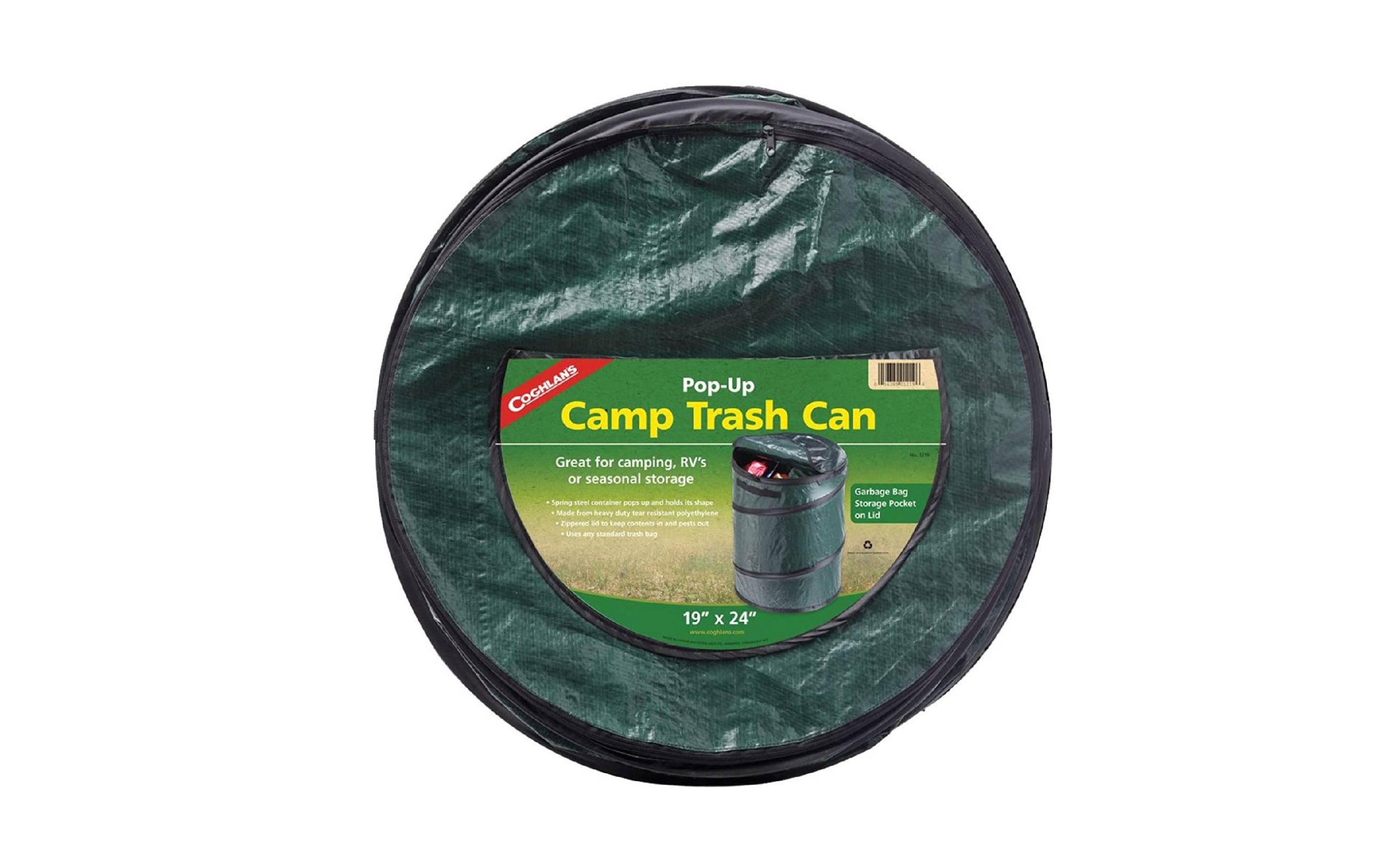 This recyclable garbage can has a spring-loaded lid and can accommodate waste sacks up to 30 gallons in size. It folds completely flat when not in use.
Pros:
Portable and low weight.

Sturdy and reliable; built to last.

They're quick to set up and use for their innovative pop-up style.

Available in a range of widths to accommodate various requirements.
Cons:
Not as durable as those made of rigid plastic.

It could be unsuitable for large or pointy items.

Unlike bigger containers, this one can only hold so much.

Potentially less safe and less pest-proof than alternative storing methods.

If used for food storage or other potentially dirty things, cleanup may be a hassle.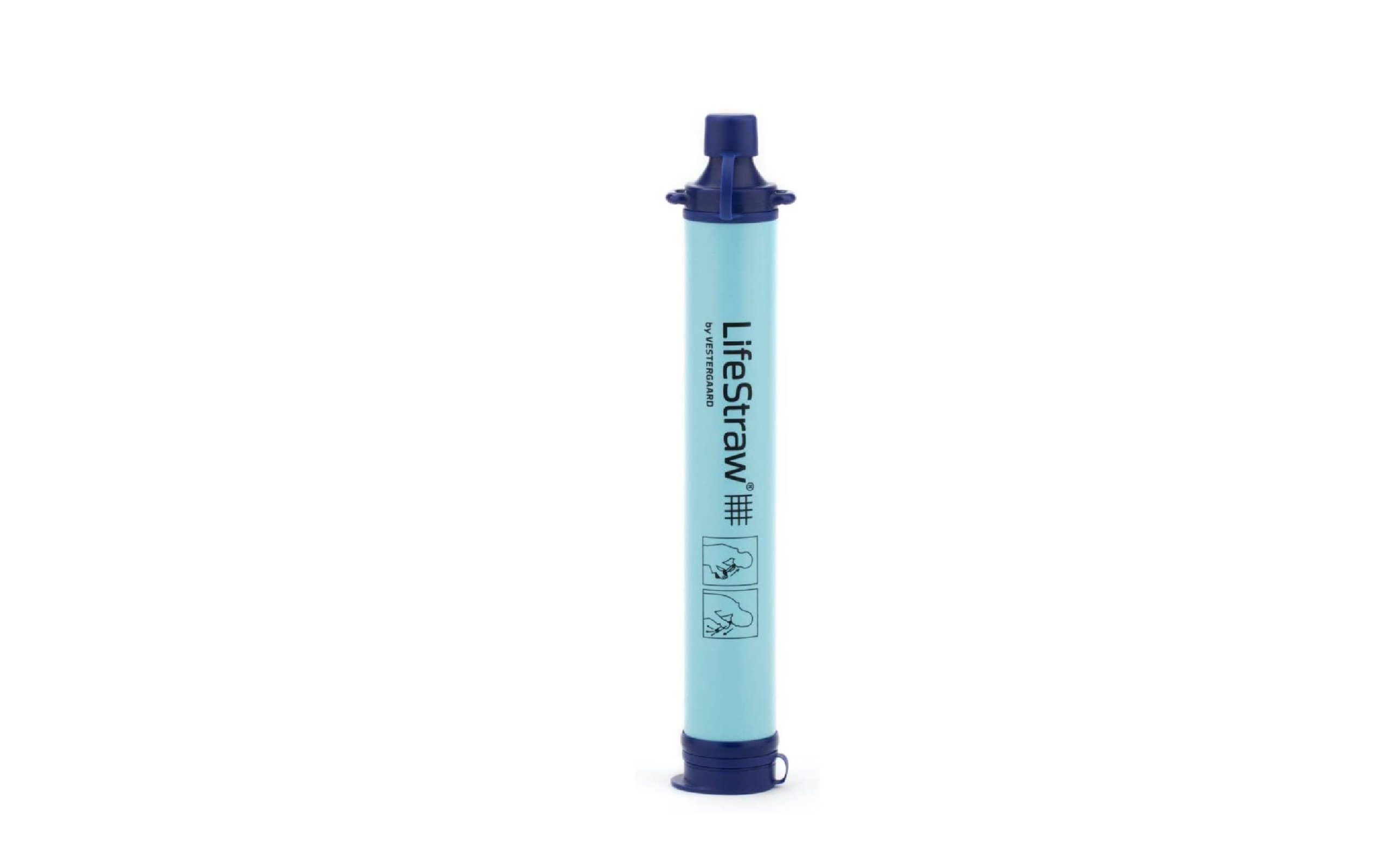 One of the cool camping gadgets on amazon is the Lifestraw. It could come in handy if you frequently participate in more strenuous hiking. If you're traveling without access to pure potable water, this straw can purify up to a thousand liters. Bacteria and parasites are filtered out to 99.9999 percent and 99.9 percent, respectively. With over 95,000 reviews, an average rating of 4.8 stars has made it Amazon's best-selling product.
Pros:
Compact and lightweight, it can be easily packed for outdoor excursions.

Removes as much as 99.9999% of bacteria and protozoan pathogens from water as it filters through up to one thousand gallons.

There is no need for batteries or electricity, making this a viable option for providing pure water in times of crisis.

Water from lakes, rivers, and waterways is drinkable from this.

Cost-efficient and low-priced compared to similar water purification options.
Cons:
Ineffective against some chemical and viral pollutants.

It needs frequent maintenance to avoid buildup and continue functioning at peak efficiency.

It can be less efficient in highly contaminated or muddy water.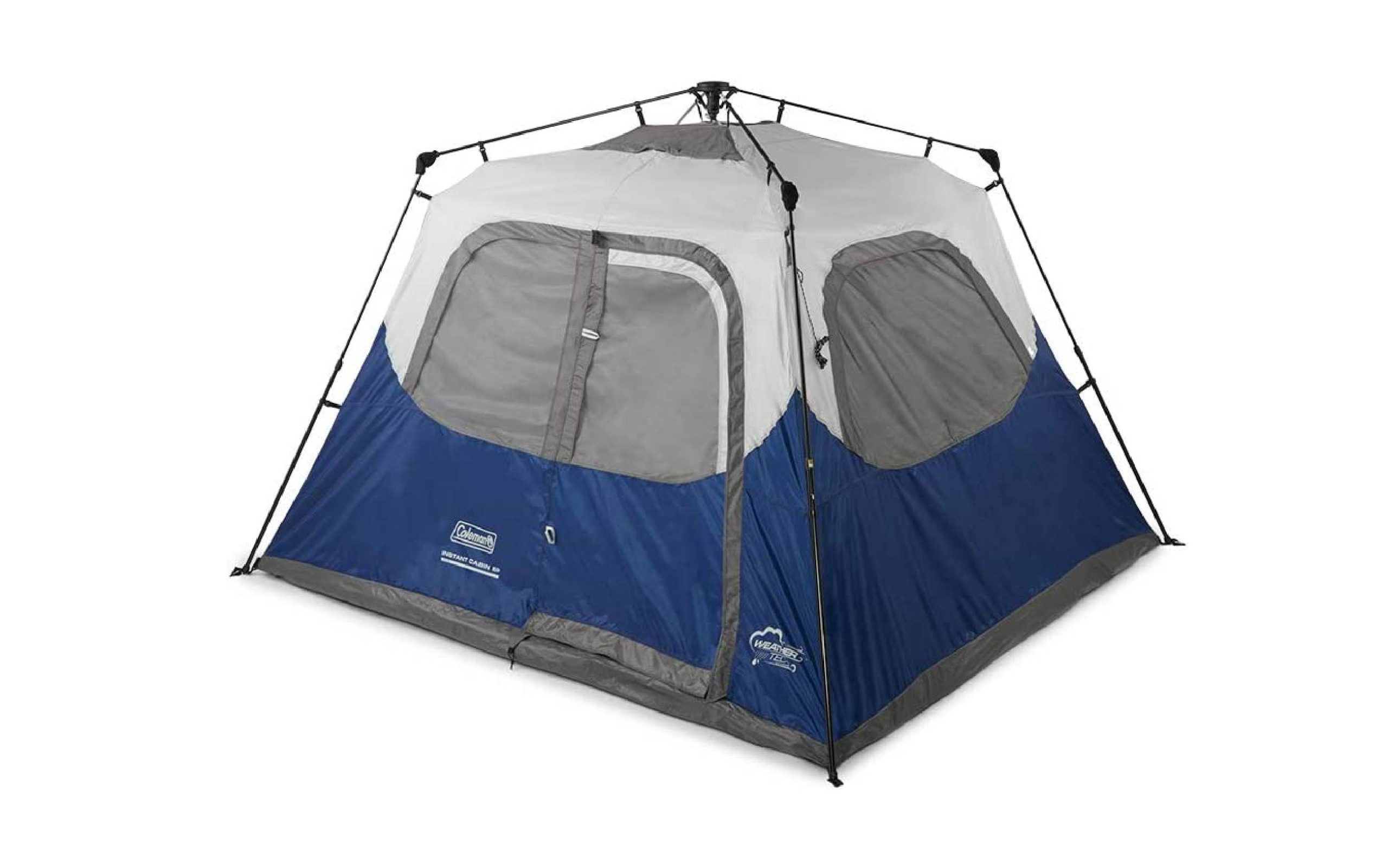 Choose the Coleman Instant Tent when you need to get the family out immediately to enjoy the outdoors. Thanks to its pre-assembled poles, you can have it up and running in no time.
Six people can slumber comfortably inside. Protection from summer rains and better ventilation, courtesy of a ventilated rainfly built right in. When it's time to pack up and move back indoors, disassembling the canvas is just as simple. A lightweight, extendable travel case makes it even easier to move.
Pros:
Up to six individuals can relax with ease inside the roomy cabin.

There is a built-in partition between the sitting space and the bedroom.

The WeatherTec system is waterproof thanks to its reversed joints and unique bonded floors.

Its steadiness and resistance to high gusts result from the robust structure and durable rods.

Large windows and an open top provide great air and a sweeping view.

A rainfly and compartments are included for your comfort and ease.
Cons:
The tent is bulky to transport due to its weight and size.

The internal partition does not provide full darkness; some light may penetrate it.

The tent won't hold up well in extremely wet or windy circumstances.

The closures aren't always the easiest to use.
This Coleman rolling refrigerator is a great discovery for transporting perishable food and drinks to your campsite. It has a capacity of 62 gallons and a vent that won't spill. This is a simple yet effective cooler. It will do you well if this is good quality and you want to save money.
Pros:
Even when completely laden, the wheels and handles make conveyance simple.

The cooler's roomy interior can hold much food and drinks for a long time without spoiling.

The flexible design of the top eliminates the need to remove it before opening or closing the container fully.

There are cup holders on top of the refrigerator for easy access to your beverage while you relax in the great outdoors.

The high-quality construction and superior soundproofing of the cooler guarantee that your perishables will maintain their frigid temperature for an extended time.
Cons:
The wheels may be unable to handle rocky areas.

When filled, the refrigerator could become more cumbersome to transport.

Because of its bulk, this refrigerator may be inconvenient to transport or store in some cars or locations.

The cooler's chilling performance may suffer if ice isn't constantly added.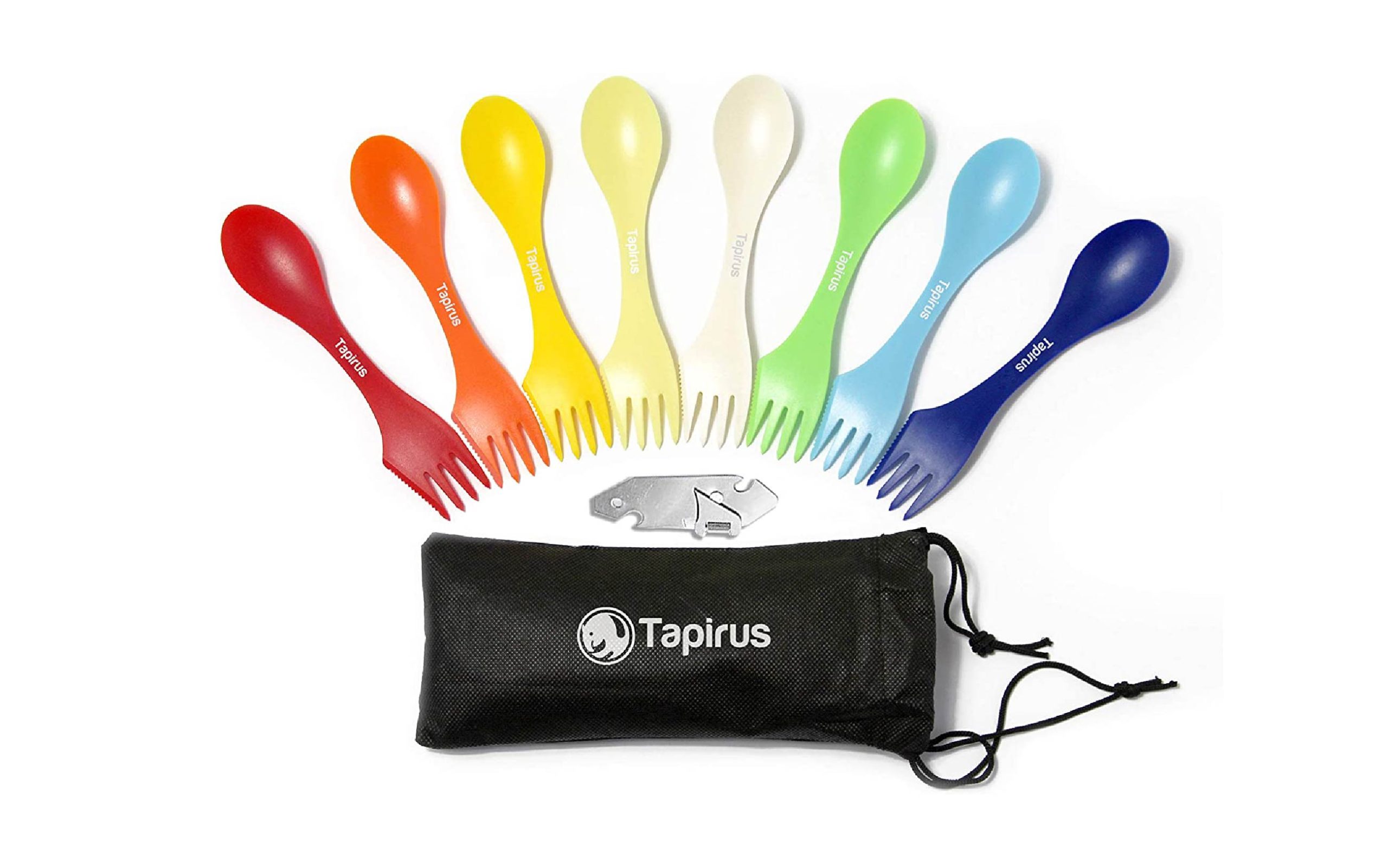 These sporks eliminate the need for separate campground spoons, forks, and knives. These tools have a sharpened border to facilitate cutting with ease. This one is quite pricey compared to other spork sets on the market.
Pros:
The spork set's premium stainless steel construction ensures it will last for years. It holds up well under stress and weather conditions.

The package can be easily stored in a purse or bag because it is small and lightweight.

It is dishwasher-safe and requires little to no maintenance.

The set is better for the planet because it prevents people from throwing away tools every day.
Cons:
The knife in the spork set is dull and cannot do much hacking.

The spork set does not have a storage container, so maintaining its cleanliness and order may be challenging.

Some customers may be unable to get their hands on the collection because it isn't widely distributed.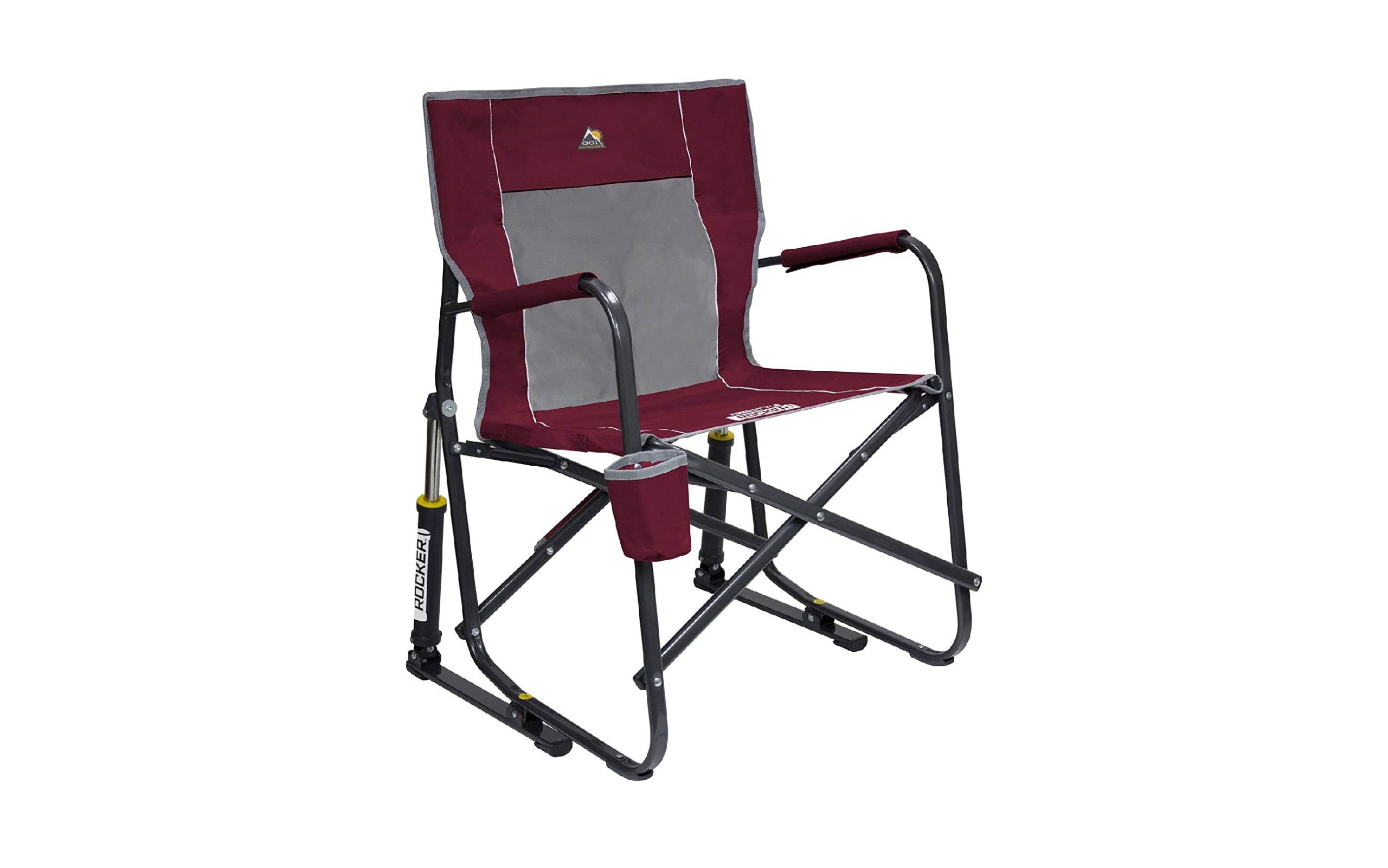 Relax in this inexpensive swaying freestyle rocker as you move back and forth to the calming sound of the fire. The chair is lightweight, compacted, and has a built-in cupholder. What's more, it was cheap. It's a great option for most people because of its generous width, sturdy construction, and high cushion height. 
Pros:
Simple to assemble.

Extensive and Comfortable.

Easily accessible.
Cons:
Some people might find it to be too rigid.

Not a portable item.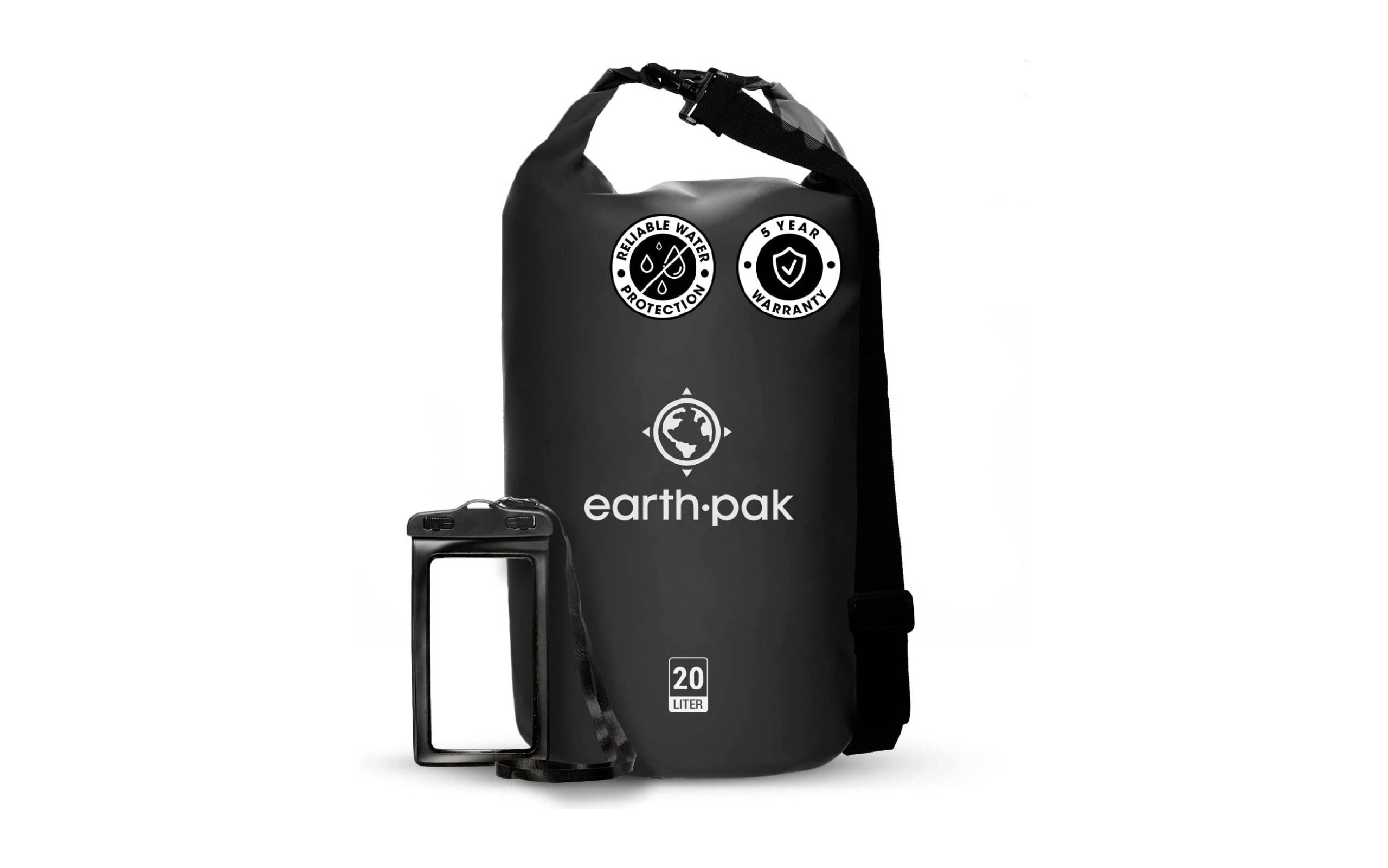 This waterproof bag will protect your electronics while you paddle, canoe, or fish during your outdoor trip. Earth Pak dry bags come in multiple sizes, allowing you to choose the perfect size for your needs. 
Pros:
This waterproof backpack is constructed from high-quality fabrics and can endure the elements.

You can take this waterproof backpack hiking, on a canoe, on the water, or in a boat, among other uses.

The waterproof backpack can be comfortably carried for long distances thanks to its flexible arm handles and ventilated back section.
Cons:
The backpack is sturdy but might not withstand the rigors of a particularly strenuous hike or other outdoor activity.

There are no exterior compartments on this bag, which could make it hard to pack things you use often.

The Earth Pak bag does not have compression bands, making loading more challenging than other dry bags.

Some users may find the dry bag' distracting because of its noise.
Conclusion
To summarize, Amazon provides a vast selection of innovative camping gear that can improve the quality of your time spent in the great outdoors. Although some of these devices are costlier, they are well worth the cost for devoted travelers and hikers. With the right gear, you can enjoy your camping trip more, feel more secure in your abilities, and have experiences that will be unforgettable. Whether you're going away for the weekend or on a lengthier trip, you can enhance your camping experience with the help of some of these cool camping gadgets on Amazon.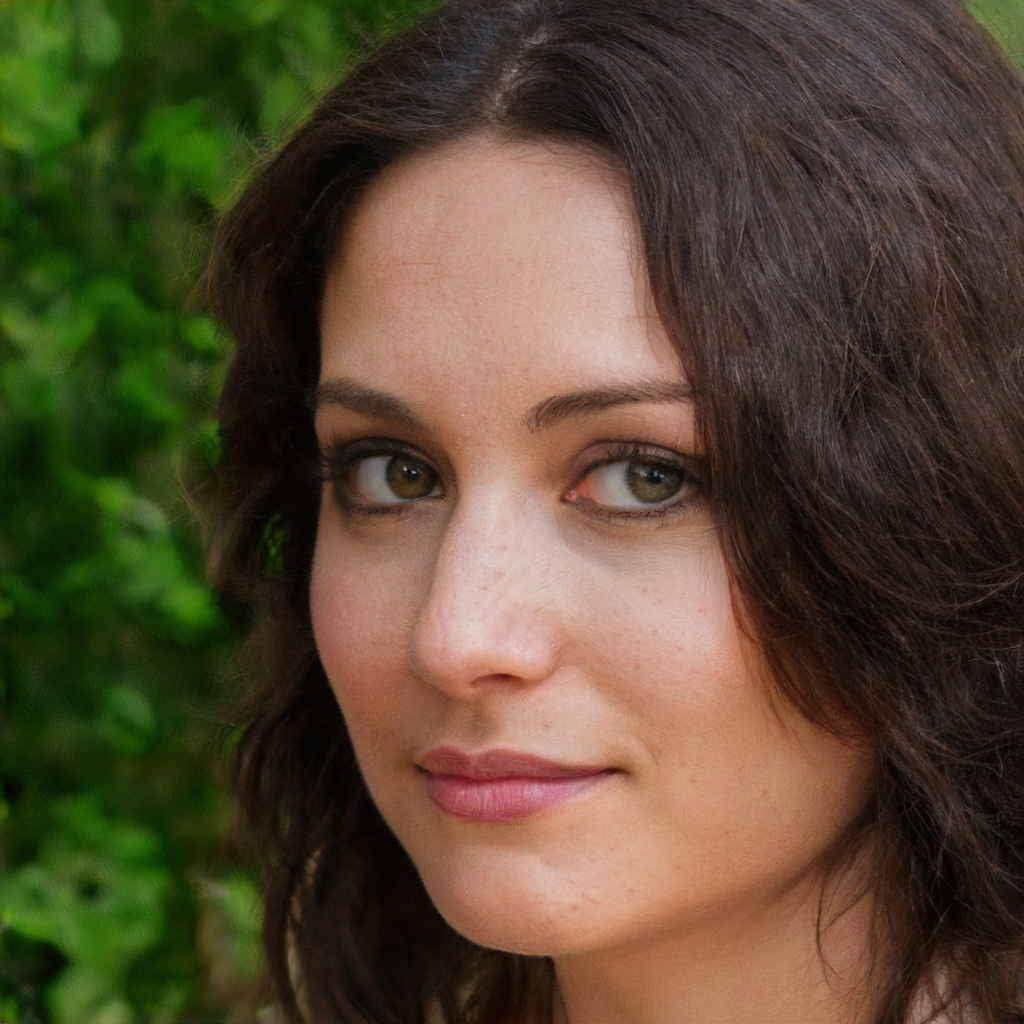 Meet Sarah, a passionate traveler and camping enthusiast who loves to explore the great outdoors. With years of exploring, she has become an expert in testing and reviewing the best tents on the market which got her to start mytravelingtents.com. Her insightful reviews provide valuable information to fellow adventurers looking for the perfect tent for their next camping trip.